Winter's darkness got you down? Brighter days are fast approaching
Finally, days are getting longer with later sunsets and earlier sunrises. Find our how much more sun your city can expect in the next week, month and after daylight saving time.
Are those early sunsets and late sunrises bringing you down? Let's chase those winter blues away because we will only get later sunsets as we head into summer.
WHY ARE THE EARLIEST SUNSETS UPON US NOW DESPITE BEING MORE THAN 2 WEEKS FROM WINTER SOLSTICE?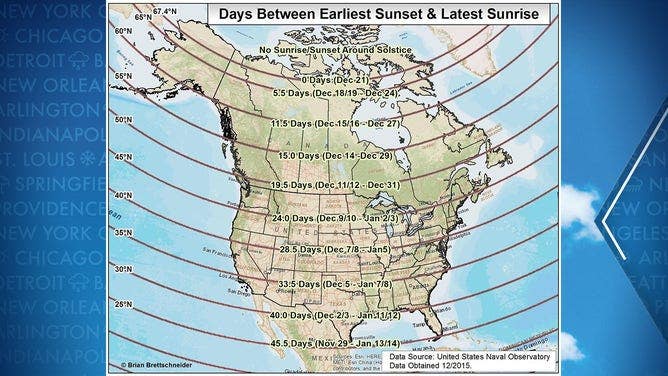 Sunset times vary, but daylight is on the way
While many cities across the U.S. have already seen their first 5 p.m. sunset, several other cities have a few more days to go. 
This weekend, New York City will see its first 5 p.m. sunset of the year, but places like Boston will have to wait until early next month. 
Minneapolis pushes out sunset one hour compared to December. By the end of March, sunsets are 3 hours later at 7:39 CDT in the Twin Cities.
Denver gains almost an hour and a half of sunlight in the evening compared to December, but by March, the Mile High City can look forward to about 12 hours of sun.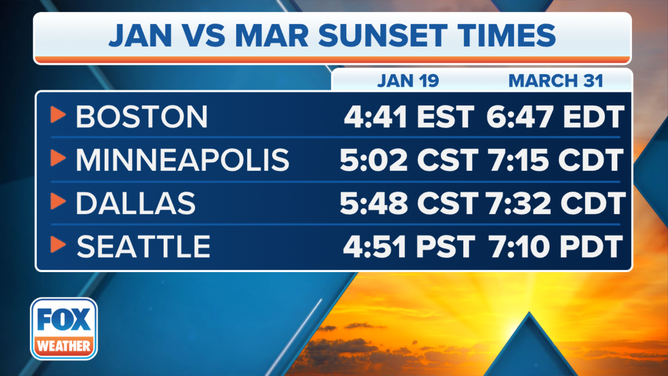 In a month, early birds in Pittsburgh will see the sun at 7:12 a.m., and San Diego and Houston push their sunrises to 7. 
With daylight saving time starting on March 12, morning walks may be a bit dark as Atlanta and Detroit won't start to see the sun until just before 7:30 a.m.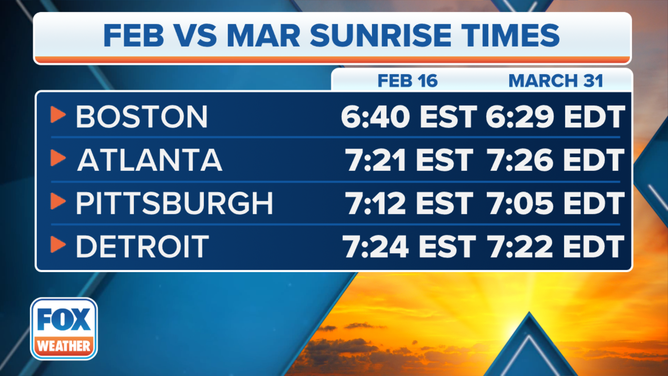 And if you think the lower 48 has it bad, America's northernmost town, Utqiaġvik, Alaska, will have to wait until late January to shake those blues. The town is in near-constant darkness from November through January.
SUN SETS FOR FIRST TIME IN 83 DAYS IN AMERICA'S NORTHERNMOST TOWN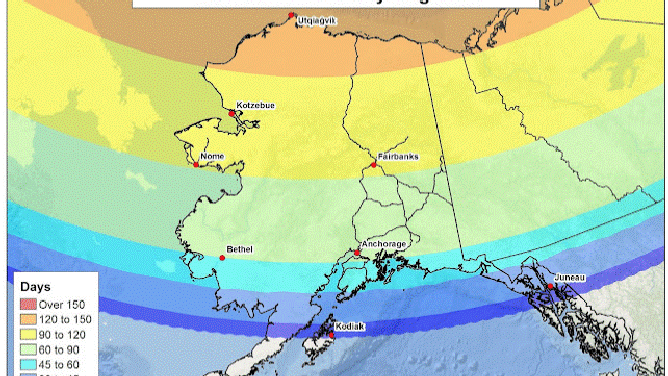 The shortest days are in December around the Winter Solstice, and conversely, the longest days are around the Summer Solstice in June. Take a look at the graphics to see how different sunrise and sunset times are between December and June for your city.

Spring forward is right around the corner
The big change in sunset times comes on March 12, when daylight saving time starts. That is when we set forward our clocks one hour. Dallas will bid the sun farewell at 6:31 p.m. on March 11th. A day later, the sun will set at 7:32 p.m.
THE HISTORY OF DAYLIGHT SAVING TIME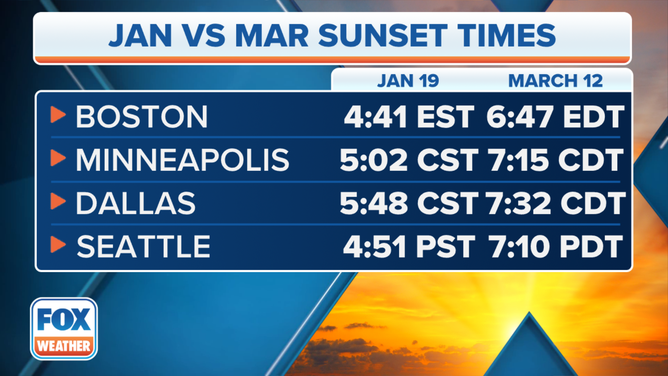 Lack of daylight and winter blues
So, if you're longing for more daylight, hopefully, your winter blues will be short-lived. But, if you do have seasonal affective disorder (SAD), you are not alone. About 10 million Americans suffer from SAD every year.
"It's almost like animals hibernating," WebMD Chief Medical Officer Dr. John Whyte told FOX Weather. "Those are the symptoms that you're overeating, and you're sleeping a lot. You're withdrawing from others. You've lost interest, and you're fatigued."
HOW TO RECOGNIZE SEASONAL AFFECTIVE DISORDER
Doctors are still learning exactly why it occurs but believe there's a component of sunlight in the winter. The days are shorter, and they see greater incidence in more northern cities.