Windy conditions favor Broncos in matchup with Browns on Thursday Night Football
The Broncos have lost three games in a row, while the Browns are looking to snap a two-game skid.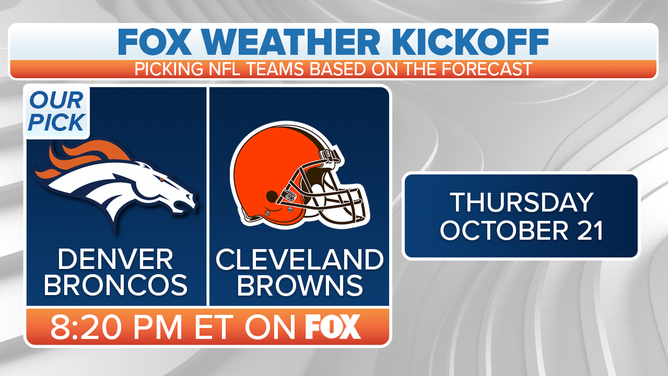 CLEVELAND - Week 7 gets underway on Thursday night with an AFC matchup between the Denver Broncos and Cleveland Browns, as both teams look to get their season back on track. 
The Broncos (3-3), are coming into this game having have lost three in a row, while the Browns (3-3), are looking to snap a two-game skid. 
Kickoff from FirstEnergy Stadium in Cleveland is set for 8:20 p.m. ET on FOX, and it's expected to be a windy one. 
Using SportsWeather's historical data, we pick FOX NFL games based on how teams have performed in certain weather conditions in the past. 
RELATED: Firing up the grill for Thursday Night Football on FOX? Check out the forecast
SportsWeather has its own metrics system that compiles historical game-time weather data and meshes it against NFL teams and player historical performance. All data is from the last 14 seasons.
GAME: Denver Broncos at Cleveland Browns - 8:20 p.m. Eastern on FOX
It's going to be windy Thursday night in Cleveland as the Broncos set to take on the Browns. Over the years, Denver has shown to play better in windy conditions than the Browns. It's forecast to be 59 degrees at game time with winds blowing at 18 mph. It won't be ideal throwing conditions for either team, but especially for the Browns as they will be without their starting quarterback Baker Mayfield. 
MORE: FOX Weather Kickoff: Week 6 NFL on FOX picks based on weather forecasts
In games played, where the temperature was forecast to be at 59 degrees, Denver performs well, holding a 63-41 record, while the Browns have been pretty bad with a 27-68-1 record. When winds are blowing at 18 mph, the Broncos continue their strong performance, sitting at 32-19. The Browns' struggles continue, as they are 23-54-1 in those conditions. 
Luckily, there's a 0% chance of any type of precipitation Thursday night. When that happens, the Broncos remain tough to beat with a record of 101-83, while the Browns stay at the opposite end of the spectrum with a 54-115 record. 
PICK: SportsWeather.com gives the weather edge to Denver and predicts them to win over the Browns.