Firing up the grill for Thursday Night Football on FOX? Check out the forecast
And check out this tasty Cleveland-themed recipe from Dr. BBQ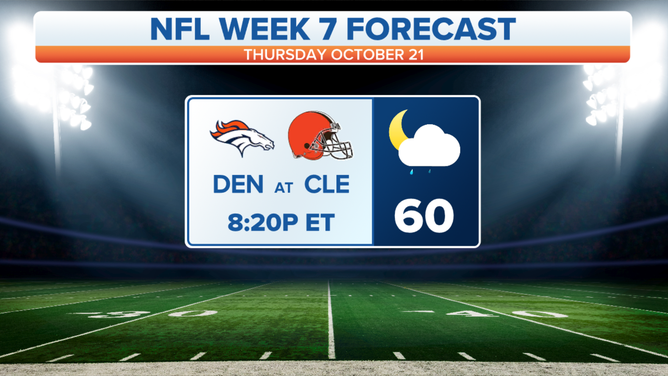 CLEVELAND - Thursday Night Football is on FOX – and you're not going to miss this week's matchup.
The Cleveland Browns (3-3) host the Denver Broncos (3-3) with kickoff at FirstEnergy Stadium set for 8:20 p.m. Eastern.
It may not be the best grilling forecast in Cleveland. Rain is expected in the morning and will continue into the afternoon. Expect highs into the upper 60s with winds of about 15 to 25 mph. It will remain cloudy with some showers possible around kickoff, and temperatures will cool into the mid-50s.
It's a bit of a better situation in Denver, though. Temperatures are expected to be near 70 during the day with cloudy skies and winds of about 5 to 10 mph. In the evening is gets much cooler. Temperatures will drop into the upper 30s with clear skies and light wind.
Check out the recipe
Bison Meatball Polish Boy Sandwiches
Makes 6 sandwiches
Ingredients:
2 pounds of ground bison
½ bag of frozen French fries
1 bag of slaw mix
Slaw dressing
1 cup barbecue sauce
6 hoagie rolls
Directions:
1. Cook the French fries as directed and set them aside. 
2. Prepare the grill or oven to cook the meatballs indirect at 325 degrees.
3. Divide the Bison into 24 equal size meatballs and season them with barbecue rub. 
4. Cook the meatballs directly on the grill or on a sheet pan in the oven until they reach an internal temp of 160 degrees, which is about 20-25 minutes. 
5. Remove to a plate. 
6. In a medium bowl combine the slaw mix with ½ cup slaw dressing and mix well. 
7. Let rest for 10 minutes then mix and add a little more dressing if it's needed.  
8. Split the top of the buns and add 4 meatballs to each. 
9. Top with a few spoonfuls of barbecue sauce, a scoop of coleslaw, a handful of French fries and finally a drizzle of barbecue sauce over the top.