Tornado survivor who saved people in walk-in freezer wins Fox Nation award
Restaurant owner Tracy Harden saved nine employees and customers from an EF-4 tornado that leveled the Mississippi town of Rolling Fork.
Tracy Harden, a business owner whose quick-thinking and heroism saved nine people from an EF-4 tornado in the spring, received the first FOX Nation Weather Award for Courage.
On March 24, Harden and her husband Tim were with employees and customers at their business, Chuck's Dairy Bar, when they heard news of a tornado hitting their town of Rolling Fork, Mississippi.
"One of my cashiers came to me running and said, 'My mom is on the phone, and she said, there's a tornado,'" Hardin said to FOX Weather correspondent Katie Byrne. "And at that moment, the lights flickered, and I just hollered, 'Cooler!'"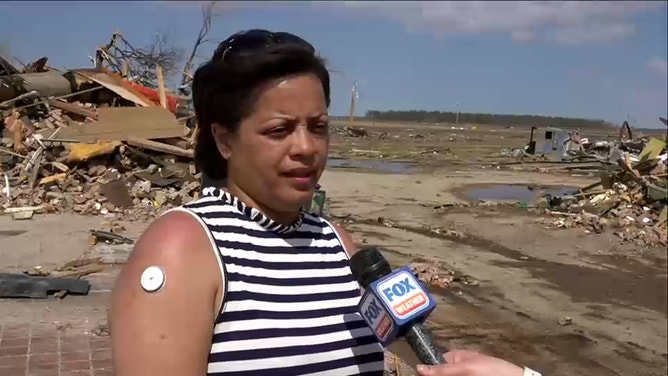 Hardin and her husband rushed to gather their employees and customers into their walk-in metal freezer. Just as Tim was about to close the freezer door, Hardin said he noticed the restaurant roof was already gone.
The group huddled together in the freezer, screaming, praying and crying, Hardin said. They heard the building moving, and suddenly, it stopped, letting them know that the tornado had passed.
NWS STORM SURVEYOR: MISSISSIPPI TORNADO HAS 'WORST TORNADO DAMAGE' HE'D EVER SEEN
At first, they struggled to open the freezer door, as debris had fallen and blocked it. A customer from earlier in the day came to assist the group upon hearing their screams as he struggled with a broken arm.

When Hardin and the rest of their group emerged from their freezer, they saw the restaurant destroyed and nearby motels and dozens of trailer homes completely leveled. Hardin later learned that some of her neighbors and friends had died during the tornado.
While the small town of nearly 2,000 suffered enormous losses that day due to Hardin's actions, multiple lives were saved. Her heroism and selflessness are why she received the first FOX Nation Weather Award for Courage.
Her award was one of several given during the Fox Nation Patriot Awards show in Nashville, Tennessee, on Thursday. The awards show celebrates patriotism by honoring everyday American heroes who have shown dedication to our nation.