Rolling Fork business owner saves lives by sheltering employees in cooler during Mississippi tornado
Friday night, a tornado tore through Rolling Fork, Mississippi. A woman tells FOX Weather the terrifying tale of how she survived and saved 8 others by sheltering in the dairy cooler while winds tore down the building around it.
ROLLING FORK, Miss. – A quick-thinking woman saved herself and eight others by rushing everyone into a dairy cooler as an EF-4 tornado tore the building down around her.
Tracy Hardin is still cleaning up the lot where her business, Chuck's Dairy Bar, used to be in Rolling Fork, Mississippi. All that is left is a metal cooler that saved her life on Friday night. In just moments, the tornado tore apart what Hardin and her husband worked to build for 16 years.
"We knew we were going to have some storms," Hardin told FOX Weather's Katie Byrne, with a quivering voice. "We just didn't know it would be this bad."
OVER 20 DEAD AFTER MISSISSIPPI TORNADOES LEVEL TOWNS WHILE CARVING 100-MILE PATH OF DESTRUCTION ACROSS SOUTH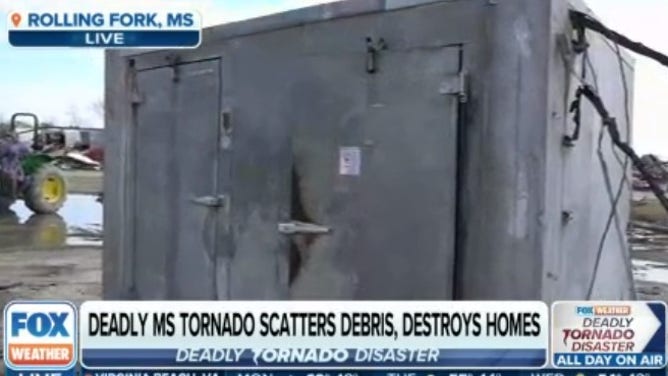 'I just hollered, 'Cooler!''
She said her customers and employees were talking about the incoming weather all day and thinking the worst would go north of Rolling Fork. At 8:05 p.m., both her daughter and sister sent texts warning of a tornado in town.
"Then one of my cashiers came to me running and said, 'My mom is on the phone, and she said, there's a tornado,'" said Hardin. "And at that moment, the lights flickered, and I just hollered, 'Cooler!'"
She and her husband gathered the employees and customers and "shoved" them into the walk-in freezer, nine people in total. Hardin's husband battled with winds to get the door closed.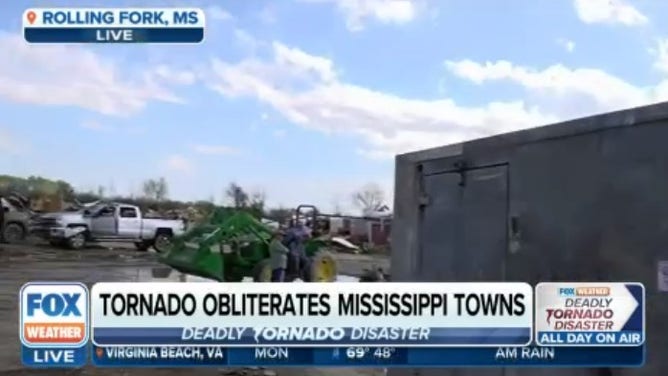 "Just as he was closing the door, he looked up, and he said, 'I see the sky.' And that just let us know that the roof was gone, and this is more serious than we could have imagined," she said.
Everyone was squeezed in tight, praying, screaming and crying, she said. They heard the building moving, and all of a sudden, it stopped.
Trapped in the cooler after the storm
Once the storm had passed, her husband tried to push open the door, but it wouldn't budge. One of her customers from earlier in the day heard the group screaming when he got out of his shelter, Hardin recalls. With a broken arm, he cleared away bits and pieces of the dairy bar that blocked the cooler door and set them free.
NWS STORM SURVEYOR: MISSISSIPPI TORNADO HAD 'WORST TORNADO DAMAGE' HE'S EVER SEEN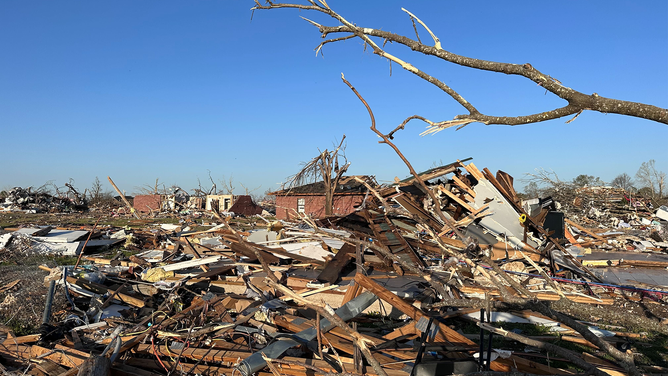 "We stepped out to the back of the building, which the building was gone, but we stepped out through what would have been the back door, and our vehicles were totaled. And that's what we saw first," she said of her first glimpse of Rolling Fork. "But then when we looked up, we just saw what used to be two motel buildings and 35 or more trailer houses are all gone, and they were all flattened."
'I'm in a situation where I can't help them. We just want to know where they are.'
She later learned that she lost neighbors and friends to the twister. She showed Byrne where the nearby mobile home park used to be. She said she got to know the kids because they would come into her store to wait for the school bus and visit for after-school snacks. But the mother will never return to the store.
"We have a family, 5 or 6 kids and the mother's gone. She died back there," Hardin said. "She was holding her kids, and she was sucked out of the trailer."
DRONE VIDEO SHOWS DEVASTATION MILE-WIDE TORNADO LEFT BEHIND IN MISSISSIPPI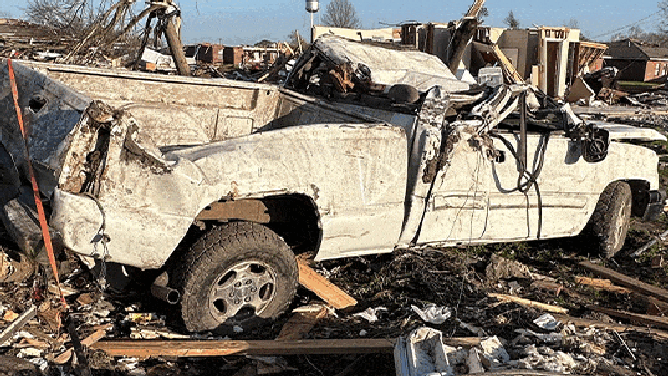 Hardin is expecting more tough news. Chuck's Dairy Bar was a meeting place for the town of just under 2,000 residents.
"This is the place in the community to go to and not just to eat, but if you're hurting or if you're happy, and they want to share their news. This is where they come," she said with a trembling voice. " And I've done this for 16 years, and this wasn't home to me, but they welcomed me with open arms 16 years ago. And they've been my family ever since. And we just want to try and get it back."
Twenty-five people were killed in Mississippi and one in Alabama by several tornadoes. One cut a path 100 miles long. The town's mayor told FOX Weather that every business on Highway 61, like Chuck's, were completely destroyed.