The history of George Washington's weathervane
Called the Dove of Peace, it was designed by Washington himself and posted on the very top of his Mount Vernon mansion in Virginia.
He was a decorated general, a Commander-in-Chief and the first President of the United States. But apart from his exploits on the battlefield and in politics, George Washington also pursued an interest in the weather.
At his plantation home in Mount Vernon, Virginia, about half an hour south of the capital city that bears his name, Washington's interest in the weather was largely driven by his role as a farmer, as weather conditions dictated the success, failure and needs of his farm.
FARMERS' ALMANAC USES 'MATHEMATICAL FORMULA' FOR WINTER FORECASTS
Washington only used a few instruments to record the weather, according to the Library of Congress, and one of them was his "prized" weather vane.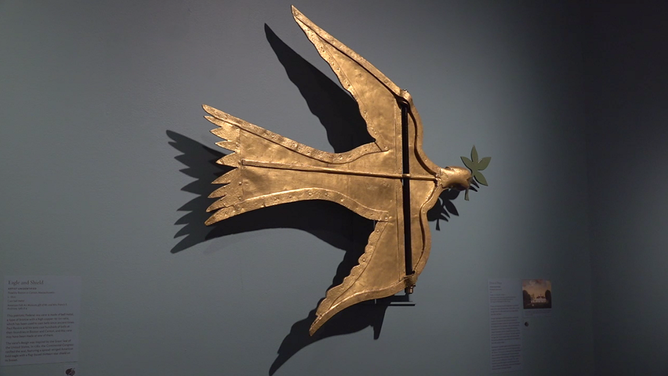 Weathervanes are devices, usually placed on top of roofs or other structures, that are spun around by the blowing wind. This spinning allows weathervanes to show which cardinal or intercardinal direction the wind is blowing.
FLYING HIGH: HOW KITES WERE USED FOR WAR AND SCIENCE
Called the Dove of Peace, it was designed by Washington himself and posted on the very top of his Mount Vernon mansion.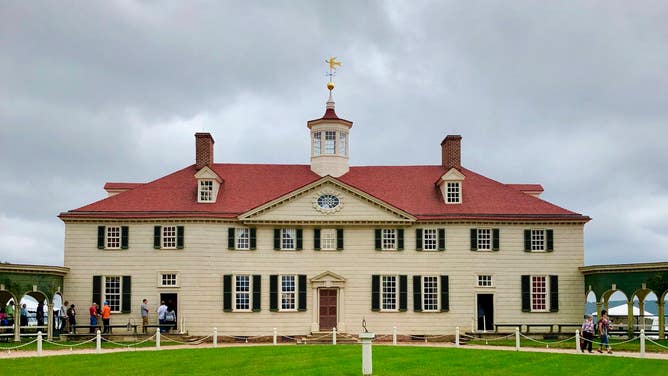 According to the Mount Vernon estate, George Washington commissioned Philadelphia artisan Joseph Rakestraw to create the weathervane. 
"[Washington] had specific ideas about what he wanted it to look like," said Emilie Gevalt, Curatorial Chair at the American Folk Art Museum in New York City.
Washington wrote to Rakestraw, saying that he "should like to have a bird...with an olive branch in its Mouth. The bird need not be large (for I do not expect that it will traverse with the wind and therefore may receive the real shape of a bird, with spread wings)."
Doves and olive branches have traditionally been emblematic of peace. To Washington, the dove and olive branch on his weathervane "symbolized his hope that peace would prevail long into the future, both at Mount Vernon and across the new nation," the Mount Vernon estate said.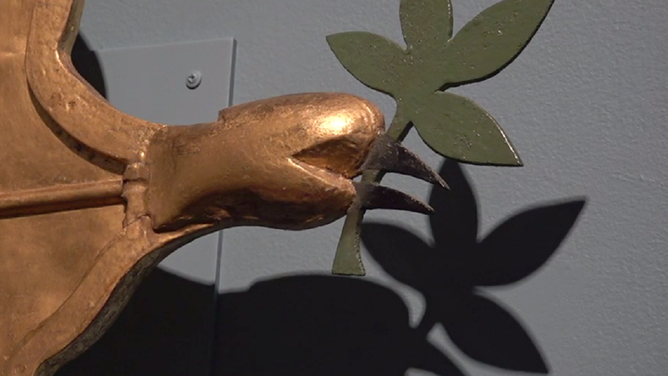 Thus, the weathervane was made as requested, consisting of a dove holding an olive branch in its beak. The weathervane was then installed at Mount Vernon in the fall of 1787, overlooking the former President's estate for nearly as long as the U.S. has been a country. 
The Dove of Peace was temporarily moved from its Mount Vernon home in Virginia to New York City's American Folk Art Museum in 2021. There, it was on display as part of the Museum's exhibit "American Weathervanes: The Art of the Winds."
"American weathervanes have been a key form in the history of American folk art," Gevalt said. "We wanted to bring together spectacular examples of these objects all in the same place and really give our audiences a sense for what these objects are all about."

As one of the objects on display, Washington's weathervane not only symbolizes his hope for the country, but it can also be seen as a time capsule representing countless stories.
5 WEATHER STORIES THAT ARE AS AMERICAN AS APPLE PIE
According to Gevalt, all of the exhibit's weathervanes are "amazing cultural cues to things that were happening in society at a given moment in time that really reveal all kinds of fascinating elements of American history."
Washington's Dove of Peace weathervane is now back at Mount Vernon and currently on view in their museum.