Hot matchup: Red River Showdown on Saturday could beat warmest game day on record
The hottest game day was recorded on October 11, 1975, where temperatures reached 95 degrees.
If you are a football fan in the Southern Plains, then you know one thing is true – Texas hates Oklahoma and Oklahoma hates Texas.
On Saturday, Texas and Oklahoma will square off for the 117th time for the Red River Showdown. 
For these two colleges, it is not just a game. It's history. The rivalry spans more than a century, culminating in an interstate hatred between both fan bases.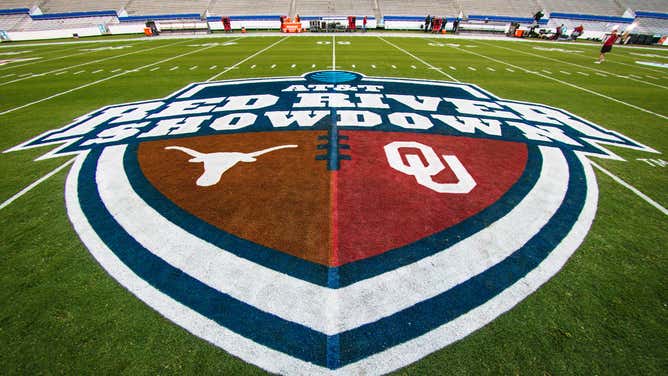 With both teams ranking in the AP Top 25 Poll, it is sure to be a hot matchup – both literally and figuratively. 
FOX Sports can elaborate more on the 6th vs. 21st ranked teams' matchup, so we at FOX Weather will concentrate on some important weather statistics and will leave out our unwanted opinions about how Texas needs to take advantage of Oklahoma's struggling offensive line play and run game.
Weather statistics from previous showdowns
The infamous showdown is played at the Cotton Bowl in Dallas, Texas, during the Texas State Fair. 
This weekend's forecast for Dallas will be another hot one. So while you are chowing down on an armadillo-shaped funnel cake or taking a picture with Big Tex, you can expect high temperatures to be in the middle 90s. 
If the temperature reaches 95 degrees on Saturday in Dallas, it will tie the previous record for the hottest game day, and they might just have to take Bevo into air conditioning. Saturday's game has the potential to make the list for significant weather statistics shown below. 
Big 12 weather stats:
The hottest game day was recorded on October 11, 1975, where temperatures reached 95 degrees. Oklahoma beat Texas that day 24-17.
The coldest game day was recorded on November 2, 1906. The game was played in Oklahoma City, Oklahoma, and the low temperature was recorded at 38 degrees. Texas beat Oklahoma 10-9.
The warmest kickoff recorded was again on October 11, 1975. Not only was this the day of the hottest game, but similarly, it had the warmest temperature of any other kickoff time at 90 degrees. The Sooners won 24-17.
On October 7, 2020, the showdown recorded the coldest kickoff of 50 degrees in Dallas. Oklahoma beat Texas 53-45 in overtime.
The most recorded rain ever recorded on a game day was on October 8, 1983. Dallas received 1.68 inches for its daily rain total. Texas beat Oklahoma 28-16.
Of the 116 previous games, 12 percent of the games had temperatures above 90 degrees.
Rain was seen at 19 percent of the previous 116 games.
Out of all the games, the average kickoff temperature is 80 degrees.
Since the rivalry started, the average temperature for October for Dallas has been 81.5 degrees.
The average high temperature for Dallas on October 9 is 81 degrees.
The average low temperature for Dallas on October 9 is 60 degrees.
All but 12 of the games have been played in Texas: 98 games in Dallas, 10 games in Austin, TX, 3 games in Oklahoma City, OK, 3 games in Norman, OK, 1 game in Houston, TX, and 1 game in Arlington, TX.
If Saturday's game ends like last year's in quadruple overtime, who knows what kind of heat will be expelled from the stadium and further boost more weather-related statistics.