A sweet season: Pepsi taps into maple syrup-flavored cola
Flapjack lovers might be ditching the coffee in the morning for Pepsi's new highly limited-edition flavor
Ahhhh, there's nothing like the smell of fresh maple syrup in the morning over hot buttered pancakes.
If that doesn't get your mouth watering, how about a cold glass of maple syrup cola?
Flapjack lovers might be ditching the coffee in the morning for Pepsi's new highly limited-edition flavor that the beverage company said combines the indulgent flavor profile of maple syrup with crisp, refreshing caramel notes.
But don't look for the uniquely designed 12-ounce cans to appear at your local IHOP, a partner in the soda release. You'll have to heat up your smartphone to post a photo or video of your pancake stack on Instagram or Twitter, tagging #ShowUsYourStack, #PepsiSweepstakes and @IHOP.
TASTE THE COSMOS: 'SPACE-FLAVORED' COKE PREPARES FOR TAKEOFF
"It isn't often we get to bring together two iconic brands to satisfy the cravings of pancake and Pepsi lovers alike," said Todd Kaplan, Pepsi's chief marketing officer.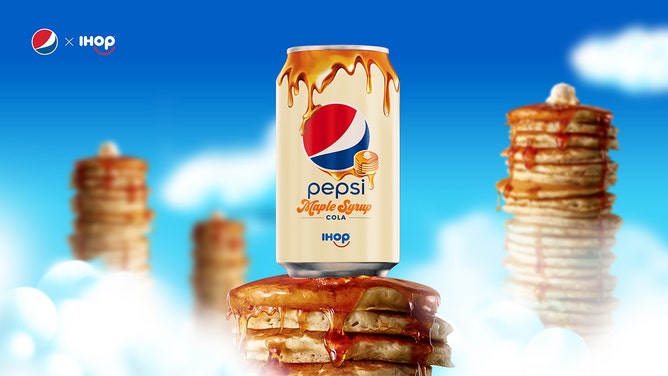 And if you are hoping to bring home the bacon, you will need to act fast because only 2,000 winners will be selected on March 29.
If you miss out on the opportunity, there's still the chance to enjoy the real prize -- fresh maple syrup.
The syrup season typically lasts 4 to 6 weeks, beginning in late February and ending in April.
According to Vermont Maple Sugar Makers' Association, the Green Mountain State is still the top producer in the United States, responsible for half of the nation's maple syrup crop. And so far this season, the weather cooperated for the most part.
"I share what most sugar makers tell me, 'don't ask me how the season is going until it's over,'" said Cory Ayotte, communications director with the Vermont Maple Sugar Makers' Association.
The ideal weather for sap flow is temperatures in the 40s during the day -- hopefully with sunshine -- and freezing temperatures in the 20s and teens overnight.
The rule of thumb is 40 gallons of sap is needed to make one-gallon maple syrup. So you might think twice if wanting to make your own maple syrup-flavored soda at home.
HOW TO WATCH FOX WEATHER ON TV
As for Ayotte, he would try the new cola flavor only if 100% all-natural maple sap was used in the recipe.
"Outside of the one IHOP in Vermont -- they use maple syrup -- the rest in the nation do not serve real maple syrup," Ayotte said. "So I am skeptical that this new soda has the real deal. Again, I haven't seen the ingredient list."
The Pepsi innovation team said they developed several flavor iterations and pairings to mimic the flavor notes of maple syrup before landing on the perfect pairing found in Pepsi Maple Syrup Cola.
FOX Weather reached out to Pepsi for an ingredients list and have not heard back.