How the weather impacts maple syrup production
Maple syrup production is a more than $147 million industry in the U.S. The U.S. Department of Agriculture reports Vermont, New York and Maine are the top-producing states.
Maple syrup is a must-have for many Americans, used to top pancakes, ice cream and other sweet treats. 
In addition to playing a major role for those with a sweet tooth, maple syrup is also a major industry worth more than $147 million in the U.S. The U.S. Department of Agriculture reports Vermont, New York, and Maine are the top-producing states.
One factor that can significantly impact the production of maple syrup is the weather, as certain weather patterns can affect the amount of sap produced by maple trees in any given season.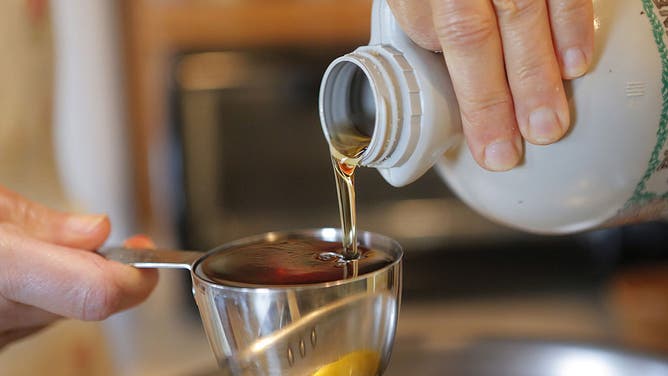 "The sap flow is based on the weather and having good fluctuations of temperatures above and below freezing," said Mark Isselhardt, maple specialist based out of the University of Vermont. "So, pretty much any time after the leaves fall, and it gets exposed to that fluctuation in temperature above and below freezing, you have the potential for some sap flow."
Experts said sap begins to flow from trees when pressure is created during temperature extremes from cold mornings to warm evenings. Trees that are tapped can produce a steady flow for collection, which usually lasts six to as long as eight weeks.
February and March are typically the peak for collections, but harvests can start as early as when trees lose their leaves in the fall.
As North America's temperatures warm during the spring, pressures inside the maples begin to fall, producing less sap for collections.
A SWEET SEASON: PEPSI TAPS INTO MAPLE SYRUP-FLAVORED COLA
Vermont, New York and Maine make up around 80 percent of the country's production, which usually ends the year north of 4 million gallons.
According to the USDA, a single tap hole in a maple tree typically produces between 5 and 15 gallons of sap on average per season. However, under ideal conditions, the tap can yield 40 to 80 gallons of sap in one season.
For perspective, an estimated 40 gallons of sap are needed to produce one gallon of maple syrup. 
In 2017, about 4.27 million gallons of sap were produced from more than 13 million taps in the U.S. This production was worth $147 million, the USDA said.
END OF TRIPLE-DIP LA NINA IN SIGHT: WHAT IT COULD MEAN FOR SPRING SEVERE WEATHER SEASON
Experts said it is difficult to predict how production will turn out due to subtleties, but a season that harvesters won't soon forget is 2012.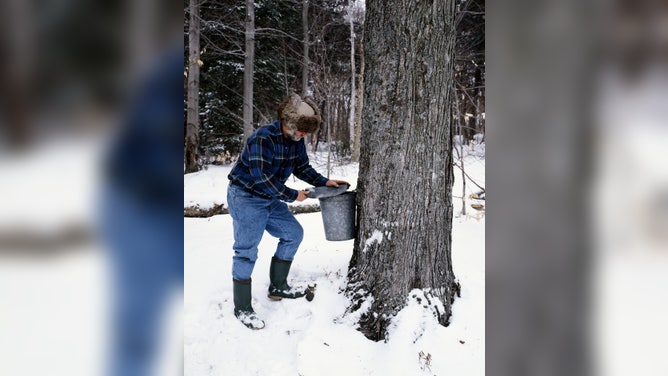 Just over a decade ago, a warm winter and a series of heat waves during the early spring resulted in a significant drop in production for most of New England.
The USDA reported growers were only able to produce 1.91 million gallons - off some 50% of what is typically produced.
The agency warned that due to a continuously changing climate and the weather-dependent nature of the sap flow, there may be some areas in the future where production sees sharp declines, while others could see increases.