Mother Nature won't interfere with Yellowstone National Park's 150th anniversary
Visitors will be able to take in the sights without any interference from Mother Nature
The 150th anniversary of the founding of Yellowstone National Park is Tuesday, March 1, and the weather looks relatively quiet at the world's first national park.
Outside of a morning flurry, a mainly dry day is expected for the anniversary, so visitors can take in the sights without any interference from Mother Nature.
Temperatures will be warmer than average for this time of year, with afternoon highs in the upper 30s to near 40 degrees, followed by lows Tuesday night in the mid-20s.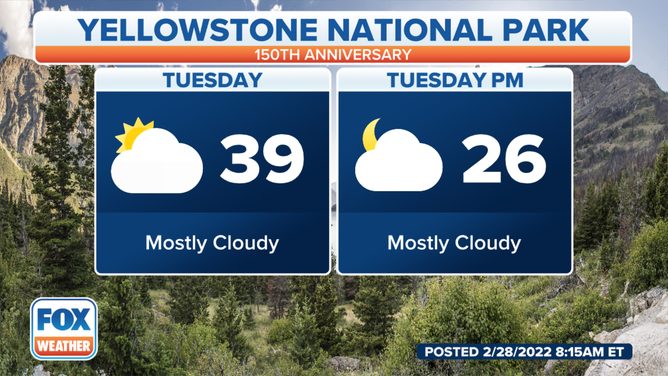 A typical early-March day at Yellowstone has high temperatures reaching the mid-30s while overnight lows dip into the single digits.
7 THINGS TO KNOW ABOUT YELLOWSTONE NATIONAL PARK
Above-average temperatures are expected to continue through the end of the week at Yellowstone National Park before turning colder this weekend.