Laser windshield wipers? It's an idea Tesla is working on
Windshield wipers were invented in 1902
The design of the current windshield wiper that dates more than a century could be history if Tesla is successful with a laser beam that would clear debris from a car's windshield.
Documents recently made public by the U.S. Patent Office show the automaker has been working on the idea since 2018.
Tesla did not respond to inquiries on its patent, but the filing sheds some light on the product that would be revolutionary in the industry.
The patent application publication reads in part: "A cleaning system for a vehicle includes a beam optics assembly that emits a laser beam to irradiate a region on a glass article of the vehicle, debris detection circuitry that detects debris accumulated over the region, and control circuitry. The control circuitry calibrates a set of parameters associated with the laser beam emitted from the beam optics assembly based on detection of the debris accumulated over the region on the glass article, controls an exposure level of the laser beam on the debris accumulated based on calibration of the set of parameters associated with the laser beam, wherein the exposure level is controlled based on pulsing the laser beam at a calibrated rate that limits penetration of the laser beam to a depth that is less than a thickness of the glass article and removes the debris accumulated over the region on the glass article using the laser beam." 
In submitted diagrams, lasers appear to be embedded on the car's hood and pointed at the front windshield.
A series of sensors would help guide the laser to the matter on the glass and remove it.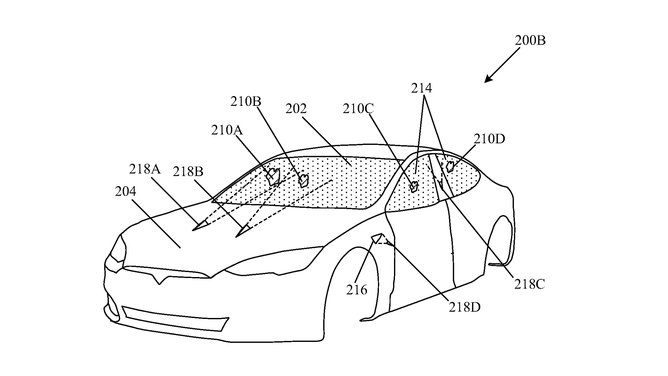 The filing suggests the mechanism would be far more advanced than anything currently on the market.
HOW TO WATCH FOX WEATHER ON TV
Ferrari is also known to be working on a revamp of the current day windshield wiper.
Permit filings show the automaker interested in a system capable of emitting air to help drivers keep glass free of debris.
Lauren Fix, an automotive expert and analyst with The Car Coach & Car Smarts Brands, believes there is nothing functionally wrong with the important mechanism but said automakers are always looking to advance their high-end cars because of air dynamics.
"You've got a problem with wind deflection, that's mostly for high-performance cars," Fix said.
Documents do not shed any light on potentially how far the advancements are from becoming a reality.
Automobile experts warn innovations in the industry usually take many years before they are available to consumers.
"It's got to be perfect because if it isn't, you're going have some very angry customers," Fix stated.