A 'blowout' for sure: Cyclones face Hurricanes in Windy City for Sweet 16 matchup
Iowa State University faces the University of Miami Friday evening just before 10 p.m. ET in 'Windy City' Chicago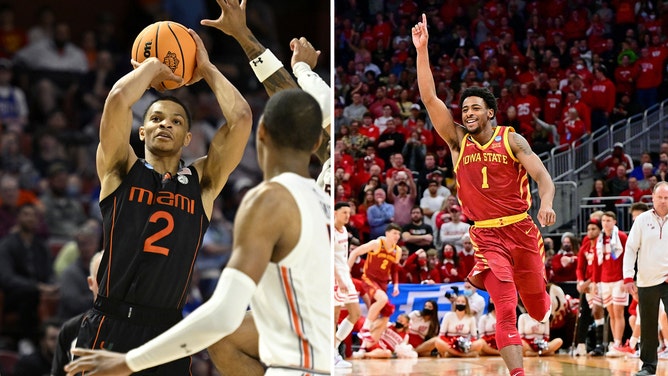 CHICAGO – We're not sure if the NCAA March Madness selection committee intentionally set up this potential scenario or if it was a gift from the gods of random chance, but there is an epic Sweet 16 matchup Friday that has both the college basketball and the meteorological worlds buzzing.
Iowa State University faces the University of Miami Friday evening just before 10 p.m. ET.
Not only is it a fairly unlikely matchup between two double-digit seeds in the Sweet 16 – Iowa State is an 11 while Miami is a 10 – but it brings a jaw-dropping coincidence.
Iowa State's mascot: The Cyclones.
Miami's mascot: The Hurricanes.
And if that wasn't enough to blow you away, the game is in Chicago, otherwise known as the "Windy City."
Both teams have had a whirlwind tournament so far with big upsets. Another wild coincidence is that each team knocked off a school whose mascot is the Tigers.
Miami defeated the second-seeded Auburn Tigers after edging by No. 7 USC in the first round, while Iowa State squeaked by No. 6 LSU (Tigers) before taking care of No. 3 Wisconsin in the round of 32.
Who would win between a real hurricane and cyclone? Could be a tie
Oddsmakers have said the Hurricanes are a slight favorite to take out the Cyclones on the court Friday, but on the meteorological storm brackets, they could be even-seeded, depending on where the game is played.
LEARN: FOXWeather.com Hurricane Coverage
The term cyclone is used for any area of winds rotating around a low-pressure center. In the Bay of Bengal and the Arabian Sea, a cyclone is the same type of storm as a hurricane. In the southwestern Indian Ocean, they're called "tropical cyclones."
But sometimes the term "cyclone" has been used to describe tornadoes. Considering Iowa State's campus is in the heart of Tornado Alley and one of their logos is a bird in a tornado, that's what they're aiming for.
In a battle between tornadoes and hurricanes, much like a basketball game, there are differences in how they run the floor.
Tornadoes can have much stronger winds than hurricanes, sometimes approaching 200 mph or more in their strongest versions, but their damage is limited in geographic size, and they pass in seconds.
MORE: Experts provide first glimpse of potentially another busy Atlantic hurricane season
Hurricanes can spread their wind field across hundreds of miles and can batter an area with damaging winds for several minutes to hours.
Other weather teams to root for
If battles of meteorology are of interest, here are some other teams in the NCAA who have weather-themed mascots:
Tulsa Golden Hurricane
St. John's Red Storm
Marshall Thundering Herd
Tulane Green Wave
Pepperdine Waves
And if you stretch it a bit:
Southern Utah Thunderbirds
Alabama Crimson Tide