Thousands drawn to Kansas sunflower farm each Labor Day to see 'big yellow blanket'
One million sunflowers will fill 50 acres of eastern Kansas farmland by Labor Day. It's a labor love Grinter Farms shares with its community and visitors worldwide.
LAWRENCE, Kan. – As the sun begins to rise across the open fields of eastern Kansas on a hot early-July morning, Ted Grinter is busy planting seeds just like his father did nearly 50 years ago.
By Labor Day, one million sunflowers will soon follow the sun as it crosses the sky over 50 acres of farmland. It's a true labor of love he shares with his community and visitors worldwide.
HOW TO WATCH FOX WEATHER ON TV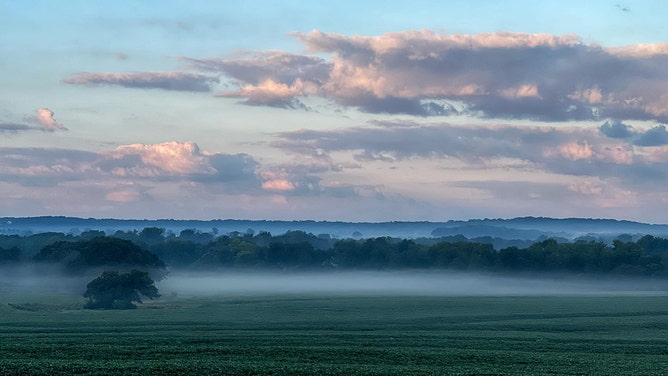 "It's kind of breathtaking," he said. "It just seems to go on forever. Whenever it's all in bloom, it's a big yellow blanket."
However, this is not an event or a festival. It is just a crop that he and his wife, Kris Grinter, have been growing for decades. Over the years, thousands of people have come to see the beauty, and these farmers say they simply can't say no and will continue to share their field for one reason.
"Because, truly, if you have the chance to share joy, why wouldn't you?" Kris Grinter said.
A family tradition
Corn and soybeans are their biggest crops to keep the farm going. But it's their love of sunflowers that keeps them motivated each year.
Since 1975, Ted Grinter has followed in his dad's footsteps in plating sunflowers. Back then, the idea was to use them for fuel, but by the time he raised the flowers, there wasn't a processor available locally.
"So we've been bagging it and selling it for birdseed ever since," he said. "And I just can't stop myself."
And the thousands of visitors flocking to his Leavenworth County field for two weeks won't stop either.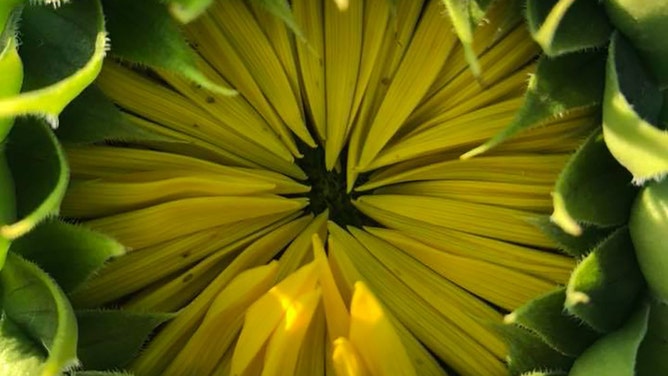 In full bloom
Twenty years ago, Ted Grinter said he would never plant sunflowers again because people kept cutting the first few rows. His wife insisted that people weren't intentionally sealing his crop but simply couldn't help themselves.
"We didn't have many people that would stop by at that time, just a few dozen, probably," Kris Grinter said. "I told Ted to humor me, weld up a money box, and put it at the field. That way, people would pay for the sunflowers that they were taking."
He was later shocked when they proved her correct by leaving a dollar for each flower they took or a contribution to thank the family for letting them have fun in the fields. Faith in humanity was restored, and the sunflowers kept getting planted.
Soon, local photographers arrived, and their photos began to spread across the country. More people came then. Every year after that, more and more came.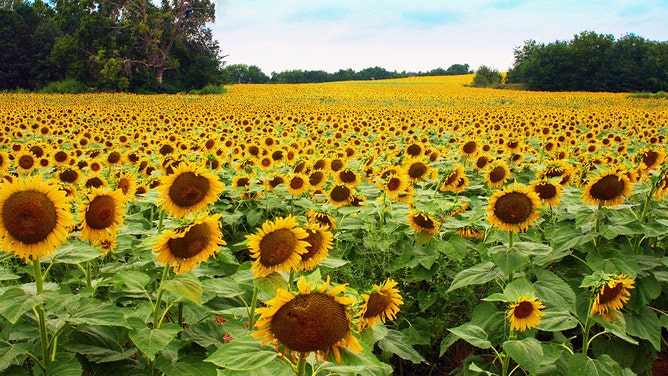 Grinter Sunflower Farms was now in full bloom.
"We were getting so many calls at home that we weren't even able to answer all the calls. We just had the phone on silent going straight to voicemail," Kris Grinter said.
In 2016, the Grinters broke the interstate because they had so much traffic.
"Really!" Kris Grinter exclaimed. "I call that day Carmeggdon. It was a bad time. Thank goodness, we haven't had a repeat."
But it all comes down to adoration, loyalty and strength – all sunflower symbols. The Grinters admit they are not trying to get rich off the field. They still do not charge people to come out and never will.
WHY THE SUNFLOWER HAS GROWN IN POPULARITY DURING THE RUSSIA-UKRAINE CONFLICT
"I grew up financially disadvantaged, and we didn't get to do much unless it was free," Kris Grinter said, "So maintaining that is really important to me."
"And I like putting smiles on people's faces. It feels good," her husband added.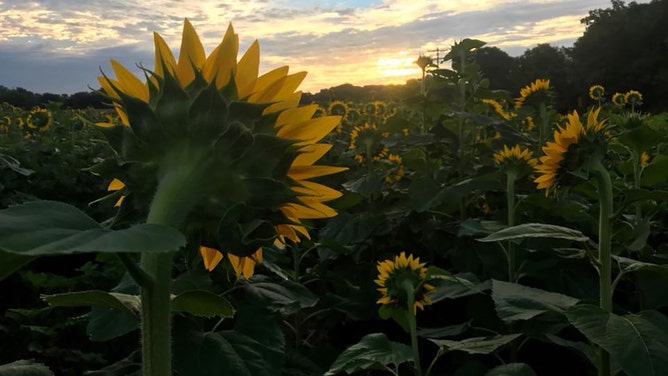 Labor of love
Many sunflowers are heat- and drought-tolerant, making them easy plants to grow. But ideal weather is essential.
About 10 years ago, Ted Grinter had to plant his seeds three times after being flooded out and baked in the ground.
"We've learned a few things that need to wait for the temperatures to be close to what we want," he said. "You wait too long, or it's too dry. It's a little bit of a guess at times."
Through the years, they've met people from all over the world.
Many regulars will drive hundreds of miles each year to visit. Some will even travel as far as India, Russia and Australia to see their flowers.
Yes, the time will come when the sun will set one day on the farm, and so will the sunflowers. But until that day comes, Ted Grinter will continue to rise before the sun, work until dark in the field and then wake again to repeat his chores.
It's all in faithfulness labor of love for a Kansas destination truly breathtaking decade after decade.
"Take a few minutes to just take it all in," Kris Grinter reminds others who come to enjoy the field. "Look out for one another. Kindness is contagious. We are not here for ourselves."