Why the sunflower has grown in popularity during the Russia-Ukraine conflict
The sunflower has been a staple in Ukraine for centuries but grew in significance after the country handed over its nuclear weapons to Russia
The flower that represented the removal of nuclear weapons from Ukraine during the 1990s is again quickly becoming a worldwide symbol for peace as the Russia-Ukraine conflict persists into its second week.
People around the world have been laying sunflowers outside of embassies, lining streets and attending prayers and protests as a show of solidarity for Ukrainians.

The movement has even made it to the United States with the National Sunflower Association saying the interest in the flower has been higher than any time in recent memory.
HOW TO WATCH FOX WEATHER ON TV
"We've gotten a lot more calls with people who say they are going to raise them as ornamentals and for solidarity and even farmers who are going to plant more acres this year to fulfill the need for sunflow oil here in the U.S. and around the world," John Sandbakken, executive director of the NSA, said.
The sunflower is thought to be one of the few crops that originated in North America and expanded in popularity, especially in Eastern Europe and Russia during the last several centuries.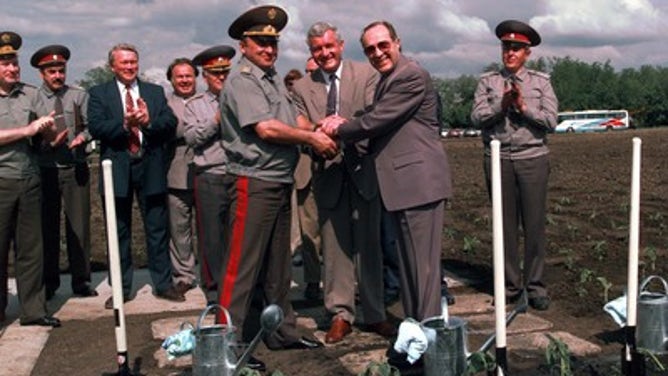 Today, the NSA believes that Ukraine and Russia make up 75 percent of global exports of sunflower seed, making it critical to the world's supply.
"You have to be in a drier, more arid climate. If you grow a sunflower in an area with a lot of humidity and too much moisture, you could have diseases. It is susceptible to mold," Sandbakken said.
WEATHER, RUSSIA-UKRAINE CONFLICT LEADING TO SKYROCKETING WHEAT PRICES
The United States Department of Agriculture estimates around 95 percent of the North American sunflower seed is produced in the Plains because of the growing climate.
Sandbakken believes U.S. farmers could produce more than half a million acres of sunflowers for oils and other uses during the summer growing season compared to last year's crop.
Despite the increase in domestic production, experts do not believe the output will make up for the loss of products from Russia and Ukraine.
"The prices have really gone through the ceiling. I've seen a 50 percent increase in sunflower oil. On seed prices, I haven't seen them as high. I would say around 10 to 15 percent increase in seed price," Sandbakken said.