Grandma, grandson find forgiveness in mission to visit every US national park together
Joy Ryan, better known as "Grandma Joy," is closing in on her seven-year mission with her grandson, Brad Ryan, to visit America's 63 national parks.
DUNCAN FALLS, Ohio – It's been 92 years and holding since the world was graced with the presence of Grandma Joy Ryan.
Ninety-two years of happiness and sorrow. Ninety-two years of a simple life in the two-traffic-light town of Duncan Falls in southeast Ohio.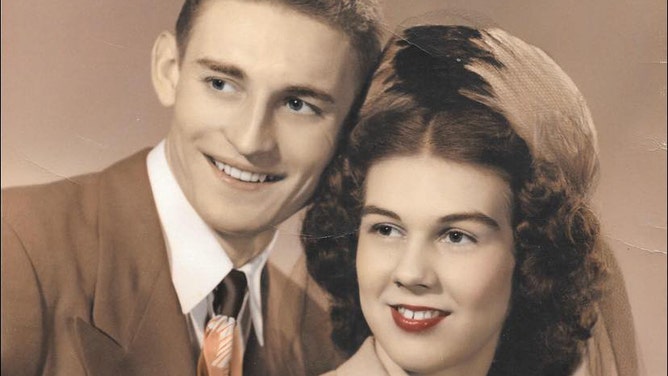 She maintained her upbeat and optimistic attitude while struggling to work a low-wage job at a grocery store deli until she was in her 80s. She also lived through the loss of her husband to cancer in 1994. Ten years later, two of her only three middle-aged sons died.
For the bulk of her life, the only thing she ever experienced was her evening walk through a neighboring cemetery. She had never seen an ocean, never set eyes on a mountain or never watched the current flow in a large river.
It wasn't until a heartfelt conversation with her now 41-year-old grandson – nearly a decade overdue – that would later transform the world for them both.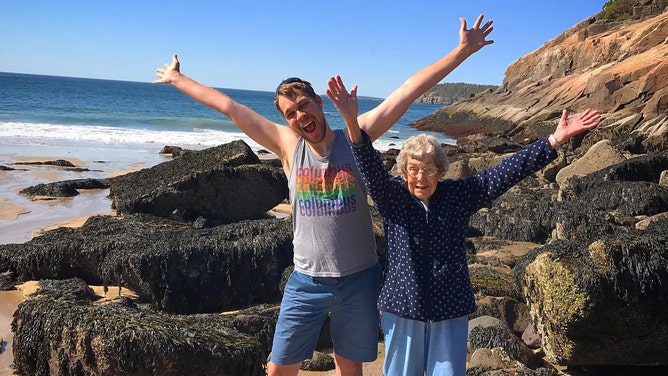 The talk
Brad Ryan set eyes on his grandmother at his sister's wedding for the first time after many, many years. They weren't on good terms at that point, and Joy Ryan was also very frail.
"The doctors didn't know what was wrong with her, but she was very close to death," he said.
After thinking a lot about what it would feel like to live the rest of his life with guilt, he eventually picked up the phone and called her.
"It was admittedly very awkward in the beginning," Brad Ryan said. "You can't just pick up after ten years like nothing happened. So instead, you have to make a choice, and my choice was to just create something more beautiful."
"The idea that she would just continue to sit on that front porch and continue to take that evening walk through a cemetery instead of being surrounded by the most wondrous living things on Earth was what I couldn't stand."
It was the first time he had spoken with his father's mother following a very ugly divorce between his parents. He was also in a very dark place in his life following the suicide of a second-year classmate at his veterinary school.
HOW TO WATCH FOX WEATHER ON TV
"For all those reasons, I needed to start from scratch and rebuild what was lost during that period of estrangement," he said. "I set out to try to save her from this small-town experience, what I considered a really gloom and doom way to spend your golden years sitting on the porch in the same town you've lived in 80-plus years."
Simply put, he wanted no regrets about his grandmother's inability to see the world in a new light.
The simple 'yes'
Brad Ryan had an idea. What if he and his grandmother could visit every national park in America and experience the natural wonders of the country together.
His proposal was met with a simple yes.
A yes that allowed her to climb her first mountain at 85. A yes to sleep in a tent for the first time to only fall off the air mattress in the pouring rain and giggle like children experiencing something new for the first time.
It was a yes that showed him that there was a lot of life left to live.
"And that's what everybody needs to be reminded of," Brad Ryan said. "If we're lucky enough to live to be 85 or 92, how do we want that to look?"
There's really no difference physically between her and other people her age, but where she veers off from so many her age is that when her grandson asks her to show up, she says, "Yes."
7 WEATHER EXTREMES EXPERIENCED AT NATIONAL PARKS
And while Brad Ryan doesn't know where his grandmother's inner fire comes from, what he does know is that if she had said no back in 2015 when he asked her to go to the Smokies with him to see her first mountain, none of this would have unfolded the way it did.
The quest
The duo is now closing in on their mission to visit every National Park in the U.S. Their ambitious quest began with a road trip to the Great Smoky Mountains National Park in 2015. In the past seven years, these intergenerational travelers have driven more than 50,000 miles to visit 62 out of 63 parks on their bucket lists.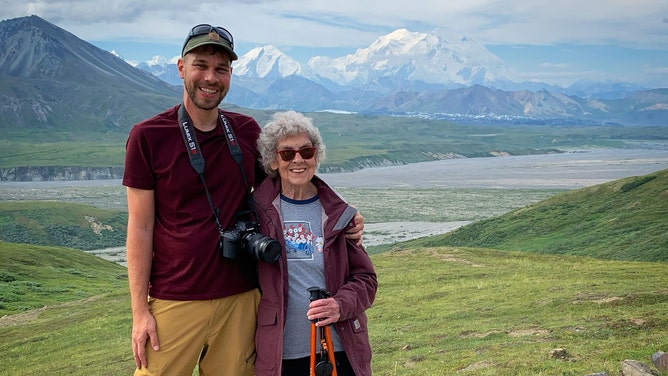 "The idea that she would just continue to sit on that front porch and continue to take that evening walk through a cemetery instead of being surrounded by the most wondrous living things on Earth was what I couldn't stand," Brad Ryan said. "So that was my cross to bear until the opportunity finally arose that I could get her in the passenger seat and take off."
The once seemingly impossible goal of visiting all of America's national parks in the Lower 48 was achieved and fueled by the generosity of Hyatt, who sponsored them in 2019 during a 45-day fall road trip. Other donors also helped them visit the U.S. Virgin Islands and Hawaii. An appearance on the Rachael Ray Show led to a surprise from Carhartt, which sponsored their trip to Alaska.
Brad Ryan has been overwhelmed by everyone who invited them into their homes, bed and breakfasts and businesses to help with their journey. 
The abundance of generosity in the country, he added, have changed their lives forever. His grandmother has now seen and conquered things that many would never believe a 92-year-old could do in the most amazing trip ever.
His grandmother's coordination and balance have also improved since their adventures first started. And even though her knees have always hurt, she has continued to hike with her grandson.
"And as a result, she's gotten stronger," Brad Ryan said. "And everybody who's followed us on social media every day, there's a comment that she looks younger now than she did when we started, and that's possible for anyone."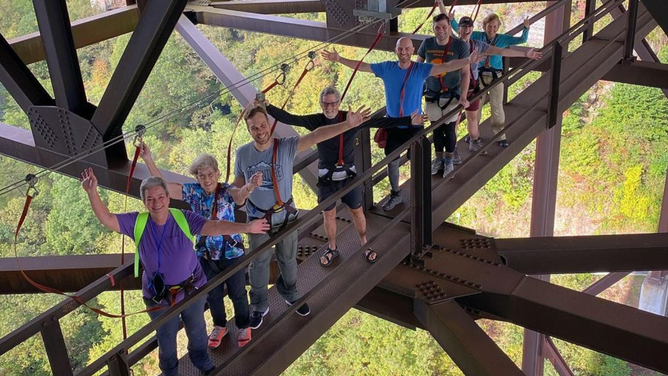 7 AMAZING REASONS TO VISIT YOSEMITE NATIONAL PARK
More than 80,000 followers combined on Instagram and Facebook have been watching their adventures unfold as Brad Ryan documents the sights through his grandmother's eyes.
"It's all the amazing things that I saw that I couldn't see from my front porch and all the amazing people that we met," Joy Ryan said. "I feel sorry for all these people that never get to go to one federal park, because it's really beautiful. It just takes your breath away."
7 FACTS ABOUT US NATIONAL PARKS
"When you spend that many hours on the open road, there's nothing you don't learn about somebody, and that went both ways," Brad Ryan added.
As the two reflect on their time together, they agree they can heal and fill a void in each other's lives. They have also taught each other to be better people – a lesson they said they both needed to learn.
"I'm looking forward to everything," Joy Ryan said. "I've got something to look forward to. We got one more to go, and I know we will make it because my health is that good."
Soon, they will lace up their hiking boots one last time as they fly to the National Park of American Samoa in the heart of the South Pacific, about 6,800 miles from that front porch in Duncan Falls.