Summer heat waves contributing to rise in gas prices, analysts warn
According to the U.S. Energy Information Administration, gasoline prices gradually rise through the spring and peak during the summer. In addition to extreme heat, hurricanes can cause delays in production.
The extraordinary heat experienced in communities across the southern U.S. is impacting driver sentiment but also operations at large refinery centers, helping to drive pump prices higher.
The American Automobile Association reports that the national average of a gallon of unleaded gas was around $3.78 to start the month, which is more than 20 cents higher than just a month ago.
AAA says they've seen a lackluster demand over the last few weeks, with fewer people hitting the road during what is usually a busy travel season.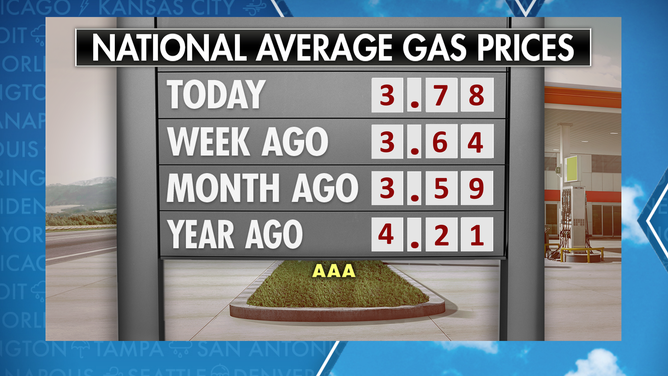 Reduced vehicle traffic, in combination with tighter supplies, has caused prices to remain stubbornly high and continue to rise.
"Gas demand barely budged from last week, yet compared to this time in 2022, it is higher nationwide except for the Gulf Coast, Texas, and New Mexico," Andrew Gross, AAA spokesperson, said during a July update. "Some industry experts speculate that scorching temps in that region are keeping people off the road."
GAS PRICES IMPACTING THE PRICE OF STORM CHASING
According to the association, California has the most expensive average gasoline at $5.01 per gallon, with half a dozen other states coming in between the $4-$5 mark.
Analysts at GasBuddy, a technology company that helps consumers find cheaper fuel, say extensive heat in the refinery operations zones can lead to higher prices at the pump.
"Heat can impact refinery operations by causing equipment failures, but higher temps also generally reduce yields-gases and liquids can expand with hotter temperatures, effectively reducing refinery output when temps soar over 100 °F or so," said Patrick De Hann, head of petroleum analysis at GasBuddy.
More than 60% of the country's production comes from the Gulf Coast, Texas and Louisiana, which all experienced stunning heat.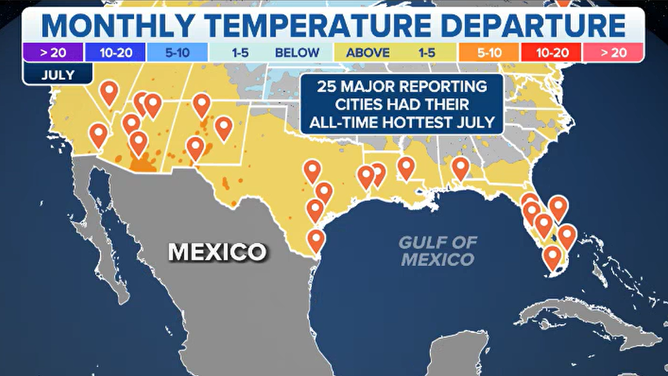 Communities such as Baton Rouge saw multiple days over 100 degrees, with dangerously hot heat index values that reached upwards of 115 degrees.
The hot weather caused observation sites to report their warmest month on record.
The sights are similar in Texas, where the Electric Reliability Council of Texas (ERCOT) reported electricity demand hit records as homes and businesses turned to air conditioning to make it through the heat waves.
According to the U.S. Energy Information Administration, the Lone Star State annually produces around 42% of the nation's crude oil and 27% of natural gas production.
HOW WEATHER IMPACTS OIL DRILLING OPERATIONS
Heat Forecast
(FOX Weather)
---
Hurricane impacts still loom
Large oil and gas facilities located around the Gulf of Mexico are also susceptible to hurricane strikes during the summer and early fall.
Previous landfalls have shut down production for an extended period, causing gas prices to jump and supply chain issues.
During Hurricane Katrina in 2005, the Congressional Research Service estimated more than 1.3 million barrels of refining capacity were shut down, causing communities hundreds of miles away to run low on fuel.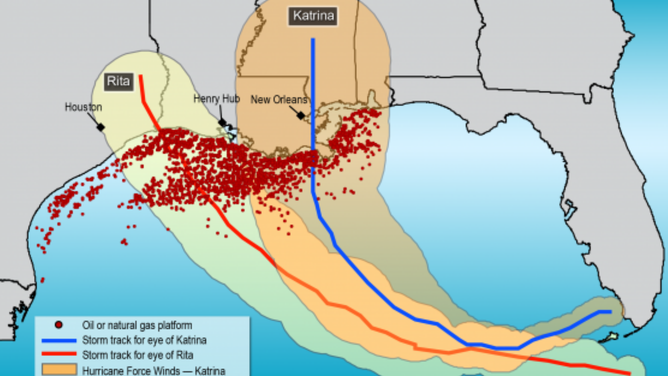 Vamegh Rasouli, a professor and department chair of the Petroleum Engineering program at the University of North Dakota, believes that if a similar event were to unfold, there would be fewer disruptions due to increased experiences and technology.
"The major problem is for offshore drilling. A hurricane will impact operations because of the safety for the crew but not because of the underground drilling," said Rasouli.
The hurricane season runs through November 30, but for states in the western Gulf of Mexico, the threat of a direct strike usually ends in late September or October due to autumnal weather patterns.
In addition to weather, GasBuddy analysts said they are also monitoring international production from large oil-producing nations.
"Oil prices have risen for five straight weeks as Saudi Arabia and Russia work together to cut production. Also, OPEC is planning production cuts to take effect in 2024, reducing supply and driving up oil prices," De Hann stated.