How weather impacts oil drilling operations
Hurricane Katrina and the Texas deep freeze of 2021 caused significant disruptions of petroleum operations
Russia's invasion of Ukraine has caused gas prices to skyrocket, making oil drilling a potentially hot commodity that experts say has had its ups and downs with the battle against Mother Nature.
The U.S. produces more than 11 million barrels of oil a day, with operations that run 24-7.
Natural disasters such as hurricanes and arctic blasts have led to temporary halts in high-production areas, but experts say it is because of the lessons learned from the extreme weather that will make future slowdowns pale in comparison to similar intensity events.
Vamegh Rasouli, professor and department chair of the Petroleum Engineering program at the University of North Dakota, believes the industry's continuous operations make workers susceptible to weather events, even though the equipment is considered to be durable.   
"The major problem is for offshore drilling. A hurricane will impact operations because of the safety for the crew but not because of the underground drilling," Rasouli said.
HOW TO WATCH FOX WEATHER ON TV
The 2005 hurricane season brought a double whammy to the Gulf Coast with storms Katrina and Rita passing through significant crude oil production zones.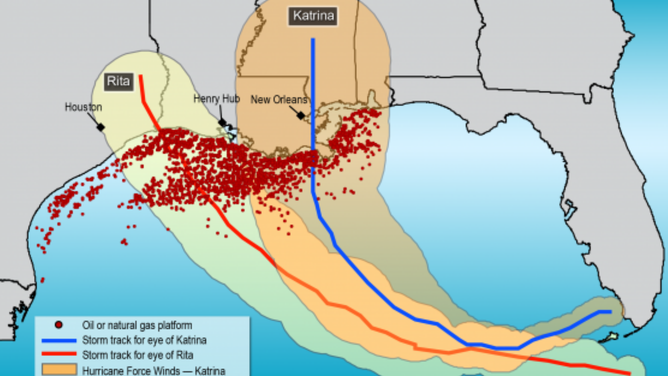 During the major hurricanes, dozens of oil and natural gas facilities were taken offline and evacuated due to the life-threatening weather.
The Congressional Research Service reports more than 1.3 million barrels of refining capacity were shut down in Katrina alone, causing impacts for several days with skyrocketing prices and supply issues.
Rasouli believes if a similar-type storm were to replicate Katrina's path, it would mean fewer disturbances than what the energy industry experienced more than a decade ago.
"Since 2005, a large amount of automation has happened, and I think a large amount of experience, skill and technology has been gained," Rasouli said.
Despite the apparent increase in skills to avert lengthy disruptions during hurricanes, the learned lessons are gained on a scenario-by-scenario basis and did not prepare the industry in The Lone Star State for the arctic blast of 2021.
"The industry made a choice not to weatherize their oil and gas infrastructure like they do in places like the Arctic," Nick Loris, an energy expert and Vice President of Public Policy at C3 Solutions, said. "Weatherizing all of the equipment is very expensive. And so they made a calculation based on the chances of the severe cold."
Loris believes through the companies' experience and legislation, changes are gradually being made to ensure a large disruption doesn't happen again during the next cold weather outbreak.
THINK GAS PRICES ARE HIGH NOW? IF ETHANOL DIDN'T EXIST, YOU'D PAY EVEN MORE
Barring any unforeseen circumstances, experts believe the U.S. will reach record high productions values next year.
"We're going to be up above pre-pandemic levels by the end of the year, and we'll probably reach record highs in production by 2023. So it's happening. It just takes a little bit of time," Loris said.
The U.S. Energy Information Administration expects the country will produce 12.6 million barrels per day in 2023.