'Everyone was lost': Survivor of 2015 Texas flooding works to prevent future tragedies
A survivor says the Blanco River in central Texas rose 40 feet in a few hours during the overnight hours of May 23.
WIMBERLEY, Texas -- Memorial Day weekend turned to tragedy in 2015 when flash flooding on the Blanco River swept through rural areas of Texas, destroying property and changing lives forever.
Jonathan McComb was spending time with his family in the town of Wimberley when he noticed some light rain falling on the night of May 23 and thought nothing of it.
"It was a beautiful day with sunshine all day long, and then that evening it started to sprinkle a little bit and then, and it never really rained hard on us that evening," McComb said.
Unbeknownst to visitors in the area, counties further up the river basin were experiencing torrential downpours on top of already saturated grounds.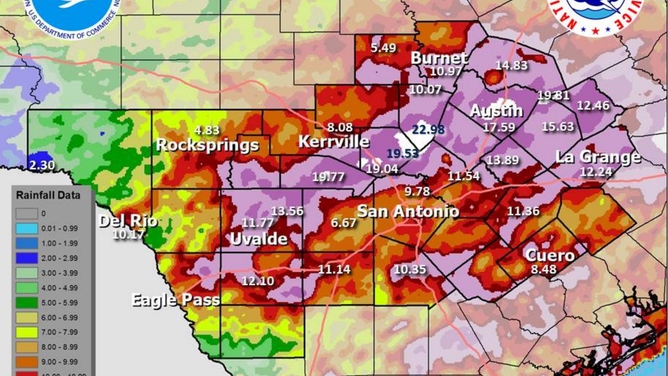 HOW TO WATCH FOX WEATHER ON TV
The National Weather Service said the runoff into streams and rivers caused water levels to rapidly rise and estimated the Blanco River rose 20 feet in an hour.
The rush of the water was so violent it knocked McComb's vacation house off its pilings and down river with his family inside.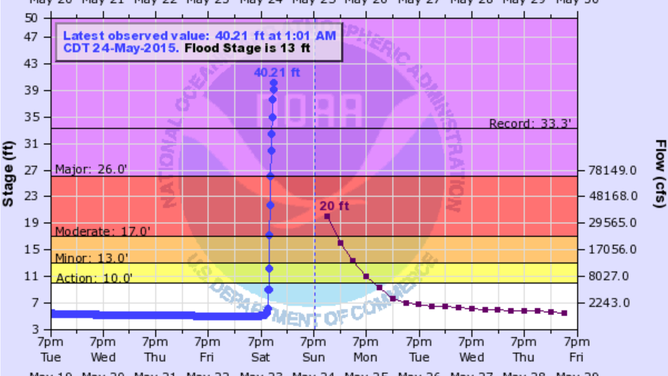 "I thought I was going to lose my life. We hit a bridge, and the top roof came off the house. And from there, it was, unfortunately, one by one, everyone was lost until I was knocked off the platform, trying to rescue my son, never to touch or talk to anybody again," McComb recounted.
He believes he was swept down the river for 11 miles before he was able to escape the water's wrath.
McComb became the sole survivor among his family, with at least 12 people in the immediate vicinity killed in the flash flooding.

GREAT TEXAS FREEZE KILLED NEARLY 3 TIMES MORE PEOPLE THAN HURRICANE HARVEY
In the years after, the survivor turned tragedy into triumph and joined a Texas-based rescue operation specializing in natural disaster responses.
"During my tragedy, I saw the good in people, and unfortunately, tragedies bring out the good in people and humanity and the love. And that's what I saw. There were a lot of different search and rescue groups that were part of that search. And so I ended up joining a TEXSAR, Texas Search and Rescue, so I can go back and help others," McComb said.
To become a volunteer on TEXSAR's search and rescue team, click here.