What are icebergs? Cold hard facts about these massive ice chunks
FOX Weather has complied some iceberg facts to help you better understand these chunks of ice, some the size of a small country
When you think of icebergs, the sinking of the Titanic might come to mind first.
She sank to her watery grave in 1912 after striking one in the icy northern Atlantic. Of the roughly 2,200 passengers and crew on board, only about 700 survived.
After the Titanic's sinking, the United States and 12 other countries formed the International Ice Patrol to warn ships of icebergs in the North Atlantic. It was one of the many lessons learned from that cold April night. 
Recently, a Norwegian Cruise Line ship filled with passengers was damaged while transiting to Hubbard Glacier in Alaska when it made contact with a growler. What's a growler you ask? 
NORWEGIAN CRUISE SHIP DAMAGED AFTER STRIKING ICEBERG IN ALASKA
FOX Weather has complied some iceberg facts to help you better understand these chunks of ice, some the size of a small country.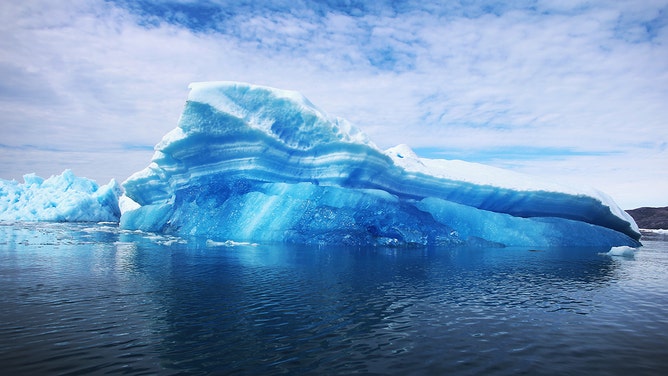 Bergy bits and growlers .. oh, my!
An iceberg is described as a massive piece of ice that has broken away from a glacier and typically floats in an ocean or lake.
To be classified as an iceberg, the National Oceanic and Atmospheric Administration said the height of the ice must be greater than 16 feet above sea level, and the thickness must be 98 to 164 feet. The ice must cover an area of at least 5,382 square feet.
HOW TO WATCH FOX WEATHER ON YOUR TV
Bergy bits and growlers, classified as smaller icebergs, can be hazardous for ships because they are harder to spot, according to the National Snow and Ice Data Center.
According to NOAA, bergy bits and growlers can originate from glaciers or shelf ice and may also result from a giant iceberg that has broken up.
Growlers are roughly the size of a truck or grand piano and extend less than 3 feet above the sea surface. A bergy bit's height is generally greater than 3 feet but less than 16 feet above sea level, and its area usually is about 1,076 to 3,229 square feet.
Icebergs are also classified by shape. The most common classifications are either tabular or non-tabular.
NOAA identifies tabular icebergs with steep sides and a flat top; non-tabular icebergs usually have domes and spires. Agencies like the U.S. National Ice Center help monitor icebergs worldwide and forecast ice conditions in the Arctic, Antarctic, Great Lakes and the Chesapeake Bay.
JOURNEY TO THE BOTTOM OF THE EARTH: COUPLE TOURS ANTARCTICA'S FROZEN WILDERNESS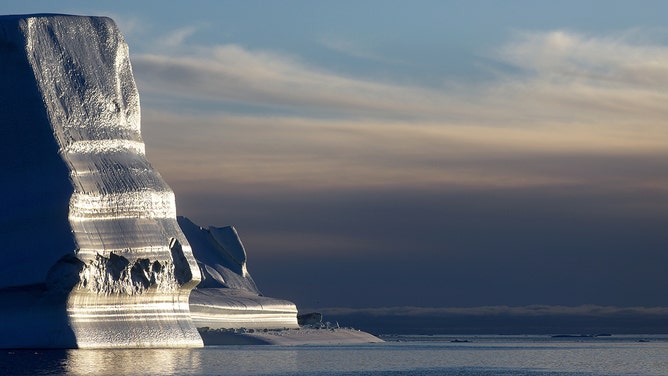 The Australian Antarctic Division defines these nine types of icebergs formations:
Glacier berg: An irregularly shaped iceberg.
Tabular berg: A flat-topped iceberg.
Domed iceberg: An iceberg that is smooth and rounded on top.
Sloping iceberg: An iceberg that is rather flat on top and with steep vertical sides on one end.
Pinnacled iceberg: An iceberg with a central spire or pyramid, with one or more spires.
Dry-docked iceberg: An iceberg which is eroded such that a U-shaped slot is formed near or at water level, with twin columns or pinnacles. This is also referred to as a twinned iceberg.
Blocky iceberg: A flat-topped iceberg with steep vertical sides.
Weathered iceberg: An iceberg that shows marked signs of deterioration from the effects of the atmosphere and ocean.
Ice island: A large piece of floating ice protruding about 16 feet above sea level and has a thickness of more than 100 feet and an area that could extend nearly 200 square miles.
How do icebergs form?
The North Atlantic and the cold waters surrounding Antarctica are home to most of the icebergs on Earth, the NSIDC reports.
They form when chunks of ice break off glaciers, ice shelves or more giant icebergs.
Ocean currents allow icebergs their means to travel and are sometimes seen smashing up against the shore or caught in shallow waters.
COUNT PENGUINS IN ANTARCTICA? THIS REMOTE JOB'S CHILLING HISTORY IS NOT FOR EVERYONE
When an iceberg reaches warm waters, the NSIDC said the new climate attacks it from all sides.
"On the iceberg surface, warm air melts snow and ice into pools called melt ponds that can trickle through the iceberg and widen cracks," the agency states. "At the same time, warm water laps at the iceberg edges, melting the ice and causing chunks of ice to break off. On the underside, warmer waters melt the iceberg from the bottom up."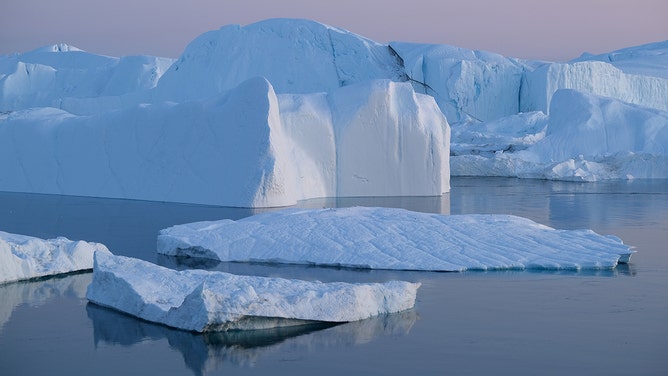 The importance of icebergs
Scientists study icebergs to learn more about climate and ocean processes.
"By studying the factors that cause icebergs to break up, researchers hope to better understand the influences that lead to ice shelf breakup and to better predict how ice shelves will respond to a warming climate," the NSIDC states.
As icebergs melt, they also leak nutrients into the ocean. Recent studies from the NSIDC have shown that the water surrounding icebergs are swarmed with plankton, fish and other sea life.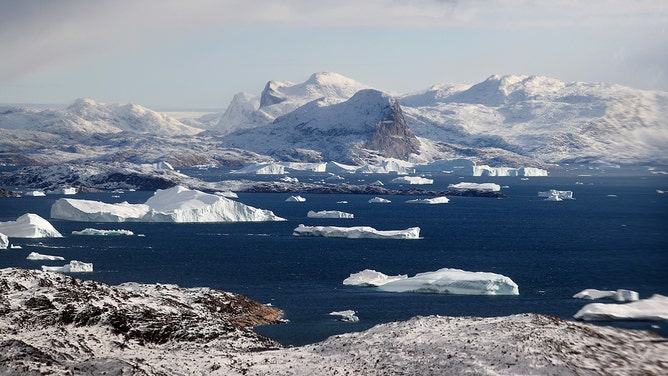 GET THE LATEST EPISODE OF THE FOX WEATHER UPDATE PODCAST
Be sure to download the FOX Weather app to track any storms in your area and receive potentially life-saving weather alerts issued by the National Weather Service. The free FOX Weather livestream is also available 24/7 on the website and app and on your favorite streaming platform. The FOX Weather Update podcast also provides weather information for the entire country.