Should you collect seashells by the seashore? How shellers can protect ecosystems
Anyone home? Check that shell for marine life before you take it
Before you bring buckets of colorful shells home from the seashore to stock your shelves, there are a few things to consider that might help you select your seashell finds more carefully and keep important ecosystems in place for marine life. 
José H. Leal, science director and curator for the Bailey-Matthews National Shell Museum, explains a few ways shellers can prevent harming previous mollusks while staying on the right side of the law. 
"When you see a live shell, do not take it. The regulations here in Lee County and Sanibel Island stipulate that no one may take a live shell away from the beach. So keep that in mind," Leal said. "Sometimes you may see the animal, and sometimes you can't.  But if the shell is heavy and you suspect it might, there might be an animal."
HOW TO WATCH FOX WEATHER ON TV
The Bailey-Matthews National Shell Museum is the only dedicated museum to shells and mollusks and is located in Sanibel Island, Florida, which is considered the shelling capital of the world. 
Sanibel Island is home to hundreds of species of shells. The Junonia, the Scotch Bonnet and the Lion's Paw are the most sought-after shells. 
"The island is kind of more oriented from east to west instead of north-south," Leal explains. "I think that helps trap shells as the storms come in, especially during the winter and sometimes in the summer, too."
Double-check a shell does not have an inhabitant because shells are the homes and protective casings of mollusks or crustaceans.
"I like to say that a shell is forever. So a mollusk doesn't shed its shell and get another one. They make the shells from the very beginning. So from the moment they are small little babies, they already have a shell," Leal said. "As the animal grows, it makes the shell larger and larger. So the animal can always be protected by that structure."
KELP IS ON THE WAY: UNIVERSITY PARTNERS WITH NEW YORK OYSTER FARMERS TO REDUCE OCEAN ACIDIFICATION
Sheller rules to live by
Florida law prohibits collecting specimens with an inhabitant, sand dollars, starfish and sea urchins. 
If you come across a sand dollar, starfish or anything living, place it back in the water.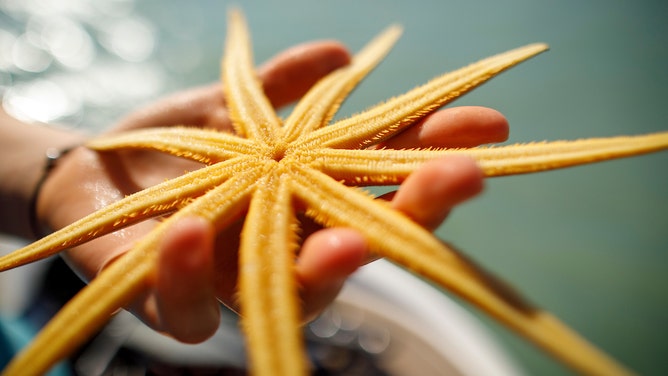 According to the Florida Fish and Wildlife Conservation Commission, in Lee County, shells containing a live organism cannot be harvested except for oysters, hard clams (quahogs), sunray venus clams and coquinas.
In Manatee County, shellers can collect no more than two daily shells containing live organisms of any single species except for oysters, hard clams, sunray venus clams and coquinas.
7 THINGS TO KNOW ABOUT SUNSCREEN
Certain species may be limited or prohibited in state or national parks and wildlife refuges. It's best to contact the parks and areas for information on the rules.
Riverbanks Zoo and Garden in Columbia, South Carolina warned that it is best to collect your own seashells instead of buying them from souvenir shops because these shells could be harvested in harmful ways. 
"Most 'shell shops' order their shells from wholesale traders, who in turn, get them by harvesting LIVE mollusks from the wild, simply to collect their shells," the Zoo wrote on Facebook. "Not only is this type of trade harmful to the health of mollusk populations, but it's also extremely detrimental to the entire ocean ecosystem."
Don't get greedy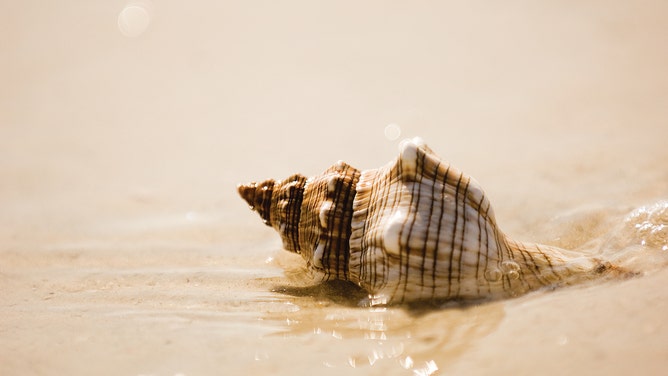 Tourism can have a significant impact on local seashores. Maybe a small handful of shells doesn't seem like much, but if millions of other visitors also take the same amount, that adds up.
STYLISH VS. PROTECTION: WHAT TO KNOW WHEN CHOOSING YOUR NEXT PAIR OF SUNGLASSES
A 2014 study led by researchers from the University of Florida and the University of Barcelona in Spain found that shell removal by tourists may accelerate the degradation of natural habitats. The study looked at a beach on the Mediterranean coast of Iberia, comparing shell species found from 1978-1981 to 2008-2010.
The authors found that 1,506 specimens were recovered in 1978–1981 compared to only 578 specimens in 2008–2010. Both shell surveys were conducted during the July and August tourist season. 
Not only did the shell species drop over 30 years, but the researchers found the reduction could lead to lasting physical, chemical and biological alterations to the eco-environment along shorelines. 
"Removal or destruction of shells, which serve a variety of ecosystem functions, may also negatively affect a broad spectrum of organisms," the study authors wrote. 
CLICK HERE TO GET THE FOX WEATHER UPDATE PODCAST
Be sure to download the FOX Weather app to track any storms in your area and receive potentially life-saving weather alerts issued by the National Weather Service. The free FOX Weather livestream is also available 24/7 on the website and app and on your favorite streaming platform. The FOX Weather Update podcast also provides weather information for the entire country.