Kelp is on the way: University partners with New York oyster farmers to reduce ocean acidification
Stony Brook University School of Marine Atmospheric Sciences study finds kelp can reduce carbon dioxide in the ocean
About a quarter of human-made carbon dioxide pollution is absorbed by Earth's oceans, creating a hazard for marine animals and plant life called ocean acidification.
Researchers at Stony Brook University's School of Marine Atmospheric Sciences recently published a study using kelp that could potentially reduce ocean acidification and keep bivalves, like oysters and calms, healthy.
HOW TO WATCH FOX WEATHER ON TV
Over the past 200 years, pollution has created chemical reactions in the ocean, lowering the pH level and creating ocean acidification. 
"Ocean acidification is a severe threat to marine organisms, particularly things like shellfish, five-ounce and oysters, clams, (and) scallops," said Stony Brook University School of Marine Atmospheric Sciences Prof. Christopher Gobler. "With rising levels of CO2 in the air, in the atmosphere, it enters the ocean, and it can dissolve their shells and cause mortality."
WORLD OCEANS DAY: ENDING OVER FISHING AND PROTECTING THE SEAS
According to NASA, the ocean has become about 30% more acidic as carbon dioxide is absorbed by ocean surface water. 
Gobler said SBU began looking at how to use seaweeds to combat ocean acidification. 
"Seaweeds and kelp are like plants. They're photosynthetic. And in that process, as they grow, they're actually taking up carbon dioxide out of the water," Gobler explained. "That's the carbon dioxide that causes the acidification threat. So what we've been finding is that by having kelp in there can actually fight the ocean acidification and maybe even help bivalves."
JUPITER HAS STRIKING SIMILARITIES WITH EARTH'S OCEANS, OCEANOGRAPHERS FIND
SBU researchers partnered with more than a dozen oyster farmers across New York to grow kelp around their oysters. 
The study was based on the observations at Great Gun Oysters in East Moriches, New York. During one month, the team found that the oysters surrounded by kelp had high-pH level water – meaning less acidic – compared to those without kelp.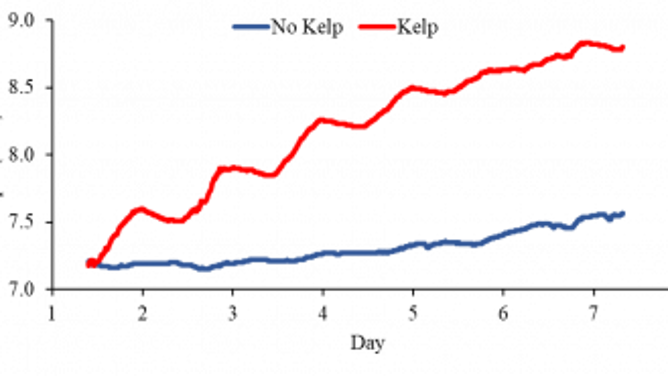 ARCTIC REPORT CARD WARNS ABOUT 'ALARMING' WARMING TRENDS
"It sort of creates what we call a halo effect in that the oysters that are surrounded by the kelp experience low acidity water and actually grow faster compared to the ones that are located further away," Gobler said.
It's possible this method could be used to help protect different ocean ecosystems and aquaculture, like coral reefs, or combat toxic algae blooms.
CLICK HERE TO GET THE FOX WEATHER UPDATE PODCAST
"This also affects lobsters and crabs," said Gobler. "Making shells becomes more and more difficult as the levels of CO2 increase in our atmosphere and in our oceans."
Another benefit is that using kelp and seaweed is environmentally friendly and requires no fertilization, pesticides or feeding.