7 tips to weathering the 4th of July safely
The American Pyrotechnics Association says that more than 14,000 fireworks displays will light up the sky on Independence Day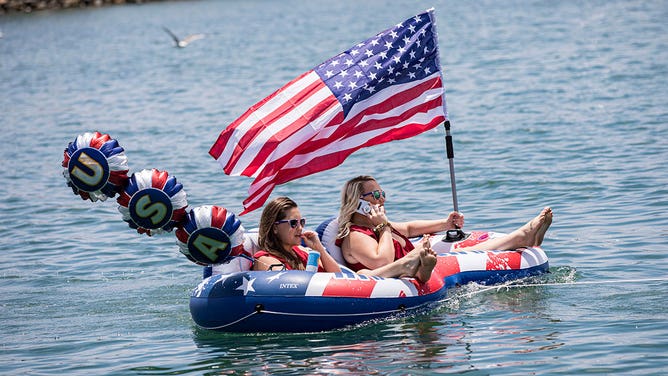 The Fourth of July is a festive time that many Americans spend outdoors. 
According to the American Pyrotechnics Association, more than 14,000 fireworks displays will happen on Independence Day.
However, the blazing hot weather of summer and pop-up thunderstorms can become problematic if you don't plan ahead.
Here are seven tips to help you have a fun but also safe Independence Day.
HOW TO WATCH FOX WEATHER ON YOUR TV
1. Wear your sunscreen
Sunscreen is very important if you plan on being outside for any length of time during the summer months. The high sun angle produces UV rays, raising the UV index. The higher the index, the greater your chances of getting sunburned and damaging your skin. So, before heading outside for your plans, apply sunscreen. Remember, if you are going to be outside for a long period of time you should reapply sunscreen based on the manufacturer's instructions.
7 THINGS TO KNOW ABOUT SUNSCREEN
2. Stay hydrated
Drinking plenty of water while outside in the heat is one of the best ways to keep yourself from getting overwhelmed by the summer heat. Even without physical activity, your body can start to overheat. When you're celebrating, remember to stay hydrated with non-caffeinated and non-alcoholic beverages. You should also wear light-weight and light-colored clothing to help regulate your body's temperature.
3. Take frequent breaks in the shade or AC
Whether you are playing corn hole, shooting basketball, fishing or enjoying a barbecue, you should take frequent breaks in the shade or air-conditioned places. Heat exhaustion is an illness that can happen very quickly. If not treated, it could escalate to heat stroke and cause serious medical problems. Taking breaks indoors or in the shade can give your body a chance to cool down from the blazing sun.
4. Have a storm plan
Summer in many places means a thunderstorm could pop up with little notice. Before heading out for your July 4th plans, check the FOX Weather app to see if storms are in the forecast. If they are, be sure to have a plan regarding where you would go in the event of lightning or a tornado. A basement or the center of the lowest level of a building is the best place to go, during a Tornado Warning. If you are camping, a shower house, office or other substantial building can be a potential shelter.
5. Watch for rip currents
Many people opt for sand and sun to celebrate the Fourth of July. One of the biggest dangers at the beach is a rip current – strong channels of water that can quickly pull you away from the shore. If you get caught in one, you'll feel a tug of the water pulling you out to sea. Staying calm is key to escaping the current. You shouldn't try to swim against the current, as this will tire you out and put you in serious danger. Instead, wave for help and try to float on your back. Experts say swim parallel to the shore until you no longer feel the pull of the current.
6. When thunder roads, head indoors
If you hear thunder while you're outside celebrating lightning is nearby. Lightning can be deadly, and it is import to head inside. Lightning can strike miles away from a storm, so it doesn't have to be raining in your location for a bolt to strike.

DEBUNKING 7 MYTHS ABOUT LIGHTNING 
7. Don't light fireworks in drought areas
Fireworks are synonymous with the Fourth of July, but you shouldn't shoot them in places that have been experiencing hot and dry weather in recent weeks. Setting off fireworks in these types of conditions could spark a fire that could quickly become out of control. Several cities across the West are turning to drones for safe celebrations because of the fire threat.
GET THE LATEST EPISODE OF THE FOX WEATHER UPDATE PODCAST
Be sure to download the FOX Weather app to track any storms in your area and receive potentially life-saving weather alerts issued by the National Weather Service. The free FOX Weather livestream is also available 24/7 on the website and app and on your favorite streaming platform. The FOX Weather Update podcast also provides weather information for the entire country.