The bear necessities of living safely with Florida black bears
Bear-proof your garbage and take steps to protect your pets
Florida is home to the black bear, which can be found throughout the Sunshine State, and bear encounters are a regular occurrence in some communities. 
Before Florida was occupied mainly by humans, black bears roamed the peninsula with free rein, even in coastal areas and the Florida Keys. Today, Florida's Black Bear population is around 4,000 throughout the state as communities have built into bear habitats over time.
HOW TO WATCH FOX WEATHER ON TV
According to the Florida Fish and Wildlife Conservation Commission bear map, the state has received more than 6,000 bear-related calls from 2021 to March 2022. These calls range from a bear in someone's yard, patio or into the garbage to a hungry bear going for honey at an Apiary. People can report bear sightings on FWC's website here.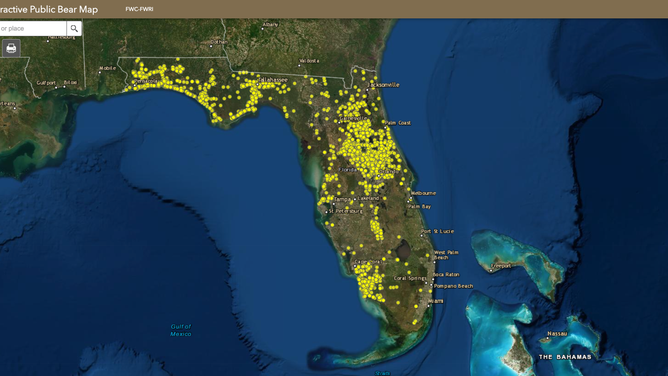 State bear data shows that a majority of bear calls and Florida wildlife official bear handling happens in concentrated areas of the state, including Central Florida, the Florida Panhandle, Northeast Florida and Southwest Florida.
NEW TO FLORIDA? HERE'S A GUIDE TO HELP PREPARE FOR YOUR FIRST HURRICANE SEASON
Residents in Seminole County north of Orlando are used to living with bears, where Florida wildlife officials say it's essential to be "BearWise."
If you find yourself with bears for neighbors, here are a few "bear necessities" of living safely with bears.
Protect your trash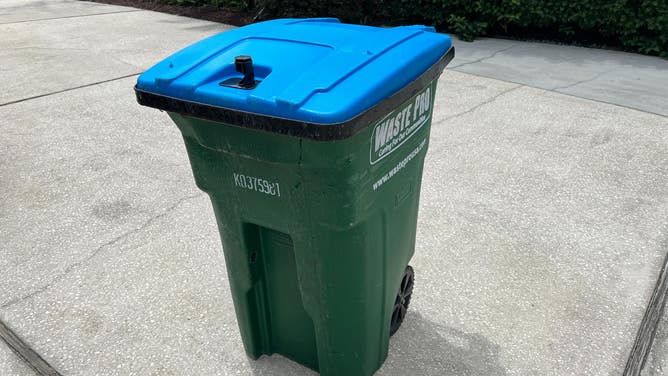 Bears have a highly sensitive sense of smell and can detect food from over a mile away. They are intelligent and have learned that human garbage is an easy food source with more calories.
No. 1 is securing your garbage. Keep it in a secure place, inside a shed or garage, until it's time to go out. Take it out the morning of pickup instead of the night before. Bear-proof garbage cans can be purchased at home improvement stores or online. Some waste service providers may also have bear-proof cans. 
BISON GORING AT YELLOWSTONE PROMPTS SAFETY REMINDER FROM PARK RANGERS
It is illegal to feed bears or intentionally leave food in your trash for bears. This will make bears reliant on this food source, increasing encounters between humans and bears.
Black bears primarily eat plants, berries, nuts and insects but are not entirely vegetarian. About 5% of their diet is from small animals, reptiles and eggs, according to the FWC. 
What to do if you see a bear
If you see a bear, do not approach it or make direct eye contact. If it's a close encounter, remain calm and back away slowly, leaving the bear room to exit. 
FWC also advises people to attempt to scare bears away. Make yourself as tall as possible, and then make as much noise as possible. Don't run, according to FWC, because this could trigger a chase, and bears can move at up to 35 mph.
CLICK HERE TO GET THE FOX WEATHER UPDATE PODCAST
Here's a step-by-step guide if you attempt to scare a bear away.
An unhappy bear will tell you to back off in their own way. Wildlife officials say bears will clack their teeth together, moan, huff or sump if they feel threatened. 
Protecting your pets
In a bear community, it's good to take your walks during the daylight hours to be more aware of your surroundings. Bears are most active at night and before sunrise. 
While out on a walk, keep your pup on a short leash and bring something to make noise or bear spray.
In April, a couple in Apopka, Florida, took their dog out when a black bear charged them. This was a rare encounter, but they all made it inside.
"It really was quite surprising," Jason Smith told FOX Weather. "It's not normal for the Florida black bear. It's not normal behavior, so it was quite shocking and very scary for both of us."
NASA'S MEGA MOON ROCKET SURVIVED THE MOST POWERFUL LIGHTNING STRIKE EVER RECORDED AT SPACE CENTER
Bears will be happy to eat pet food or whatever they can get their paws on. Pet food should be stored inside, and if you feed your pet outside, move the dishes inside after feeding.
Electric fences can be an excellent way to protect pets or livestock from bears. Before letting your dog out, look around your yard and then make noise or use flashing lights to startle a possible bear.