Bison goring at Yellowstone prompts safety reminder from park rangers
According to park rangers, bison have injured more people in Yellowstone than any other animal
From boiling hot springs to thousands of wild animals, Yellowstone National Park is a glittered wonder of nature that attracted nearly 5 million people last year. However, along with the popular sights and sounds come hazards.
A 25-year-old Grove City, Ohio, woman was gored by a bison at the park this week and tossed 10 feet into the air. She came within 10 feet of the animal on Monday morning on a boardwalk just north of Old Faithful, the National Park Service said. The woman was taken to an area hospital by ambulance, and the incident remains under investigation.
7 THINGS TO KNOW ABOUT YELLOWSTONE NATIONAL PARK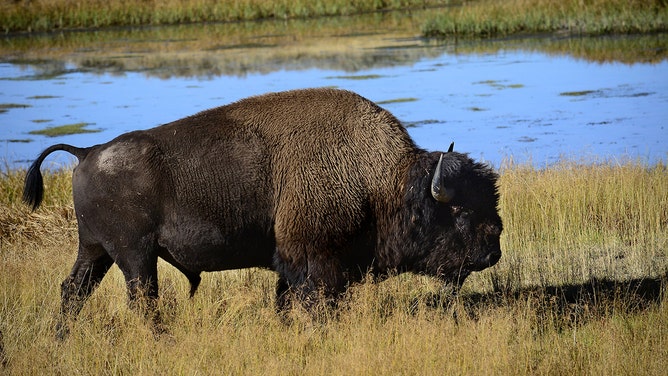 The park is home to 67 different species of mammals – the largest concentration of mammals in the Lower 48. It's also the only place in the U.S. where wild bison have lived continuously since prehistoric times. It is estimated that about 5,000 bison now call the park home.
Bison at Yellowstone are active year-round, according to park officials. Group sizes average about 20 bison during winter and increase in summer to about 200 with a maximum of about 1,000 during the breeding season in July and August.
According to park rangers, bison have injured more people in Yellowstone than any other animal. Monday's incident was the first reported goring of a park visitor this year.
Wildlife in Yellowstone National Park can be dangerous when approached, according to park rangers. They are also unpredictable and can run three times faster than humans.
'YELLOWSTONE IS AN AMAZING PLACE': AMERICA'S OLDEST NATIONAL PARK CELEBRATES 150 YEARS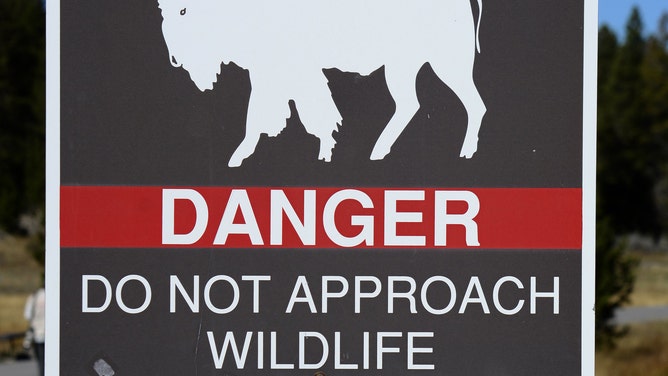 When an animal is near a campsite, trail, boardwalk, parking lot or in a developed area, visitors should give it space, the NPS warns.
Park regulations require visitors to remain more than 25 yards away from all large animals like bison, elk, bighorn sheep, deer, moose and coyotes. Visitors should stay at least 100 yards away from bears and wolves. 
FOX NATION'S ABBY HORNACEK ON WHAT YELLOWSTONE NATIONAL PARK HAS TO OFFER
If need be, rangers recommend turning around and walking away to avoid interacting with wild animals.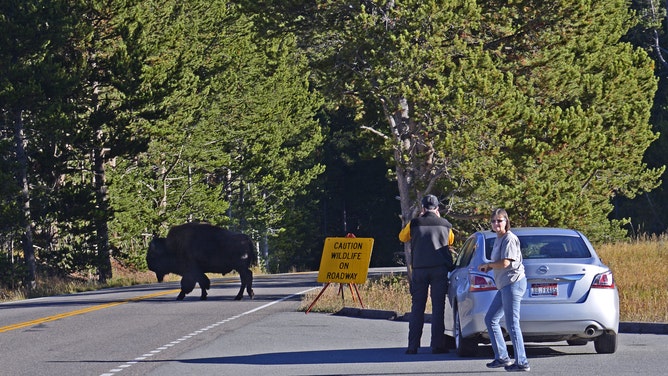 Other Yellowstone hazards to be aware of
Hot springs have injured or killed more people in Yellowstone than any other natural feature, according to park officials. When visiting, you should never wander off boardwalks and trails in thermal areas.
Wildlife should never be fed. Animals that become dependent on human food may become aggressive toward people and have to be killed, rangers say.
7 FACTS ABOUT US NATIONAL PARKS
The NPS said drivers should also never park on the road or block traffic. Pullouts should be used to watch wildlife and let other cars pass. Always stay with your vehicle if you encounter a wildlife jam.