Florida's biggest weather-related killer lurks along beaches
Around 22 people each year are killed by rip currents and rough ocean conditions
Florida's warm waters and bright sunny beaches attract millions of tourists each year, but they also are a driver of the biggest weather-related killer- rip currents.
These hidden dangers form when waves break near the shoreline, pile up water and form a narrow stream that flows quickly away from shore.
Experts say it is that extra pull that can panic swimmers, which can lead to fatigue and eventually drowning.
HOW TO WATCH FOX WEATHER ON TV
Data from the National Oceanic and Atmospheric Administration shows around 22 people are killed each year by rip currents and other rough ocean conditions in Florida.
"Rip currents can form in any location of the beach, and to most beach visitors, they will never see the danger," Joe Westerman, Chief of the Manatee County Beach Patrol Division, stated. "It is always important to swim on a lifeguarded beach and heed the warning flags that may be flying for that day."
How not to become a victim
The Sunshine State has more than 825 miles of beaches and only around 50 surf and rescue agencies that are devoted to lifeguard operations.
The apparent disparity means many areas do not have eyes constantly scanning the shore for dangers.
"Unlike other first responder agencies, there are no current Florida standards that say coastal communities must provide ocean lifeguard services. Our main mission is to watch over the crowds and provide rapid intervention to those that find themselves needing to be rescued," Westerman said.
Westerman said it can't be stressed enough that when people venture out to the beach, they should always do so in the presence of the lifeguard.
NOAA AIMS TO KEEP BEACHGOERS SAFE WITH NEW LIFE-SAVING RIP CURRENT FORECAST MODEL
At many lifeguard-protected beaches, color-coded flags are used to alert visitors to the status of conditions and any dangers in the water.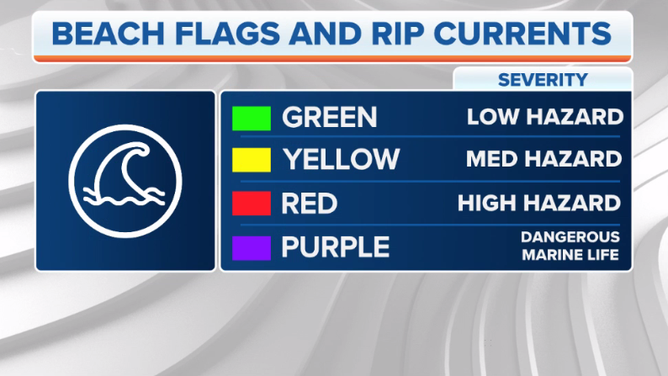 The awareness of the state of the water and human monitoring act as a safety net that agencies hope fight against dangers that are hard to detect.
What to do if you find yourself in a rip current
Experts say rip currents are difficult for beachgoers to identify, even when in the current.
If caught in a rip current, lifeguards say remain calm and don't try to fight the water.
Instead, swim parallel to shore until there is no longer a force pushing against you.
Once the pressure subsides, experts say it'll be easier to swim to shore.
Westerman said knowing your swimming limitations and knowing how to escape the strong current are just some of the keys for having a safe day in the sun.