Can volcanic eruptions affect the weather?
A volcanic eruption can alter Earth's climate for years and create its own weather phenomenon like lightning and wind vortices.
When a volcano erupts, the massive plumes of ash and gases sent high into the atmosphere can cause global temperature changes and, in the long term, affect weather for years after an eruption.
The most significant way a volcanic eruption can affect the weather is by cooling the temperature locally and worldwide with the giant clouds of sulfur dioxide sent into the stratosphere. 
WHERE IS THE LARGEST ACTIVE VOLCANO IN THE WORLD?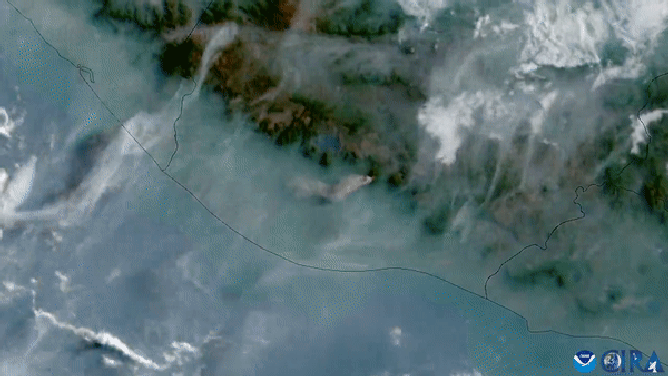 The U.S. Geological Survey said the dust and sulfur dioxide from a major eruption can also create vibrant sunsets and sunrises as the particles scatter light at different wavelengths.  
How do volcanoes affect Earth's climate?
A volcanic eruption can alter the planet's climate for years, according to the U.S. Geological Survey. The sulfur dioxide emitted from volcanoes blocks sunlight and interacts with the atmosphere, cooling the Earth's surface. 
For example, the U.S. Geological Survey says another major Yellowstone eruption would probably alter global weather patterns and impact agricultural production for many years. However, predicting the specific outcomes of such a large eruption is impossible. 
WHAT ARE THE 4 CLASSIC TYPES OF VOLCANOES?
In 1991, Mount Pinatubo erupted in the Philippines, sending sulfur dioxide into the atmosphere and dropping global temperatures by 1.3 degrees Fahrenheit, according to the USGS.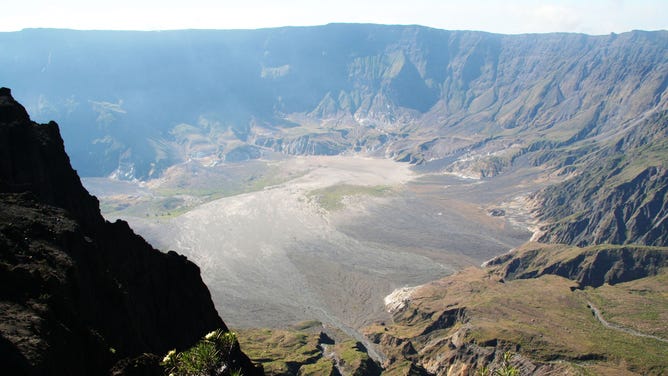 A much larger volcano can influence temperature changes for years.
The eruption of the Tambora volcano in Indonesia in 1815 was the most powerful eruption recorded in history, according to the USGS. The volcanic cloud from Tambora lowered global temperatures by 3 degrees, and Europe and North America experienced cooler temperatures throughout the summer of 1816. 
Can volcanoes create weather?
According to the University of Hawaii Center for the Study of Active Volcanoes, massive volcanic eruption clouds, or pyrocumulus clouds, can produce lightning and wind vortices.
WHAT HAPPENS BEFORE A VOLCANO ERUPTS?
Lightning is more common with some volcanoes but a rare phenomenon with Hawaii's volcanoes, according to the University of Hawaii. 
WATCH A VOLCANO MAKE ITS OWN WEATHER
Here's how it works: Similar to a thunderstorm with ice particles, volcanic materials collide with one another at high speeds. These collisions can cause the separation of charges in volcanic clouds, creating lightning.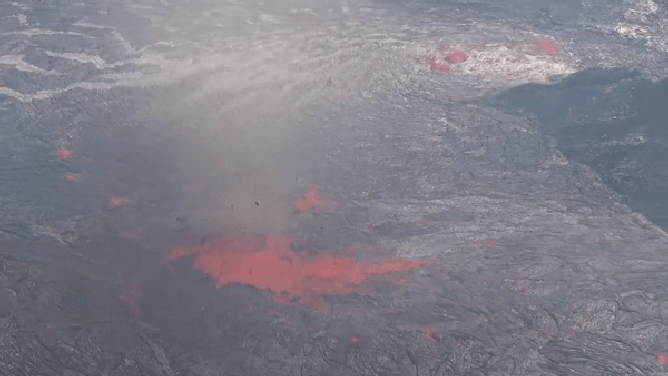 Volcano eruption plumes can also produce weather events that look like tornadoes, but aren't true tornadoes. 
The air inside the eruption plume is so hot and buoyant that as it rises, it draws more air from underneath. As the wind blows the plume away, more air gets pulled in from the side, creating a vortex.