Hurricane Fiona's potential path to Canada is not country's first hurricane impact
Hurricane Juan of 2003 is considered to be the most destructive in recent history.
America's neighbors to the north might be known for their maple syrup, ice hockey and breathtaking scenery, but occasionally the scenic sights are interrupted by cyclones that can make towns look more like they belong in the tropics.
Since 1951, Canada's hurricane center said the country has seen around two dozen hurricanes or post-tropical cyclones that have made landfall along their Atlantic coast.
The names of recent cyclones to impact the expansive coastline include Larry in 2021 and both Teddy and Isaias in 2020.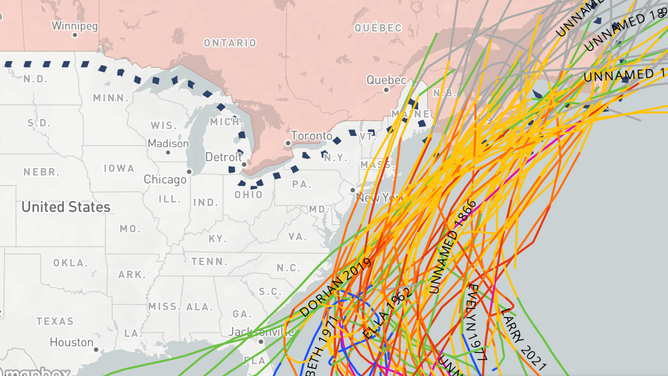 Many of the systems are in a weakening state as they approach the country due to cooler water temperatures.
At the height of the season, ocean temperatures can top out at around 10 to 20 degrees below what a tropical system usually requires. Typically, a bona fide tropical cyclone needs water temperatures at around 80 degrees for formation and sustenance.
WHY DON'T TROPICAL STORMS OF HURRICANE EVER HIT CALIFORNIA?
Simply because the water drops in temperature underneath a storm does not mean energy completely evaporates as a cyclone approaches the coast.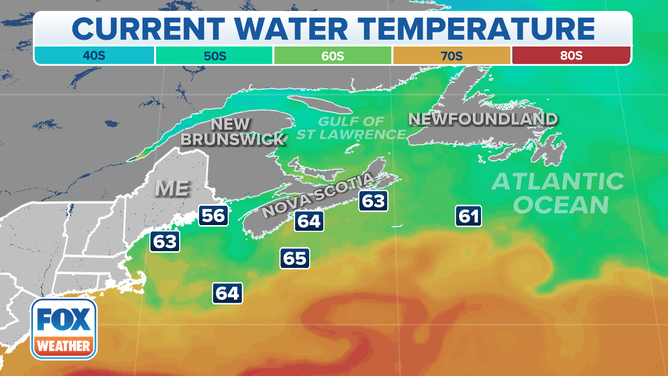 A hurricane can become a post-tropical cyclone. 
These more northern latitude systems are able to survive due to the clash of air masses. A post-tropical cyclone can spread rain and wind for hundreds of miles and be just as damaging as a hurricane.
Hurricane Dorian from 2019 is a classic example of a cyclone that transitioned from a Category 2 storm to a post-tropical cyclone before landfall.
Dorian's winds were estimated to be around 100 mph in Nova Scotia, and it put down torrential rainfall.
Canada's insurance bureau said many large trees were uprooted, and the heavy rains caused roads to wash out in conditions similar to a Category 2 hurricane.
Worst hurricane strike in modern history
Hurricane Juan of 2003 is considered to be the most destructive in recent history.
The Category 2 hurricane made landfall with winds of around 100 mph on September 29.
The winds were strong enough to knock over trees, trigger thousands of power outages, damage homes and sink boats.
Some of the hardest hit regions were Nova Scotia and Prince Edward Island.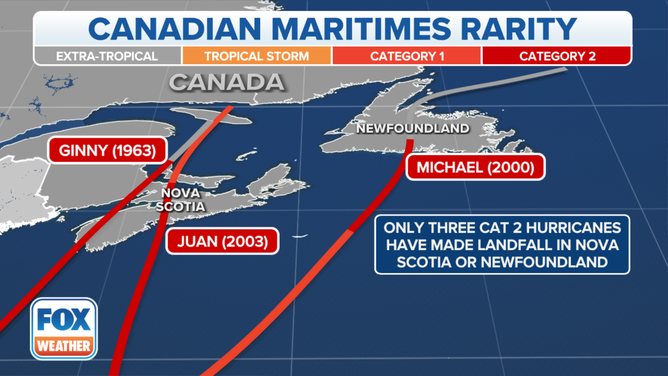 The country's government said it took weeks to restore power in some areas.
The hurricane was blamed for eight deaths and caused estimated damage that would be valued today at over $300 million.
HERE ARE THE BUZZWORDS YOU'LL BE HEARING DURING HURRICANE SEASON
Unlike post-tropical cyclone Dorian, Hurricane Juan maintained its tropical characteristics through landfall due to its fast-forward speed.
After the storm, Canada's Environmental Services requested that the World Meteorological Organization retire the name. 
The country said it was the first time Canada requested the retirement of a storm name in the Atlantic basin.