These are the all-time hottest temperatures ever recorded in each state
All 50 states have documented a temperature of 100 degrees or higher, including Alaska
Dangerous heat sears parts of the United States every summer, but do you know the hottest temperature ever recorded in your state?
All 50 states have documented a temperature of 100 degrees or higher, including Alaska, while many states – even those as far north as the Canadian border – have recorded temperatures of at least 115 degrees.
HOW TO WATCH FOX WEATHER ON TV
The map below shows the all-time record high in each state, according to data from NOAA's National Centers for Environmental Information.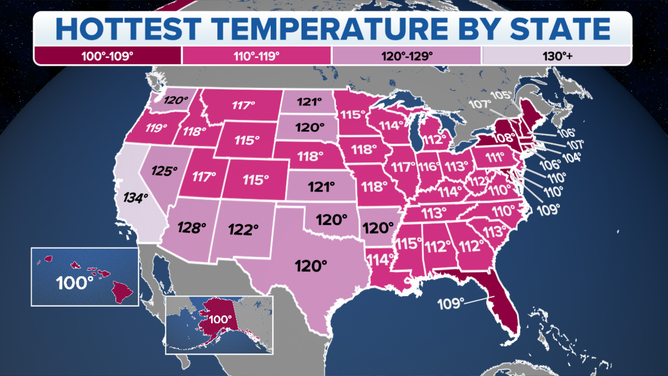 July and August comprise the hottest time of the year for the majority of the U.S., so it should come as no surprise that's when most of the all-time records were achieved. However, there are a few exceptions to the rule.
WHEN IS THE WARMEST TIME OF YEAR?
A historic heat wave in June 2021 set or tied all-time state records in Oregon and Washington.
On June 29, 2021, two locations in Oregon reached 119 degrees, tying the state's all-time record first set in Pendleton and Prineville in 1898 – 123 years earlier. To the north in Washington, the city of Hanford set that state's all-time record on the same day when it vaulted to 120 degrees, topping the previous statewide record of 118 degrees first documented in Wahluke on July 24, 1928, and matched at Ice Harbor Dam on Aug. 5, 1961.
120 DEGREES FROM HISTORIC JUNE HEAT WAVE CONFIRMED AS WASHINGTON STATEWIDE HEAT RECORD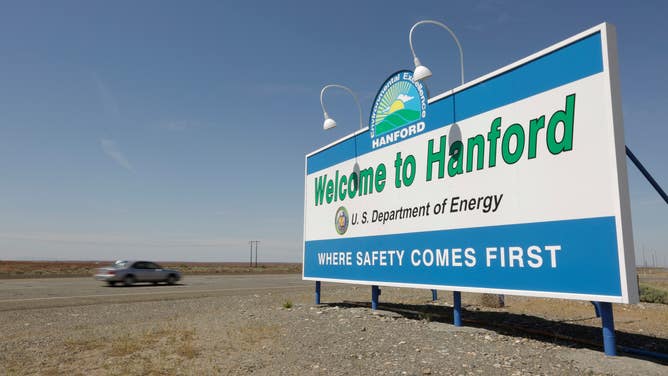 Utah is the most recent state to tie its hottest temperature on record. St. George, in the southwestern corner of the state, reached 117 degrees on July 10, 2021, matching the temperature recorded in the same city on July 5, 1985.
The highest temperature ever recorded in the U.S. was 134 degrees in Death Valley, California, on July 10, 1913. That's also the hottest temperature ever recorded anywhere on Earth.
CHILLING IRONY: HOW WORLD HEAT CHAMP DEATH VALLEY OWES NAME, IN PART, TO A SNOWSTORM
In the central U.S., most of the Plains states have vaulted to at least 120 degrees. That includes North Dakota, where the city of Steele – some 150 miles from the Canadian border – hit 121 degrees during the Dust Bowl on July 6, 1936. Many other states in the region also reached their all-time record highs during the Dust Bowl year of 1936, including Oklahoma, which reached 120 degrees four different times that summer (including in the same location twice).
Numerous Midwestern states have all-time record highs of 115 degrees or higher. Missouri's statewide record of 118 degrees occurred on July 14, 1954, in two different cities. Even Minnesota has reached 115 degrees, which was achieved some 250 miles south of the Canadian border in the city of Beardsley on July 29, 1917.
CLICK HERE TO GET THE FOX WEATHER UPDATE PODCAST
Due to an influence from the Atlantic Ocean or the Gulf of Mexico, the highest temperatures in the Northeast and Southeast are not as hot as those farther west. For example, Florida has never hit 110 degrees; the all-time record there stands at 109 degrees, set in Monticello on June 29, 1931. Most of New England holds records that range between 105 and 110 degrees, though Rhode Island has only been as hot as 104 degrees, which occurred in Providence on Aug. 2, 1975.
Not shown on the map above are Alaska and Hawaii, both of which have all-time record highs of 100 degrees. Alaska achieved the century mark on June 27, 1915, in Fort Yukon, while Hawaii's record was set on April 27, 1931, in Pahala on the Big Island.