Rainbow of hope emerges for Missouri family after fire burns half their village
A mid-Missouri family displaced by a massive brush fire that destroyed about half of the rural community of Wooldridge is mourning their family dog, which ultimately brought a sign of peace and comfort after the fire took everything they owned.
WOOLDRIDGE, Mo. – Three days after a wildfire destroyed half of the small Missouri village of Wooldridge, a sign of hope appeared for one of the families who lost everything in the blaze.
About 60 people call the hamlet nestled along the banks of the Missouri River about 20 miles west of Columbia home. Now, that charming countryside is a charred tangle after a wildfire Saturday left most of the town in ashes.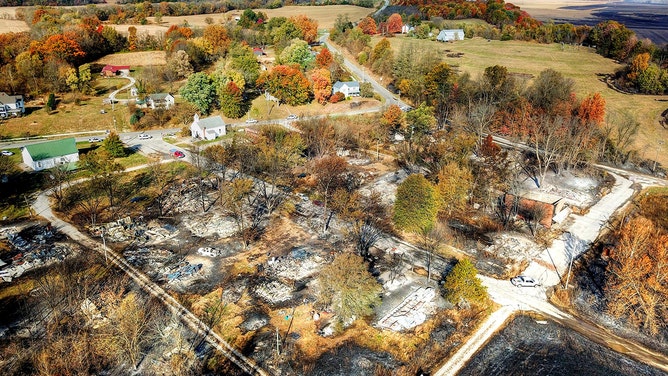 The bearings of a combine in a nearby soybean field overheated and ignited a fire. The blaze was fueled by dry and thick vegetation surrounding the machinery as gusty winds helped spread the flames to nearby grasses that were 12 feet tall. Ultimately, about 3,000 acres were burned and dozens were displaced.
Firefighters from all over the state -- as many as 50 different jurisdictions, according to reports -- worked in harmony to contain the fire. One truck after another rushed down Main Street hauling thousands of gallons of water.
Missouri State Rep. Tim Taylor, who retired from firefighting in 2019 after a long career at the Columbia Fire Department, was on the scene within an hour of the first report of the fire. He lives on his farm near Speed, about 20 miles from Wooldridge.
"That situation with the wind as it was and as much drought as we've had, it was extremely fast-moving," he said. "I mean, faster than anything I've ever seen before, and I've been in the fire business for 30 years."
Firefighters spread out to cover 4-mile-long fire lines where flames were traveling at 30 mph.
"When something like that happens in a rural area, we all just pitch together and get things done," Taylor said. "You had farmers doing stuff. You had people who were around come in to lend a hand to try to make things better."
Taylor and the other volunteers helped clean up hotspots inside the town's Baptist church. Among the structures saved from destruction were a community building and a post office.
"It felt good to be able to save that structure," he said. "There was one other house on that side of the street that was saved. All the rest of it was gone."
It took 30 seconds
To Jessica McComb, Wooldridge was picturesque. She used to stand in the middle of town and gaze into the beautiful landscapes filled with breathtaking birds and wildlife. That will forever be her favorite part of the area, nestled in Cooper County. 
The lush landscapes have been less vibrant in recent months after a lack of rainfall, making it easier for the wildfire to spread into town.
"Everything that was green two weeks ago was brown," McComb said. "It just got there really quick with this drought we've been having."
WESTERN WILDFIRES IMPACT SEVERE STORM OUTBREAKS IN CENTRAL US, STUDY WARNS
McComb was in nearby Boonville, about 10 minutes west of Wooldridge, when her phone began buzzing with notifications from worried loved ones checking on her.
"And as soon as my friend said, 'The town is on fire,' I automatically knew there was nothing for me to go back to," she said.
The McCombs bought their property in 2019 and eventually moved to Wooldridge with their three children after spending 16 months repairing damage from major floods in 2018 with money they had saved over the years. It was a home the family personally put their hands on with every floor, wall, ceiling and fixture. All of that was gone in less than a minute, she said.
The hardest part wasn't watching everything they owned and worked for going up in flames, she said. It was seeing all the animals they cared for suffering as they waited for rescue.
"The firefighters told us that all the animals were still penned, and I had to go down there myself in the actual fires," McComb said as she sobbed. "I was begging and screaming for anybody with a hose to just spray down the gate, open the gate and just let them run."
Smoke filled every inch of air, she recalled. You couldn't see. You couldn't breathe. You couldn't talk. You couldn't hear. It was hot and burning -- everywhere.
"I could only imagine my animals, who are feathered and furred, feeling this heat," McComb said.
Filled with empathy, McComb said she could feel the pain of her four goats, six dogs and handfuls of chickens, ducks and doves.
"I just wanted to get them out of there the best I could," she said, crying. "Either I was going to go away with their bodies, which we did recover the three that didn't make it, or I was going to leave with them."
HOW DO FIRE EMBERS FORM AND SPREAD?
Yet, she kept her distance for her safety as she pleaded for help from a firefighter in protective gear standing nearby who eventually ran into the flames. One after another, fire crews rushed out with her animals. One of her goats ran out of the blaze on fire as first responders quickly patted it down.
Shortly after, her home was engulfed in flames. It was all gone in 30 seconds.
Olaf, a rescue pup the family cherished, died in the fire because his pen was never opened. He died in his doghouse.
HEALTH RISKS ASSOCIATED WITH WILDFIRES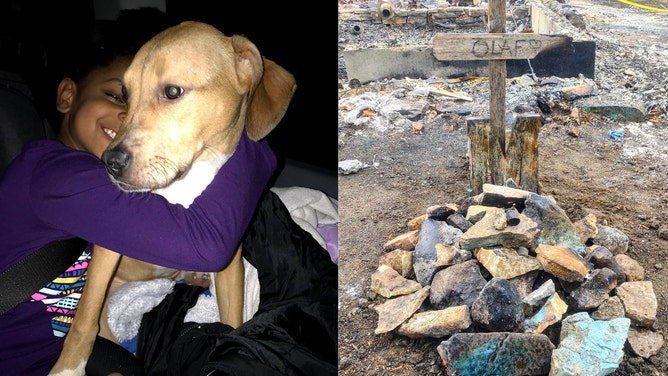 Olaf's return
The McCombs temporarily relocated to Boonville while the uncertainty looms if they will rebuild in Wooldridge. 
As the recovery process unfolds, the McCombs said they were first focused on getting their animals secured and fed. They then worked on clothing and essentials. Now, it's everything else that involves starting over after recently learning that insurance will not cover most of what they owned. However, an online fundraising campaign hopes to raise money for them in the process.
Three days after the fire, the family returned to salvage the only things not destroyed – a chicken coop and dog pen. McComb said she found herself standing in the middle of her road, absorbing what just unfolded as tears began to flow down her face.
"I just felt the whole world crumbling under my eyelids," she said. "It was pouring rain and cold the whole time. It was gray and dark. It felt appropriate for me."
For the first time, Wooldridge was silent. McCombs said she finally felt free from her family's hardships since moving there. 
Then, a bright rainbow appeared.
WHY FIREFIGHTERS ARE FIGHTING WILDFIRES WITH FIRE
"It was larger than life," she said. "It was massive. It was Olaf."
McComb said she stood there for nearly 30 minutes just talking to God, thanking him for the confirmation that her baby made it across the rainbow bridge. Olaf was now in his arms, free from flames and burns.
She turned around to see Wooldridge illuminated by the setting sun.
For the first time in a long time, McComb said she felt everything would be OK.