Western wildfires impact severe storm outbreaks in central US, study warns
Researchers have found increasing occurrences of heavy rain and large hail in Colorado, Wyoming, Nebraska, Kansas, Oklahoma and the Dakotas.
Wildfires burning on West Coast could increase precipitation rates and lead to larger hail events during thunderstorms in the central U.S., researchers at the Department of Energy's Pacific Northwest National Laboratory believe.
The paper recently published in the journal Proceedings of the National Academy of Sciences said heavy precipitation rates increased by 38%, and cases of severe hail increased by 34% during the observed periods.
Researchers said the issue is when the West's fire season coincides with the Plain's severe weather season. Usually, the two events don't overlap, but in recent years both weather extremes have shared similar days.
 "The more we understand about the contributing factors behind storms like this, which cause massive property loss, the better we'll be able to prepare for them. And, as we look at the future climate, we know wildfires will increase, particularly in the West," said Jiwen Fan, an Earth scientist at the PNNL. "Therefore, it is reasonable to expect that these co-occurring events would happen more frequently, and the impact of western wildfires on central storms may become increasingly important in the future."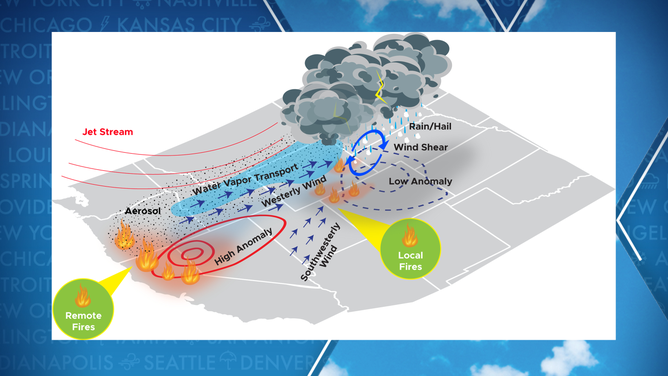 WILDFIRES CAN BE DANGEROUS TO YOUR HEALTH EVEN IF YOU'RE NOWHERE NEAR ONE
As wildfires burn, they can produce heat 10-40 times hotter than typical temperatures and release smoke particles called aerosols into the atmosphere. Due to the prevailing wind flow, the aerosols and heat can travel hundreds of miles to areas with more moisture.
Authors said the aerosols can provide enough surface area for water vapor to condense and form hailstones.
The study examined co-occurrences of storms with wildfires over a ten-year period, and researchers ran an analysis of impacts in Colorado, Wyoming, Nebraska, Kansas, Oklahoma and the Dakotas.
The paper highlighted the 2018 fire season as producing significant impacts downrange of the smoke and flames.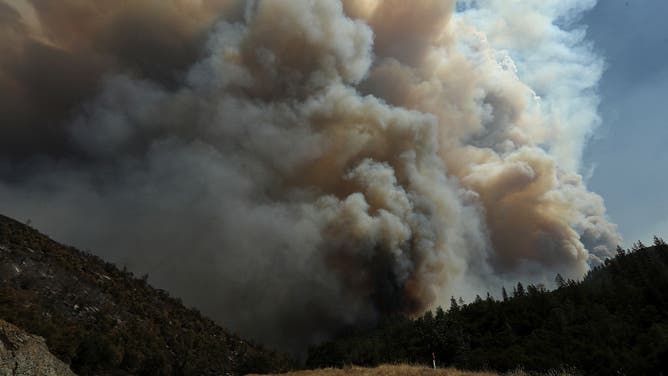 FLORIDA 'SHARK MATERNITY WARD' MAY HAVE BEEN FOREVER CHANGED AFTER DIRECT HIT
The study examined several fires, including California's Carr Fire and the Mendocino Complex Fire, which ravaged parts of Oregon and the Golden State in 2018.
While firefighters were battling the raging infernos, thunderstorms outbreaks occurred in the eastern Rockies and Plains. Widespread hail damage was reported, and wind gusts topped 100 mph.
"The cost of the storms we studied exceeded $100 million in damage," said Yuwei Zhang, an author of the study. "If we know that distant wildfires contribute to stronger storms, that information could bring about better projections, which might help avoid some degree of destruction."

As the western wildfire season begins earlier in the year, the coexistence of thunderstorms and fires is expected to increase the likelihood of significant severe events in the central U.S.