What would it take to end California's wildfire season?
We need Santa Ana winds to subside and rain to dampen the extremely parched soils
Fall is the prime season for wildfires to grow out of control and turn destructive and deadly in California.
More than 45% of California was analyzed as having an exceptional drought as of mid-October. That's the worst drought classification on the U.S. Drought Monitor. These extremely parched soils provide a perfect landscape for fires to ignite and spread quickly.
As of Oct. 14, 7,883 wildfires had burned 3,887 square miles in the state so far in 2021, according to Cal Fire. That's 571 more fires than average by this time and about 2,002 more square miles burned than the year-to-date average.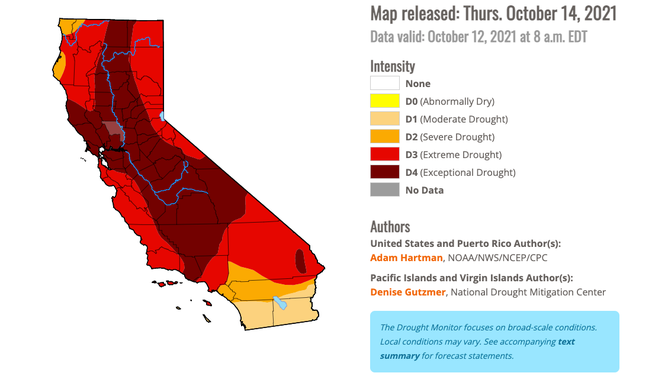 Fueled by California's notorious Santa Ana winds, the Alisal Fire is the most recent blaze to threaten life and property in California. It had grown to 24 square miles as of Oct. 14 and was only 5% contained as it continued to burn 20 miles northwest of Santa Barbara within Refugio Canyon. Fire evacuations were underway for residents in Santa Barbara County.
Firefighters need these strong offshore winds to subside in order to gain control of the wildfire. The same is true for any fire in the Golden State, as Santa Ana winds can spread an existing wildfire out of control or turn a newly developed small brush fire into an inferno.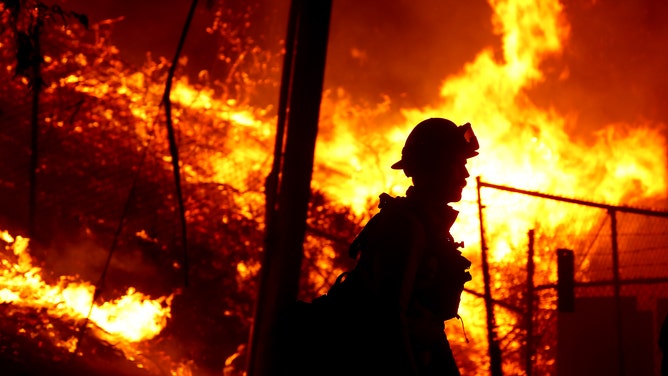 We need Santa Ana winds to subside
Normally, winds along the California coastline blow inland from the ocean. This is what gives that region such pleasant climates most of the year.
But during a Santa Ana wind event, the wind pattern shifts offshore and brings in hot, dry air from the east side of mountain ranges that border the coast.
Fall is when these Santa Ana winds typically become more common in California. This is the time of year a strong high-pressure system frequently parks itself over the Great Basin, while a complimentary low-pressure system sets up off the California coast.
Since the atmosphere prefers to be balanced, the air rushes quickly from the area of high pressure to the area of low pressure, resulting in the offshore Santa Ana winds over California.
In Northern California, they are called Diablo winds, but they develop in the same way as Santa Ana winds. The only notable difference between the two is the name.
"They typically commence in, you know, late September, October, right, and then they go throughout the winter," said John Abatzoglou, an associate professor of climatology at the University of California Merced.
While there is no direct connection between Santa Ana winds and wildfires, they can increase the risk of wind-driven fires in parts of California.
Following the summer dry season, soils are generally driest in the early fall, providing plenty of dry fuels for potential wildfires. If Santa Ana winds come at the right time, they can be a recipe for disaster.
"When we move into September, October, November, that's when we begin to worry about the wind-driven fire season in these coastal environments," Abatzoglou said.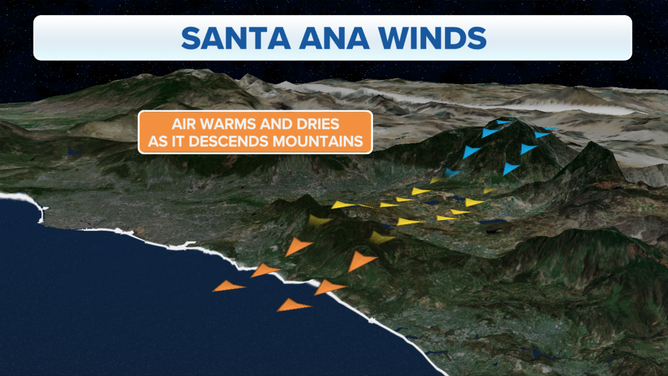 We also need rain to dampen the extremely parched soils
California has distinct wet and dry seasons, and unfortunately, the last few weeks of its dry season coincide with the start of the Santa Ana wind season.
Both San Francisco and Los Angeles receive less than 10% of their average annual rainfall during the six-month dry season, which spans from May through October.
San Francisco averages only 2.01 inches of rain during its dry season. July is the city's driest month, with an average of just 0.01 inches of rain. The wet season runs from November through April, and San Francisco typically receives 20.88 inches in that six-month span. The city averages more rainfall in December (4.76 inches) than it does over the entire dry season.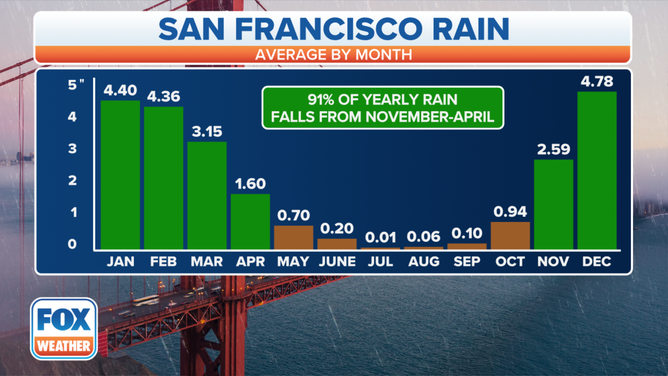 Los Angeles picks up only 1.14 inches of rain in an average six-month dry season, followed by 13.11 inches in a typical wet season. August averages no measurable rainfall in L.A., so it's possible the city could go over a month without a single drop of rain.
As you can imagine, soils are quite parched by the time fall rolls around – just in time for the Santa Ana winds to make their return to the state.
Once the wet season makes its gradual return in the coming weeks, it's likely the rain will help firefighters battling the ongoing blazes in California. However, since Santa Ana winds can occur throughout the winter, they could throw a wrench at firefighting efforts even after the rain arrives.
It takes a few good soaking-rain events to help get wildfires under control. That's when California residents hope for an "atmospheric river."
Atmospheric rivers are a blessing in disguise
An atmospheric river is a narrow corridor of concentrated water vapor, usually originating in the tropics, that is carried by the jet stream into higher latitudes, according to the Center for Western Weather and Water Extremes (CW3E). Think of it as a river of water vapor in the sky.
A vast majority of atmospheric rivers happen in the fall and winter, with the Pacific Northwest seeing the bulk of theirs in the fall and California receiving them more in the winter. Although it's rare, atmospheric rivers are possible in the spring and summer months.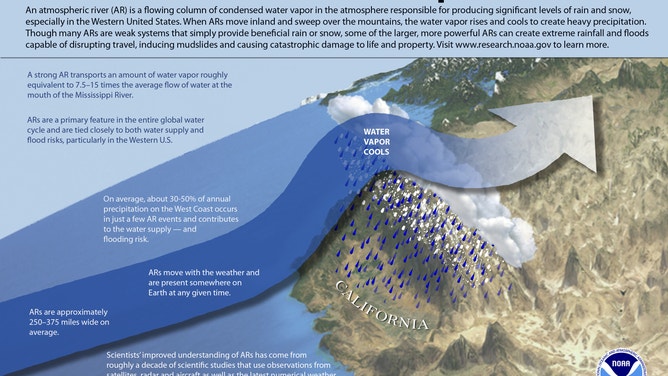 While atmospheric rivers can cause damaging flooding and mudslides, they also serve an essential purpose in supplying much of the West's water supply – especially California.
Weaker atmospheric rivers that bring copious amounts of rain but not enough to flood are considered beneficial to the area. About half of California's annual rainfall comes from atmospheric rivers, and without them, the region can find itself in an extended drought.
Once atmospheric rivers start becoming more frequent in the Golden State as we approach the winter months, it will help to alleviate the widespread drought, which in turn will make the landscape less susceptible to the out-of-control wildfires that California is dealing with this fall.
In the meantime, we just need to be patient and wait for the atmosphere to do its job by bringing much-needed rainfall later this fall and winter.