Icy grip continues on West: Officials ask drivers to stay off roads or risk getting stranded
City leaders across Nevada, Washington and California recommend avoiding travel
Leaders in Nevada, Washington and California are warning drivers to stay off roads impacted by dangerously cold weather and issued emergency orders as winter weather continues to berate the west.
An arctic air mass has brought below-freezing temperatures and significant snowfall to the northwestern U.S. Heavy snow is expected to continue in the highest elevations of California, including the Sierra Nevada.
Northern California and Nevada leaders urge drivers to stay off the roads to save emergency resources. Only essential travel is recommended. 
Approximately 93,000 customers in California, mostly in western counties bordering Nevada, were without power Wednesday morning.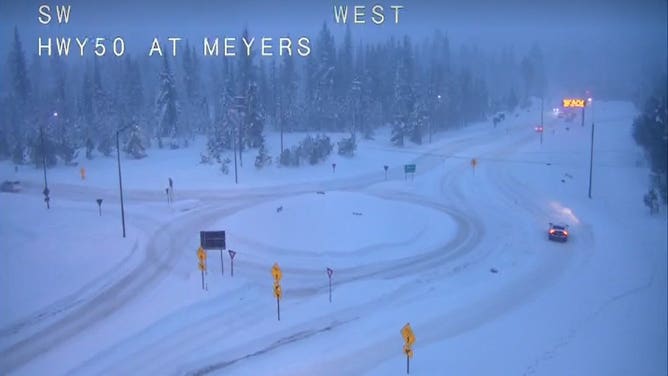 In California, South Lake Tahoe city manager Joe Irvin activated the emergency operations center on Wednesday to manage the impacts of "extreme weather and road conditions."
Irvin said some city resources are near capacity due to the restricted roadways, including gas, tow trucks and lodging.
"Anyone on the road risks getting stranded either from the road conditions or running out of fuel or electric charge, requiring emergency or other assistance," the South Lake Tahoe City release read. "Emergency vehicles, snowplows, and their staff are challenged with getting through the traffic, so assistance may also be delayed. Those driving an electric vehicle are encouraged to check online resources for the nearest charging stations."
Across state lines in Nevada, Gov. Sisolak issued a State of Emergency due to snow conditions in northern Nevada. The governor extended the order on Wednesday.
Sisolak said dangerous road conditions on Highway 50, Highway 207 (Kingsbury Grade) and Highway 28 are causing delays. 
New Year's forecast: Active weather to ring in 2022
Under the State of Emergency declaration, law enforcement "will be able to order cars on those highways to turn around and head back into the valley until weather conditions subside and the roadways are safe to use. This will help prevent motorists from becoming stranded overnight on the roadways, potentially running out of gas in subfreezing temperatures without access to emergency services," according to a news release.

A warming shelter is open at the Douglas County Community and Senior Center in Gardnerville. 
The winter storm has prompted closures between Northern California and Nevada as roads have become too dangerous to drive on.
US-50 is closed at the Nevada state line. Only residents are permitted into the state of Nevada, according to the California Department of Transportation (Caltran).
I-80 Westbound closed Sunday through the Sierra into Nevada. Caltran said the interstate reopened Tuesday, but chains are required on all vehicles that are not four-wheel-drive with snow tires.
Farther north, Washington state has been impacted by subfreezing temperatures, high winds and snow, prompting an emergency order in King County.
Severe weather shelters are open across King County. Find a complete list here.
According to the National Weather Service in Seattle, another 1 to 3 inches of snow is possible in King County later Wednesday into Thursday.
According to the NWS, travel conditions will be difficult in western Washington across all major interstates and routes. Drivers should check the traffic reports from the Washington State Department of Transportation before heading out.
The icy grip on the West will continue as freezing conditions will continue through Friday.