Heavy snow closes interstate, almost 87,000 still without power in California
A series of storms dropped feet of snow generated wind gusts which blew trees into highways and powerlines.
I-80 Westbound has been closed since Sunday through the Sierra into Nevada, and the California Department of Transportation (Caltran) said they have no estimated time of opening. I-80 Eastbound finally re-opened late Tuesday but only to four-wheel-drive passenger vehicles with snow tires and essential commercial vehicles. The route is still closed to tractor-semitrailer combinations.
A series of snowstorms forced officials to close highways and interstates through the Sierra Nevada from California to Nevada. The storms have dropped 5-9 feet of snow since Wednesday, and winds gusted to near 100 mph on mountain peaks which knocked trees into power lines and across roadways, making roads impassable.
"That's the big commercial freight route as well," said Raquel Borraya, Public Information Officer for Caltran District 3 to FOX Weather in a recent interview. "We see so many downed trees and downed power lines and a lot of snow that's really made it challenging to get those highways open again."
Secondary routes like highways 88 and 89 are still being cleared.
Take a look at the downed power lines and trees that blocked Highway 49 in Grass Valley, California. Power companies are having a tough time navigating roads to restore power. Almost 87,000 homes and businesses remain in the dark, according to PowerOutage.us.
Borraya said Caltran crews are working 24/7 to clear the roads, and the Nevada Department of Transportation Tweeted that they are working 12-hour shifts. 
Two more storms will drop up to eight more inches of snow across the Sierra through Thursday.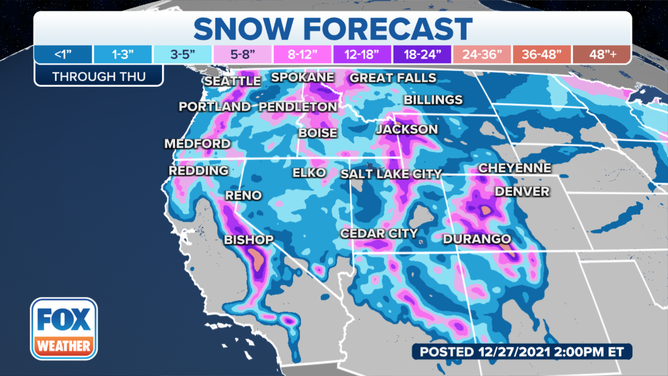 Weather forecast models hint at another big snowfall in the New Year.