From floodwater to holy water: 9-year-old to be baptized one year after being saved from historic flood
The community of Waverly, Tennessee came together to help mother Libby Sanders find her son Madden during the deadly flooding event in 2021.
Waverly, TN – "The last thing I had heard from him was him screaming, 'Mommy!' at me as [the flood] took me under," said Libby Sanders, as she recalled the moment she nearly lost her son Madden.
It happened on Aug. 21, 2021, when storms dumped a record-breaking 17 inches of rain on the town of Waverly, TN. Waters in a nearby creek quickly rose, flooding many businesses and homes, including Sanders'.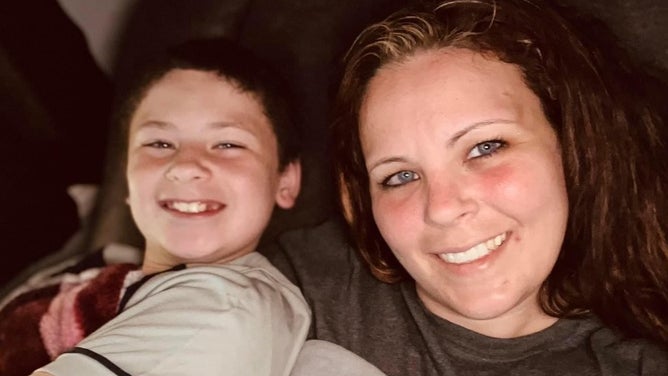 Sanders is no stranger to floods. In 2019, waters inundated her home, forcing her family to rebuild the structure "three blocks" higher.
Two years later, floodwaters once again threatened her home. The water first reached the road by her house before swallowing up her car and reaching her doorstep in a matter of minutes.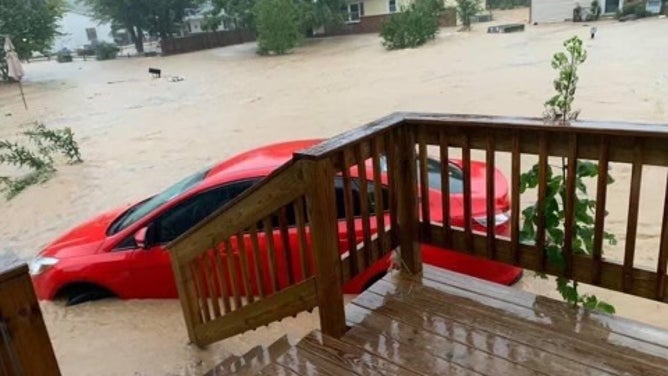 The water continued to rush into the home and rapidly rise, with Sanders and her then-eight-year-old son Madden still inside.
"I then was on the phone with my husband, and I started panicking because when I looked back out my front door, I saw my neighbor's house – my house had started turning, and it was off the foundation," Sanders said.
She smelled smoke permeating through her home and heard sounds of popping and cracking, cues that signaled to her something alarming - her house was collapsing.
Realizing this, Sanders knew she and her son had to escape, even as rushing floodwaters awaited them outside.
Torn apart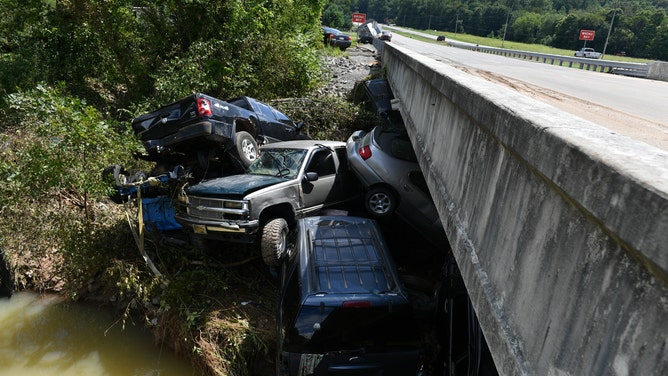 To save her son, who wasn't able to swim, Sanders had to figure out how to keep him afloat.
"I got him the biggest stuffed animal I could find. It was the ones with the little beads inside, so I thought it would float - it was this big Donkey Kong thing," she said. "I told him, I said, 'I need you to hold on to this'. I said, 'Don't let go'. I said, 'I'm going to steer you out of this water'. I said, 'We're going to get out'."
With Madden on top of the stuffed animal, Sanders could swim and push him out as their home collapsed.
But the worst was yet to come.
THESE IMAGES SHOW THE DESTRUCTION LEFT BEHIND BY TENNESSEE FLASH FLOOD
According to Sanders, the powerful floodwaters pulled her underneath her home while dragging Madden away.
"The last thing I had heard from him was him screaming, 'Mommy!' at me as [the flood] took me under," Sanders recalled.
The floodwaters took Sanders about a mile down the road, knocking her against houses and trees along the way.
She managed to escape onto dry land where she could find help.
The search party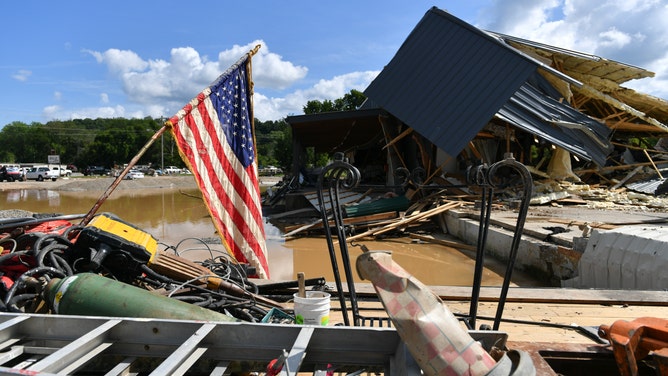 Sanders came across a truck, and inside were some familiar faces.
"I noticed it was [Madden's] youth pastor and his best friend's dad, so I told him, I said, 'Madden's missing!'" Sanders said. "He immediately got out, and he started telling everybody, trying to look for Madden."
Also helping lead the search party was Pastor Scott Brown of First Baptist Church Waverly.
"He stopped where he was at, and he done a prayer with me," Sanders said. "And I'll never forget, he was barefoot looking for Madden."
Sanders, Brown and many others scoured Waverly to try to find Madden.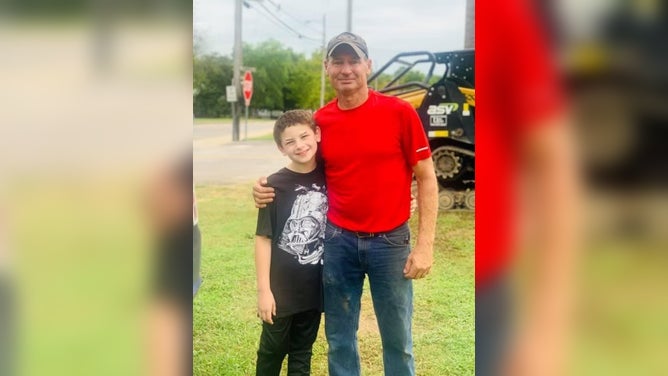 About four and a half hours later, the boy was found by on top of a shed, two streets away from their home. 
Pastor Scott Brown delivered the good news to Sanders. 
"The guy that saved Madden was actually my brother-in-law's pastor's husband, and he didn't even live around us," Sanders said of Mark Bohannon, the person who found Madden. 
"So, for him to just know where to go and be there is a miracle - we completely thank God every day for it."
Testimony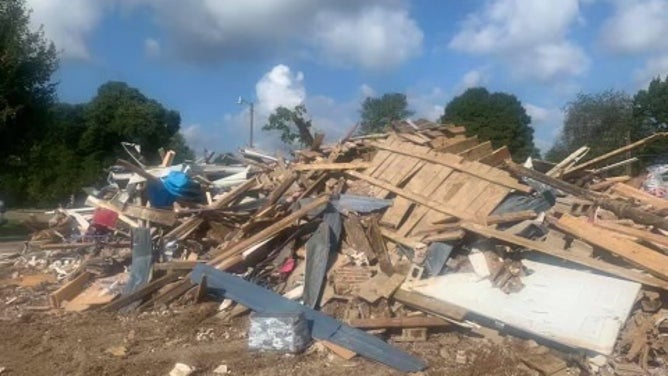 With this joy came a tragedy. According to Sanders, her brother-in-law Josh, who had joined efforts to find Madden, was taken by the floodwaters.
"Every day, we miss Josh," Sanders said. "I feel like we have our days where really it hurts us worse on some days than others because we miss Josh a lot."
HERE'S HOW MUCH RAIN CAUSED TENNESSEE'S DEADLY FLOOD
One year after the tragic events of Aug. 21, 2021, Sanders and her family remain strong in their faith and in each other.
"You have to go through tests to have a testimony. That's how I feel, and that was one really, really hard test," Sanders said.
Faith also played a significant role for Madden, as he explained to Sanders what he did as he sought refuge from the flood on top of the shed.
"That's where he just prayed to God to not let him die because, he said, he wanted to lead a good life," Sanders recalled.
Saving Madden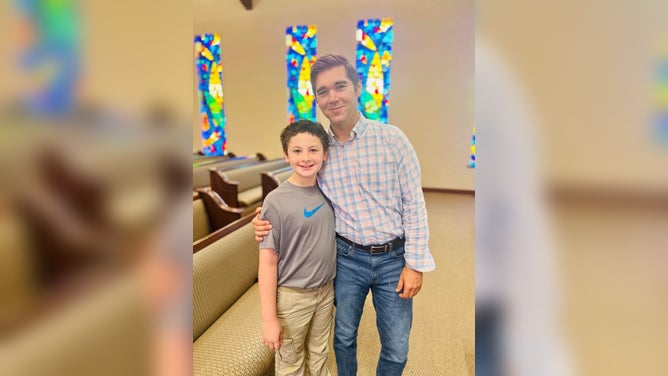 On Sunday, Madden will be baptized. Performing the baptism will be Pastor Scott Brown of First Baptist Church Waverly, who reunited Sanders with her son.
When they scheduled Madden's baptism, neither Sanders nor Brown realized the significance of the date until afterward – the one-year anniversary of the event that killed 20 people.
"I wrote Pastor Scott and I said, 'Oh, my god. Should we reschedule it for another day?'" Sanders said. "He said, 'I think it's very fitting. So I said, 'Okay, as long as you're okay with it, we're okay with it.'"
Beyond what happened to the small community, Sanders hopes their story might help those experiencing something similar, such as the victims of flash flooding in eastern Kentucky.
KENTUCKY MOM SAVES CHILDREN FROM FLOOD BY USING VACUUM CORD
"I feel like maybe if they see stories of hope, it'll give them hope," she said. "You know, it takes a while, but as long as you get community behind you, you can make it."