Watch: Large tree crushes church during strong winds in California
The 147-year-old church was crushed by a giant oak tree. Despite the damage, no one was hurt, and the pastor still plans on holding Sunday services in the building.
PLEASANTON, Calif. – A church in Pleasanton, California, was crushed after a giant tree fell on it during the area's recent atmospheric river-fueled storms.
A neighbor was recording video of the massive trees blowing in the strong winds on Tuesday when she noticed one starting to fall on the 147-year-old church. 
"Oh my God, it's the tree," said Brianna Armario on the video. "Oh my God, oh my God."
The scene seems unbelievable with blue skies overhead, but winds blew up to 40 mph and gusted to 54 mph all day.
So far this year, the area received over 11 inches of rain. The region typically sees about 14.5 inches of rain in an entire year. The wet soil easily gave way to the weight of the oak.
The roots came out of the ground as the tree fell, seemingly in slow motion. The ancient oak took out the tree and part of the building in a puff of what looked like smoke and drywall dust.
CAUGHT ON CAMERA: SAN FRANCISCO SKYSCRAPER WINDOW BLOWN OUT BY HURRICANE-FORCE WINDS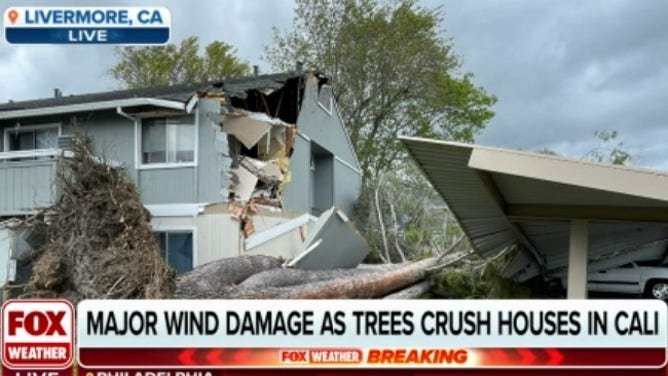 RIDICULOUS PHOTOS SHOW AFTERMATH OF 12 FEET OF SNOW IN CALIFORNIA'S SIERRA NEVADA
The pastor's wife told FOX 2 KTVU that about 20 people, including about a dozen elementary school students, were in the church at the time.
"I heard this big pop and I said, 'Ruby, we've got to get out of here!'" the pastor's wife, Carol Bryson said to FOX 2. "Something's going on."
Maybe the church did have a little help from above as the tree took out the nursery, which is only used on Sundays, so no one was injured, said Bryson.
Officials say that the school and church services will not be impacted while repairs start in the nursery. 
CALIFORNIA REELING FROM MUDSLIDES, WIND DAMAGE AFTER LATEST ATMOSPHERIC RIVER TO PUMMEL STATE
First responders across the state have been scrambling to evacuate homes after the soaking rains trigger landslides, clear trees off cars and roadways and build temporary levees after several failed and flooded neighborhoods after Tuesday's storm.
WHAT CALIFORNIA'S EXCESSIVE SNOW, RAIN MEAN FOR STATE'S RESERVOIRS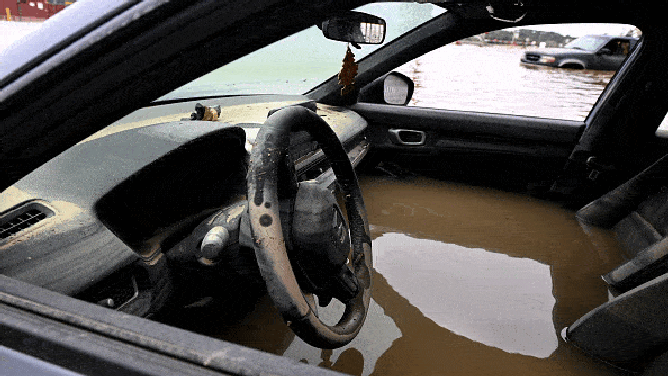 The FOX Forecast Center is tracking the next rainmaker for California which will move in this weekend.