Watch: Lightning strikes headquarters of Dale Earnhardt Jr.'s racing team
Two camera angles show lightning striking on Wednesday at 9:24 a.m. in Mooresville, North Carolina, at Dale Earnhardt Jr.'s facility.
Mooresville, N.C. – Two camera angles show lightning striking a truck and a gate at JR Motorsports headquarters in North Carolina on Wednesday.
JR Motorsports is a professional racing team co-owned by Hall of Fame NASCAR driver Dale Earnhardt Jr.
One of the surveillance cameras shows a bolt of lightning striking near a white Chevy truck parked in the lot.
WHAT HAPPENS WHEN SOMEONE IS STRUCK BY LIGHTNING
The frame is taken over by a blinding white light as the lightning bolt illuminates the area.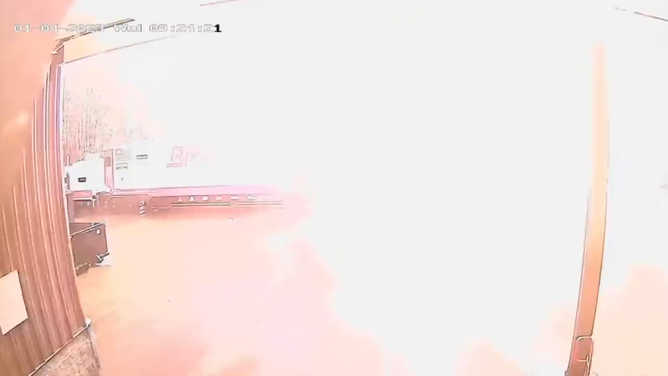 As the light begins to recede, the lightning bolt can be seen making contact with the ground, creating a cloud of sparks larger than the vehicles nearby.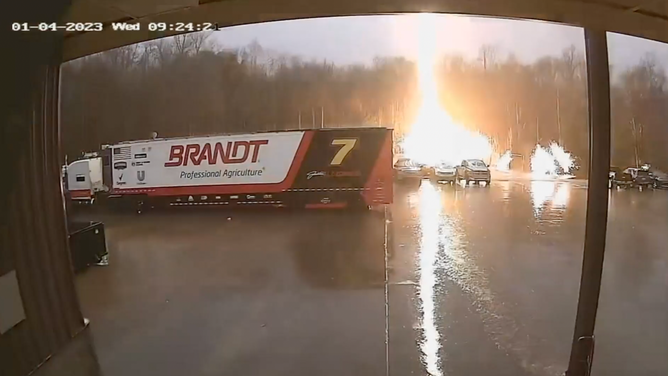 Electricity from the bolt also jumped to a metal gate nearby as sparks flew around it.
Then as quickly as it came, the lightning retreated into the sky, leaving behind smoke and residual sparks from its strike.
It appears as though the lightning may have also turned on the truck's headlights.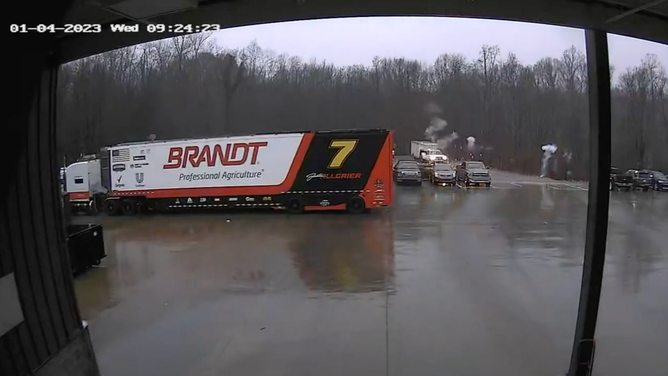 HOW TO WATCH FOX WEATHER ON TV
A second surveillance camera showed lightning striking a gate near the JR Motorsports entrance.

As the light recedes, all that remains are sparks and smoke around the metal post.