NWS confirms Utah's first F/EF-2 tornado in 20 years
In total, only 9 F/EF-2 tornadoes have happened in Utah since 1950
The state of Utah recorded its first F/EF-2 tornado in 20 years after the confirmation of a twister that happened Sunday.
The tornado tracked through Indian Canyon near the intersection of U.S. Highway 191 and Argyle Canyon Road at about 9:15 a.m. in remote southwestern Duchesne County, the National Weather Service said. 
HOW TO WATCH FOX WEATHER ON TV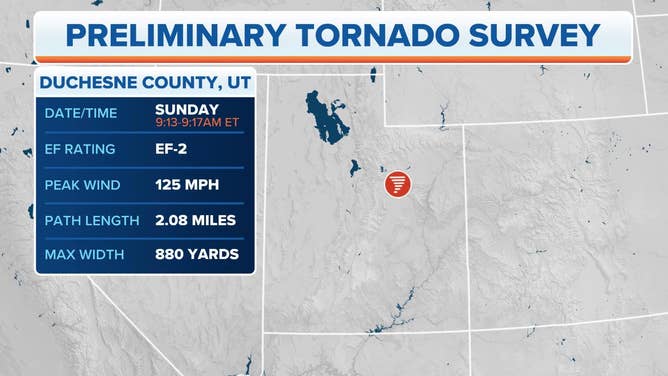 It was on the ground for 4 minutes and approximately 2 miles. There were no reported injuries or deaths, but a considerable amount of forest destruction was caused.
Sunday's EF-2 tornado had estimated peak winds of 125 mph. The NWS said the tornado's strength and width increased substantially with a continuous damage path through a mixed aspen and conifer forest along a creek adjacent to U.S. 191. 
HOW ARE TORNADOES RATED? THE ENHANCED FUJITA SCALE EXPLAINED
TORNADOES HIT LARGE CITIES: THIS IS WHY
The maximum damage was found in this area and was significant, a survey team with the NWS noted. Almost all trees over a large hillside facing the road were violently blown down or snapped. Several tops of trees were thrown along the creek and road with no clear indication as to where they originated, the NWS said.
As the tornado crossed U.S. 191, considerable damage was noted immediately north of the highway, where more trees were damaged or uprooted.
WE'VE ENTERED AMERICA'S MOST ACTIVE TIME FOR DAMAGING WINDS FROM SEVERE THUNDERSTORMS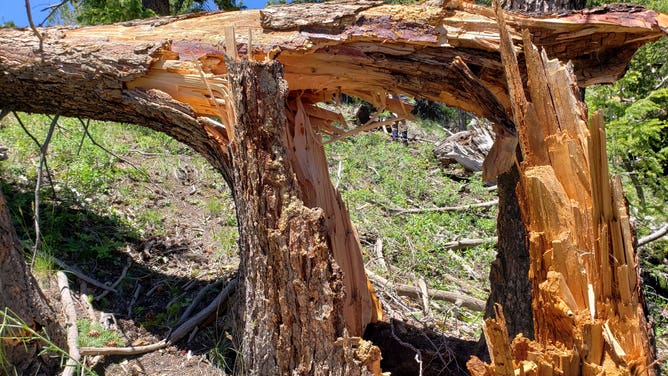 CLICK HERE TO GET THE FOX WEATHER UPDATE PODCAST
In total, only nine F/EF-2 tornadoes have happened in Utah since 1950. The most notable was one that formed on Aug. 11, 1999, in Salt Lake City. That tornado caused over $150 million in damage.
There has been only one F-3 tornado on record in Utah (1993) and no F-4s or 5s.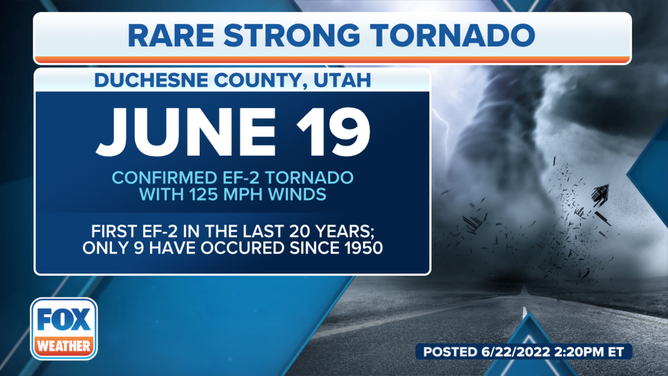 Be sure to download the FOX Weather app to track any storms in your area and receive potentially life-saving weather alerts issued by the National Weather Service. The free FOX Weather livestream is also available 24/7 on the website and app and on your favorite streaming platform. The FOX Weather Update podcast also provides weather information for the entire country.