7 videos that show what the heat wave gripping the US looks like
Nearly 115 million Americans are under some type of heat alert Tuesday
Extreme heat is baking much of the U.S. this week.
Triple-digit temperatures have been setting new records in several places. High humidity levels are pushing the heat index into dangerous territory, putting millions of Americans at risk of heat-related illnesses.
Nearly 115 million people from the Southwest to the Midwest and Southeast are under some type of heat alert.
HOW TO WATCH FOX WEATHER ON YOUR TV
Heat alerts are in effect across the Midwest and into the mid-Atlantic and Southeast.
(FOX Weather)
---
From cranking up the air-conditioning to downing tons of water, people across the country are doing their best to fend off the late-spring scorcher.
Here's a look at how the heat wave is playing out from coast to coast.
HOW TO TELL THE DIFFERENCE BETWEEN HEAT EXHAUSTION AND HEATSTROKE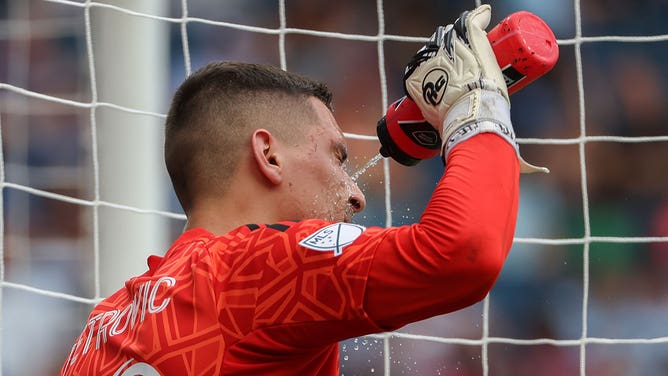 Power outages and demand
In Texas, the extreme heat led to record demand in the Lone Star State on Sunday, according to the Electric Reliability Council of Texas.
FOX Weather's Will Nunley said some heat-related power outages have been reported across the South, and the Tennessee Valley Authority is urging customers to do whatever they can to cut back on their electricity demand during the hottest times of the day.
Triple-digit heat
The mercury climbed to near or above 100 degrees in many places on Monday. Add in the humidity, and that pushed the heat index to near 110 degrees for some.
Cooling centers
St. Louis was among several cities across the country that opened cooling centers as temperatures soared to just over 100 degrees Monday. These centers are meant to give people who may not have regular access to air conditioning a place to seek shelter from the oppressive heat.
7 THINGS TO KNOW ABOUT HEAT WAVES
'We could not have been more prepared'
Nashville hosted CMA Fest during the weekend, and officials at the Office of Emergency Management in Nashville said Monday they did not have many heat-related emergencies during the event.
"For CMA Fest, actually, we had a lot of hydration stations around in the festival footprint, so we could not have been more prepared," said Kendra Loney, spokeswoman for Nashville's OEM.
GET THE LATEST EPISODE OF THE FOX WEATHER UPDATE PODCAST
Be sure to download the FOX Weather app to track any storms in your area and receive potentially life-saving weather alerts issued by the National Weather Service. The free FOX Weather livestream is also available 24/7 on the website and app and on your favorite streaming platform. The FOX Weather Update podcast also provides weather information for the entire country.