Tornado recovery efforts continue as more severe weather targets Oklahoma storm zone
Residents in the Sooner State could see damaging winds and hail overnight as people are still recovering from last week's tornado outbreak
KINGSTON, Okla. – More than a week after over three-dozen tornadoes touched down between Texas, Oklahoma and Louisiana, people in the South are bracing for another round of severe weather. 
Residents in the Sooner State could see damaging winds and hail overnight. This storm system comes as people are still recovering from last week's tornado outbreak. 
Areas like Kingston and Buncombe Creek, Oklahoma, were devastated by an EF-2 tornado last Monday night. Seventy buildings in the area were destroyed, including Texoma Southern Baptist Church and the local marina. 
DESTRUCTIVE WINDS, TORNADOES POSSIBLE AS SEVERE WEATHER THREATENS STORM-RAVAGED SOUTH
The National Weather Service confirmed three different tornadoes that spanned across Love, Marshall and Johnston counties in Oklahoma on March 21.
The strongest was an EF-2 in the Buncombe area near Kingston, where wind speeds topped 115 mph and left a 2.6-mile trail of damage. One person was killed, and 10 others were injured.

"Since the night of the tornado, we have concluded the response phase as far as emergency personnel on scene and transitioned into a recovery-cleanup phase," Marshall County Emergency Management Director Daniel Nixon said.
Various volunteer groups, as well as county road district personnel, are now working to haul off debris. There have also been daily meetings and conversations with state and federal officials to work through the governmental process that follow such a disaster. 
'It's still hard to see'
An entire community of less than 2,000 people in Kingston is pitching in to help get everyone back on their feet.  It is a side of humanity residents don't get to see near enough, according to Jessica Ledford.
"Even when you prepare yourself ahead of time, it is still hard to see," Ledford said. 
Her father is still pretty beat up but overall doing well after the tornado sucked him out a window in his home and threw him about 70 feet to the east.
"My dad looked out the window and saw the tornado coming right for him, and he dove for the floor of his kitchen," Ledford said.
Friends have been visiting daily since the storm to help clean up what is left of his home. 
HERE'S WHERE TORNADOES ARE MOST LIKELY TO OCCUR IN EACH MONTH
Marcy Lamar didn't even recognize her own home after the tornado destroyed it. She had some friends over for a game night when the storm hit.
"We were stuck under debris and then a few were stuck under the stove," Lamar told FOX 23 in Tulsa. "It was a wild ride."
It was something she will never forget as she is lucky to be alive.
Tonya Wescott owns a restaurant by the marina. She has been offering three free meals a day for people instead of opening up for business. She says it's her way of helping.
"I love this community. I love all of these people. These people are my regular people, they support me, so now I want to support them. My heart is just telling me this is what I need to do," Wescott said.
Her building received some damage but said she will keep giving free meals until her community is back on its feet. 
"I don't want to open until they get their lives a little bit back into normal," Wescott said.
Anyone affected by the recent tornadoes is urged to attend the multi-agency resource center at the Marshall County Expo Center in Madill on Saturday. 
Of those in attendance will be the Red Cross, which has been distributing water, food and supplies as families start the process of recovering. 
So far, they have distributed more than 200 comfort kits to residents to support hygiene needs. Additionally, volunteers have distributed more than 1,000 emergency supplies like gloves, masks, trash bags, brooms and more. They have also opened 30 cases to help families navigate their current needs and begin shepherding them down their road to recovery.
Oklahoma takes another blow
Ingredients are coming together for a dangerous wildfire outbreak across the southern and central High Plains on Tuesday. This comes as more than 70 active fires have burned 152,000 acres across the U.S.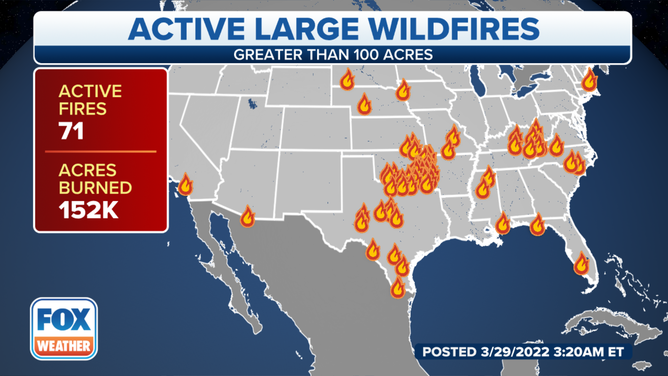 Meanwhile, a dangerous situation is expected to unfold across portions of the southern High Plains on Tuesday, as strong winds and low relative humidity have led to an extremely critical risk of fires across the region.
SIGNIFICANT WILDFIRE OUTBREAK LIKELY ACROSS SOUTHERN HIGH PLAINS ON TUESDAY
Nearly 10 million Americans from Nebraska through Texas to the Mexico border are now under a Fire Weather Warning that lasts throughout Tuesday as the wildfire danger in the Oklahoma Panhandle reaches extreme levels. 
Nearly 30 cars caught fire and about ten homes were evacuated Monday after a large grass fire in Oklahoma City.
On Tuesday, winds will gust up to 70 mph. Cities at risk include Amarillo and Dumas, Texas, Dodge City, Kansas, and Guymon, Oklahoma. 
Be sure to download the FOX Weather app for the latest forecast and weather alerts for your exact location, plus our channel's 24/7 livestream – now featuring a new, all-star lineup with live programming weekdays from 6 a.m. to 10 p.m. Eastern time.