Soldier continues watch over Tomb of the Unknown Soldier as hurricane-force winds, rain lash DC area
A gust of 59 mph was recorded at a weather station not far from Arlington National Cemetery.
ARLINGTON NATIONAL CEMETERY, Va. – As powerful wind gusts whipped trees on the grounds of the Arlington National Cemetery, a lone soldier continued their watch over the Tomb of the Unknown Soldier on Saturday as rain lashed the area during severe storms. 
Soldiers from the 3rd U.S. Infantry Regiment, known as "The Old Guard," stand watch over the Tomb of the Unknown 365 days a year, even in horrible weather. 
On Saturday, the Tombs Guards, or Sentinels, continued their watch as hurricane-force winds roared through the Washington D.C. area. Winds uprooted trees in the District and caused widespread damages. The damage was likely caused by a downburst, according to the FOX Forecast Center. 
The National Weather Service said wind gusts with the line of storms were estimated to top 80 mph and were accompanied by torrential rainfall and frequent lightning.
FUNNEL SPOTTED IN DC, MICROBURST REPORTED IN BROOKLYN AS SEVERE STORMS SWEEP THROUGH NORTHEAST, MID-ATLANTIC
A gust of 59 mph was recorded at a weather station near Arlington National Cemetery. 

Video recorded during the storm on Saturday shows the Sentinel continuing to take the 21-step march back and forth in the pouring rain. The wind can be heard howling in the video. 
According to the Society of the Honor Guard, the Tombs Guard has contingencies if the weather conditions put a soldier at risk, including for lightning and high winds. The Old Guard continued its watch even during Hurricane Isabel in 2003, which brought a 6-to-8-foot storm surge to parts of Virginia.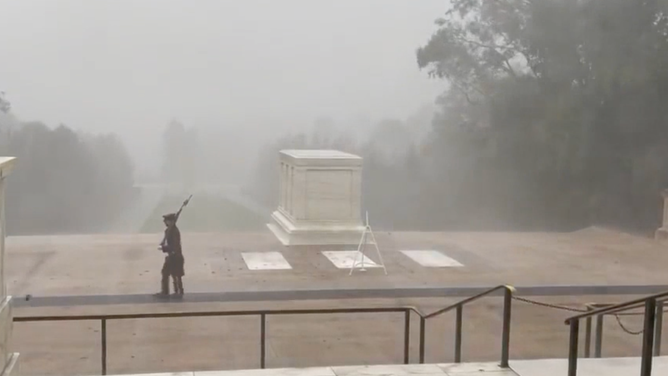 The white marble tomb is the final resting place for one of America's unidentified World War I service members exhumed in France and brought home to the U.S. in 1921. Since then, two other unidentified soldiers have been laid to rest at the Tomb in 1958 and another in 1984. The Tomb has been guarded 24 hours a day since 1937.