Strong tornadoes, large hail possible across central United States
More than 11 million people are under a threat of severe weather Sunday
Severe thunderstorms with damaging wind, large hail and strong tornadoes are possible in the mid-Mississippi Valley Sunday afternoon.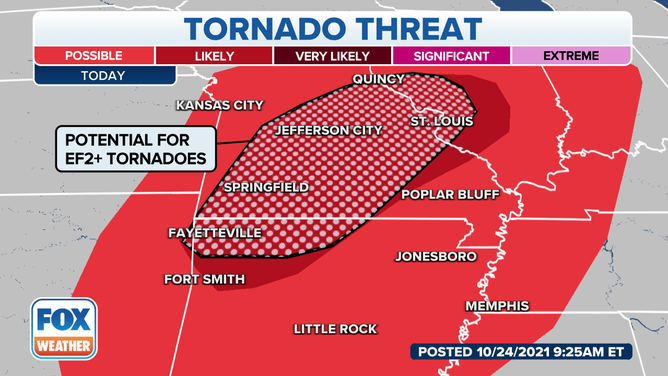 The threat for severe weather extends from parts of northern Texas east into parts of Indiana, with some of the strongest storms expected in an area that stretches from Fayetteville, Arkansas, to St. Louis, Missouri.
There's also the possibility of a significant outbreak of tornadoes, including some stronger than EF-2, in those areas.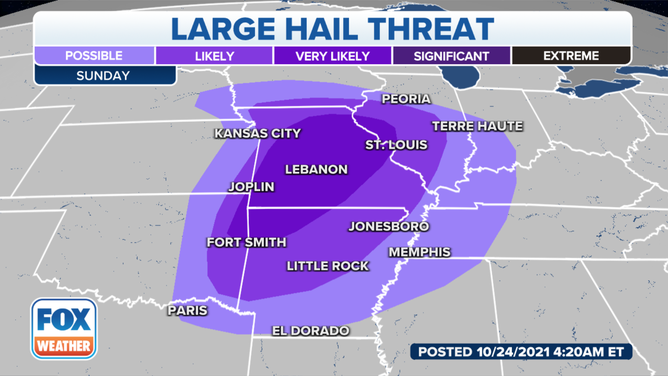 Meteorologists said moisture from the Gulf of Mexico will send dewpoints into the 60s as far north as Missouri and Illinois. Those dewpoints mixed with the instability in the atmosphere will increase the potential for strong to severe storms across the area.
The strongest storms are expected to form Sunday afternoon and could last well into Sunday evening and overnight.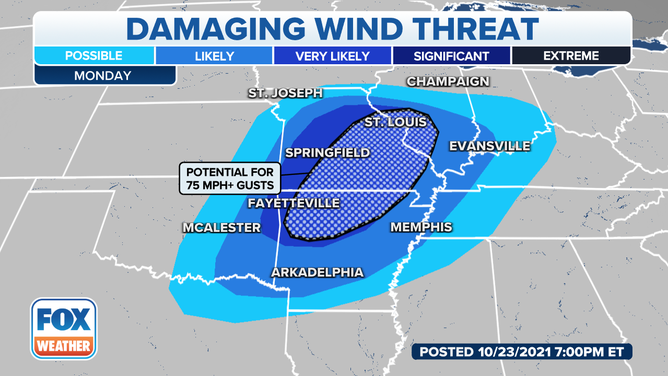 The storm threat moves east Monday as the system advances. Isolated severe thunderstorms will be possible in the Tennessee and Ohio valleys before heavy rain moves into the Northeast Tuesday.
Track the severe storms around the clock on the FOX Weather 3D Radar.