'I'm shocked': Veteran trucker reacts to wrecks in severe storms
'It's a it's a big operation. You need a big wrecker pick up a big truck and mostly these trucks rollover and they need, two or three or four wreckers to get them off the ground... taking hours and hours and hours," a veteran truck driver told FOX Weather.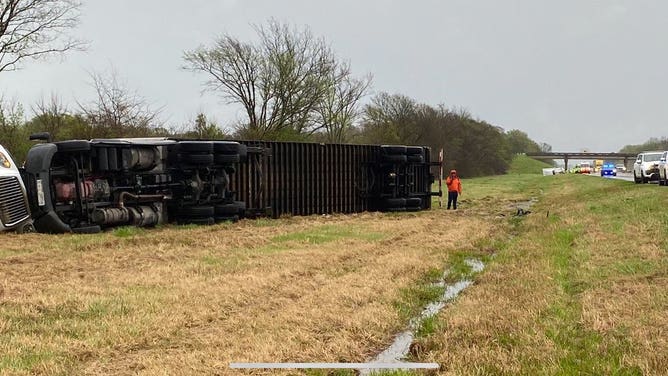 RICHLAND PARISH, LA – Severe storms blew over at least two semi-tractor-trailers on I-20 slowing traffic through portions of Louisiana on Wednesday. 
POWERFUL STORMS CUT DESTRUCTIVE PATH THROUGH SOUTH
"I see the trucks are going over. I'm shocked that they're not shutting these highways down," said truck driver and trainer of 45 years Bobby Noone. "Everything is shot once it rolls over. And of course, the freight, you've got 15, 20 tons of freight there, and it's going to tear everything up."
And the nightmare is not only the truck driver's. Noone explained that crews need hours and multiple wreckers to right a tractor trailer. In his experience, police will usually detour all traffic off the exit before the crash.
An overturned semi needs specialized wreckers for the weight and the physics of turning over the trailer. Many times police need to dispatch big-rig wreckers from miles away which costs more time.
"You're not going to move a trailer off the ground with 20 tons of material in it," said Noon of the additional delay. "So the first thing they got to do is empty the contents of the trailer."
Noone said he mainly sees fleet trucks, owned by big companies in rollover situations. He said that owner operators are more cautious of wind and tornadoes due to the replacement costs of the rig.
"Once they go on their side, the party's over. The motors usually blow because the oil's upside down. Fuel usually spills out," described Noone. "Generally, 90 % of the time a rollover does not go back in service."
Severe storms also damaged buildings and trucks in Springdale, Arkansas.
AT LEAST 7 INJURED AFTER EF-2 TORNADO RIPS THROUGH NORTHWEST ARKANSAS
The National Weather Service confirmed a tornado and estimated its strength at EF-2.
"The power unit alone, they start at $150,000 new today. The container that its in is generally $70-80,000 today," said Noone about the expense of a rollover. "You put a trailer on its side, and all the seams are broken – it's totaled."
He urged all trucks to get off the road during high winds and tornadoes. Even smaller profile vehicles have trouble driving with gusts over 40 mph.
Watch FOX Weather on TV or the app to get the very latest watches and warnings in this damaging round of storms.