Storm Elias survivors in Greece see devastation from flooding: 'I kept thinking I will drown'
Residents continue to cleanup after the second "Biblical" flood in just three weeks flooded Volos, Greece.
VOLOS, Greece – As the feet of floodwater retreats, shellshocked Volos, Greece residents walk through the mud, puddles and debris littering their homes, yards, streets and stores. Flooding from Storm Elias came just three weeks after the destructive and deadly Storm Daniel, the most intense storm to hit Greece since recordkeeping began in 1930.
So many angry residents and authorities say that they were not ready for Elias because they were still cleaning up from Daniel.
"We couldn't believe our eyes, what we were seeing," a Volos resident told Reuters. "In last two weeks, they came only four or five days to clear the debris from the river from the previous catastrophe, (and) yesterday afternoon, at about five o'clock, the river was blocked up from debris under the bridge."
STORM ELIAS FLOODING COULD DESTROY GREEK VILLAGES WEAKENED BY DEADLY STORM DANIEL FLOODING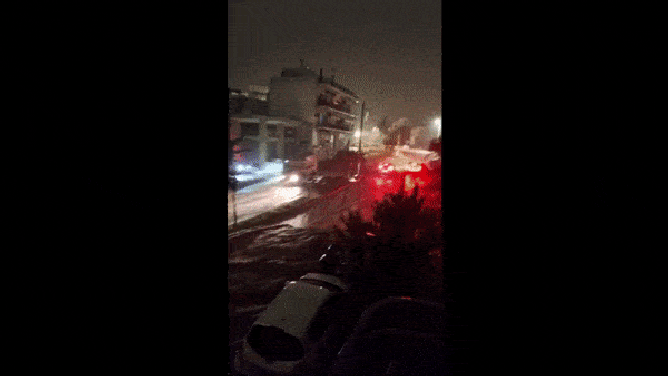 'Biblical' flood
Heavy rain from Elias caused major flooding on the river. The torrent washed cars down the street and some into the sea. Other cars were buried by the tons of rock and mud that flowed through the town. One homeowner, who did not evacuate, said the water in his neighborhood was over 6 feet deep. The water in his home was over 5 feet deep.
AT LEAST 11 DEAD ACROSS BALKANS AS GREECE'S 30 INCHES OF RAIN MARKS WORST RAIN STORM IN COUNTRY'S HISTORY
"The catastrophe last night was biblical. The river overflowed. (The water) was two meters (high). We stayed in our homes to avoid harm. I was afraid the water had reached here (showing chest)," 45-year-old Vassilis Doursovitis told Reuters. 
"I was afraid, and I stayed in the house, and I kept thinking I will drown," he continued. "We came to see the cars, they were destroyed, there was no police, no fire department, the phones were not working, we could not communicate with anyone."
LIBYA SUFFERERS 'CATASTROPHIC' FLOODING FROM STORM DANIEL WITH 5,000 POTENTIALLY DEAD, 10,000 MISSING
Water over 6 feet high
Bulldozers took to the streets after the rains stopped on Thursday to try to push around the mud to direct the river away from town.
"It is ten times worse than the first time (Storm Daniel). The water was higher than a meter, 1.20, 1.40 meters (deep)," homeowner Panagiotis Patras told Reuters while digging through mud in his driveway. "I had two cars here. It took those. My yard, as you can see, is a mess. The water reached a certain level. It entered the house; the only good thing is that no one died."

Officials called for a traffic ban and town curfew to keep anyone not evacuated in their homes during the storm. 
Mayor rescued from home
The mayor of Volos posted a video of his own rescue on his Facebook page.
"The situation is getting out of hand. Lock your houses, go to higher floors, protect your life!!" He pleaded from inside the rescue vehicle. "No one can imagine what is happening."
BULLDOZERS WADE THROUGH 'BIBLICAL' FLOODWATERS IN GREECE, RESCUING HUNDREDS FROM CATASTROPHIC CONDITIONS
"Here's the sadness, I'm sad, I don't have the strength to speak. It's a situation I can't describe to you," the mayor told ERT television. "My car was also left behind. The torrential current almost swept me away; the loader came and took me away."