Storm Elias flooding could destroy Greek villages weakened by deadly Storm Daniel flooding
Storm Daniel rained down on Greece for several days in early September with deadly and destructive flooding. Many areas still weakened by Daniel are too compromised to survive Storm Elias, fear some residents.
THESSALY, Greece – Heavy showers continue to fall across central Greece as Storm Elias serves as an insult to injury. The entire region is on high alert after Storm Daniel inundated the area earlier in the month, said Greece's Climate Change and Civil Protection Minister Vassilis Kikilias in a press conference.
Video shows police in the port city of Volvos blocking flooded roads on Wednesday. Garbage cans floated down streets. Drivers abandoned partially submerged cars and trucks.
AT LEAST 11 DEAD ACROSS BALKANS AS GREECE'S 30 INCHES OF RAIN MARKS WORST RAIN STORM IN COUNTRY'S HISTORY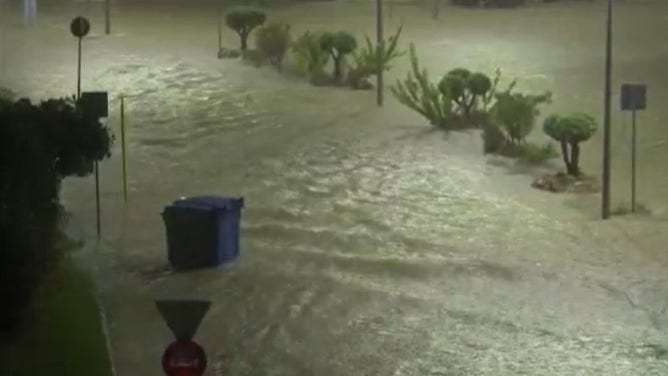 Greece on high alert
The Thessaly Fire Brigade has been busy with 10,495 calls in 24 hours. Over 3,500 people were evacuated as a result. More than 3,700 of the calls were requests for pumping water.
The country staged 650 fire crews with 140 engines, two army choppers, three Fire Brigade choppers and four boats manned by 70 special disaster units in the capital of the region alone, according to Kikilias. More than 1,600 police officers, two army platoons and 110 heavy equipment operators are also on standby, said the Fire Brigade's Chief of Operations, Thanassis Balafas, at the same press briefing.
BULLDOZERS WADE THROUGH 'BIBLICAL' FLOODWATERS IN GREECE, RESCUING HUNDREDS FROM CATASTROPHIC CONDITIONS
Balfas added that while central Greece would see heavy rains, Thessaly was in greater need of assistance after Storm Daniel severely damaged the region's infrastructure, according to Neos Kosmos.
Deadly Daniel
Daniel was blamed for 16 deaths across the country. The village of Metamorfosi in Thessaly was under 14 feet of water, according to one resident.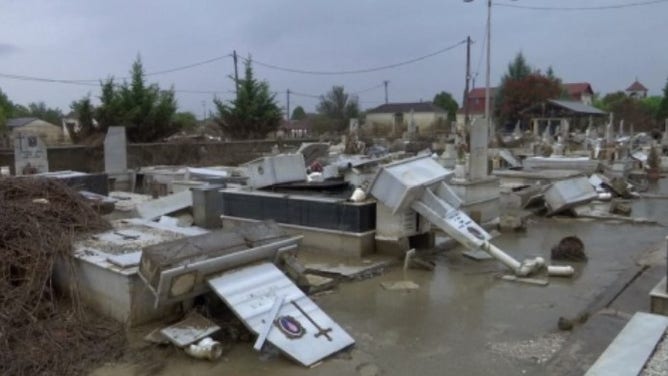 A Reuters reporter found resident and farm worker Athanasios Kostis cleaning up his still muddy home before the next round of floods arrived. He is no longer worried about loss of life because his neighbors left.
LIBYA SUFFERERS 'CATASTROPHIC' FLOODING FROM STORM DANIEL WITH 5,000 POTENTIALLY DEAD, 10,000 MISSING
"Now, no one lives in the village. Everyone has left. They all come during the day, they clean, they throw things away, they wash the houses, and then they leave again," Kostis told Reuters. "We have been scattered…to all the surrounding villages where it did not flood, and they are living with relatives, or they rented (accommodation)."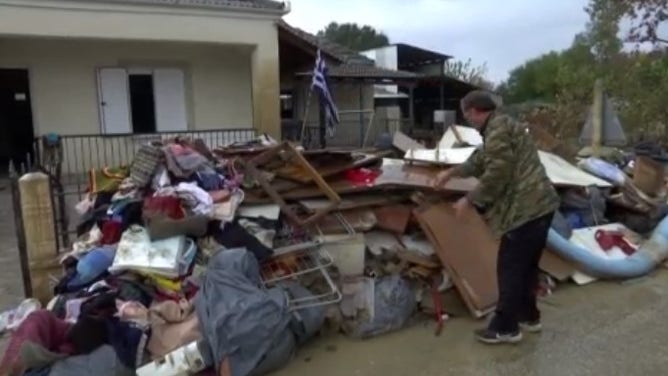 He said about 300 people lived in the town, most farmers. The main crops, cotton and corn, washed away, though. Tens of thousands of livestock animals drowned. Authorities have only been able to remove 75% of the carcasses, according to the Greek City Times. About 15% of the country's ag output comes from Thessaly, according to Reuters.
The 60-year-old said that the village saw a similar flood in 1994.
"The residents had left for two, three months, but then, there was not much water, the houses dried, people started coming back, and by March everyone had returned to their homes," Kostis said about the flood of 1994. "Now, with four metres of water, it will be a bit difficult to come back until spring."
Video shows a mud-stained church interior. Chairs that floated in Daniel's floodwater are still tangled in the chandelier.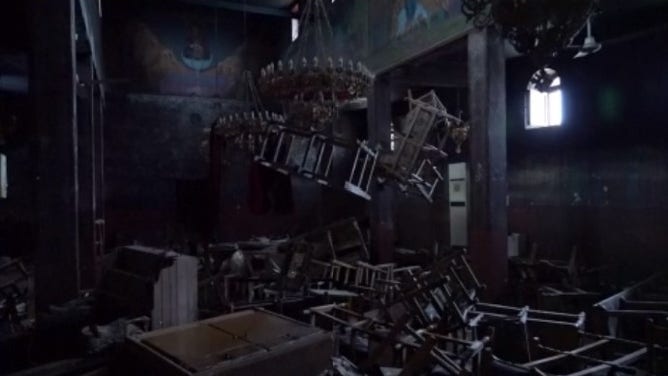 Some worry villages can't survive another flood
A resident of Vlochos in Thessaly was not as optimistic as Kostis. Resident and farmworker Bafia Moutsas also tried to clean up before Elias brought more flooding. He was piling more photos and housewares on the debris towers lining every street in the village, fearing that Elias would scatter his and his neighbors' hard work.
7 FACTS YOU SHOULD KNOW ABOUT FLASH FLOODS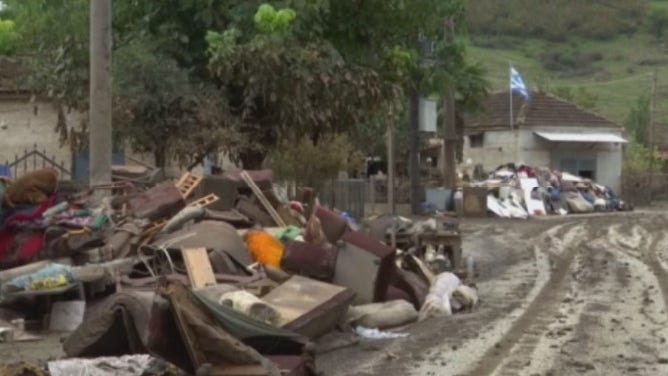 "We are waiting for the state to come help people get rid of all the things that have been destroyed because if it rains again and the village fills with water again with all these things here, it will have to be bulldozed," Moutsas told Reuters."
Rain from Elias is forecast to taper off Friday.