Sinkhole swallows 3 Cadillacs at Massachusetts dealership during flash flooding
Leominster, Massachusetts, declared a state of emergency after nearly 9 inches of rain fell in just hours. Damage continued well after the water receded when sinkholes opened up around the city.
LEOMINSTER, Mass. – After almost 9 inches of rain fell in just hours Monday in northern Massachusetts and triggered flash flooding, a sinkhole opened up under three brand-new Cadillacs and swallowed them.
"I've been here 33 years and never seen anything even close to this," Durand Cadillac co-owner Joel Baker told FOX Weather. 
"I didn't expect the water to come rushing like this," he continued. "The water came rolling down from a hill about 200 yards away from the dealership. It kept coming down."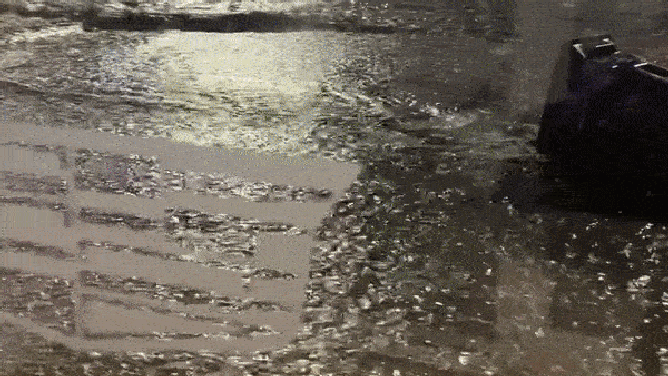 'The ground let go underneath'
Baker said the dealership is on the bank of the Nashua River, and he always assumed that would be the flooding danger. However, rain falling on a hillside was funneled down Main Street across a bridge, just recently completed, and into the driveway of the dealership.
"We removed all of the vehicles that were in harm's way and thought we were going to be fine, and then the ground let go underneath the three vehicles," he said.
The cars dropped about 6 feet into the gaping hole. The front of the dealership washed away, and inches of floodwater rushed into the showroom. He said, thankfully, no one was hurt.
7 FACTS YOU SHOULD KNOW ABOUT FLASH FLOODS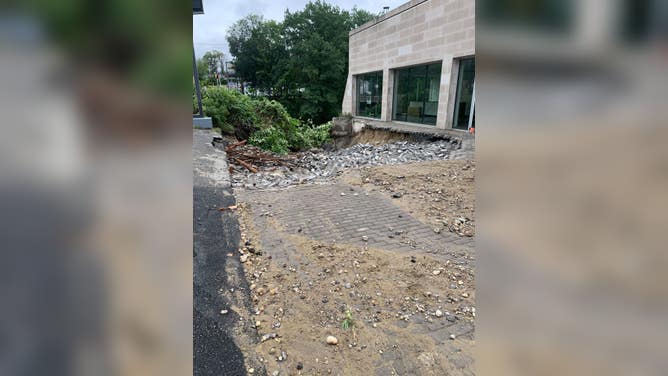 A crane carefully pulled the three cars out of hole. 
Baker told FOX News' Kailey Schuyler earlier that the damage appeared to be "much more minor than originally thought." He said he would need to check the interiors, though, to see if the water got in. In that case, the cars would go to auction, meaning a potential loss of $140,000.
HOW MUCH FLOOD WATER DOES IT TAKE TO DAMAGE A CAR? DOES IT MATTER IF IT IS SALT OR FRESH?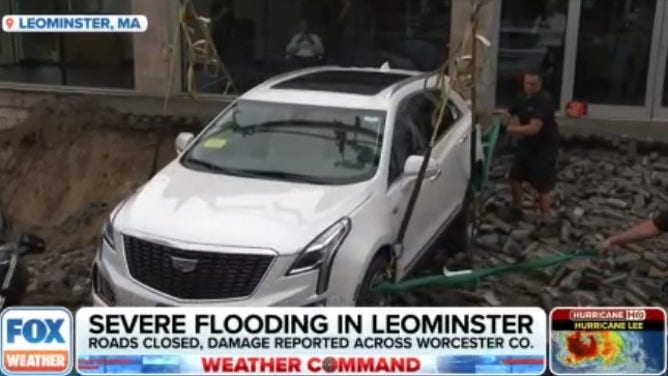 Back to normal by first snow
As soon as the floodwater receded, Baker said employees were able to clean out the flooded dealership. He said that while most of the inventory survived, the dealership will take a little longer to get back to normal.
"Actually, we didn't really sustain that significant of damage to our inventory," Baker said. "We've got over 150 vehicles in stock, and with only three having any damage at all, I think we've done pretty well."
POTENTIAL DAM ISSUES AFTER FLASH FLOOD EMERGENCY PROMPTS EVACUATIONS IN MASSACHUSETTS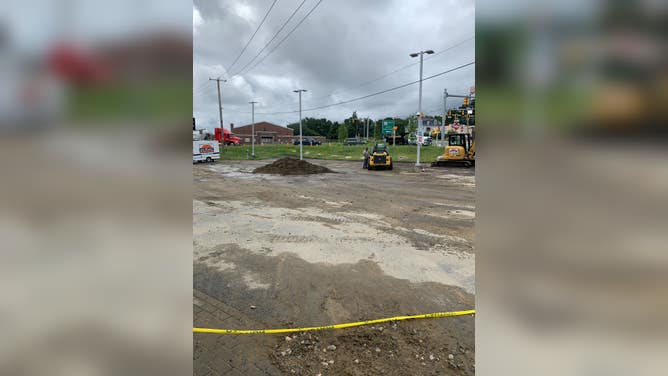 "The sinkhole is going to take some significant time to repair," Baker said. "We'll get some ideas on how we can fill the sinkhole and shore it up a little bit better going forward."
He said he hoped to get repairs completed by the first snow.
The dealership is open for business already, but the city still has Main Street in front of the business closed.
Rare Flash Flood Emergency
The NWS issued a rare Flash Flood Emergency for Worcester County, where Leominster is located, when radar showed rainfall rates of 7-8 inches per hour. Officials declared a state of emergency due to the flash flooding.

Schools are closed, and one is being used as a shelter. Crews evacuated residents living in low-lying areas. 
More sinkholes were forming behind Schuyler while she reported live. She said that several homes had feet of water inside when the streets turned into rivers.
"I was talking to law enforcement earlier today, whenever I pulled up asking about some of the damage in the area, they were actually ordering rain gear for their crews for the days and weeks to come on the road to recovery," Schuyler said. "So, they tell me it's going to take a few days to get semi-back to normal in this area."
The danger for the area is not over yet. Heavy rain is in the forecast through Thursday morning.