Watch wind-driven storms wreak havoc from DC to New York City
Storms clobbered the I-95 corridor. At one point over 66 million were under warnings.
COLLEGE PARK, Md. – More than 300,000 were without power Tuesday evening after severe storms wreaked havoc from Tennessee to Maine.
The National Weather Service received more than 300 wind damage reports, and one of the hardest-hit areas was near Washington. Videos showed University of Maryland students running for cover as storms drenched the campus. A student was hospitalized with serious, but not life-threatening injuries after a tree fell on his rental home in College Park, splitting it in half, reported FOX 5 DC.
At the peak of the storm, more than 200,000 Maryland homes and businesses lost power when the winds knocked trees into power lines, according to PowerOutage.US. Almost 33,000 Virginians lost power.
CLICK HERE TO GET THE FOX WEATHER UPDATE PODCAST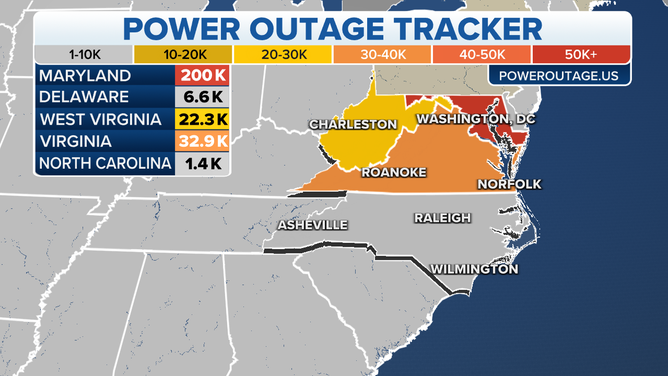 Power outages spread into the Northeast, totaling over 95,000 customers at the storm's peak.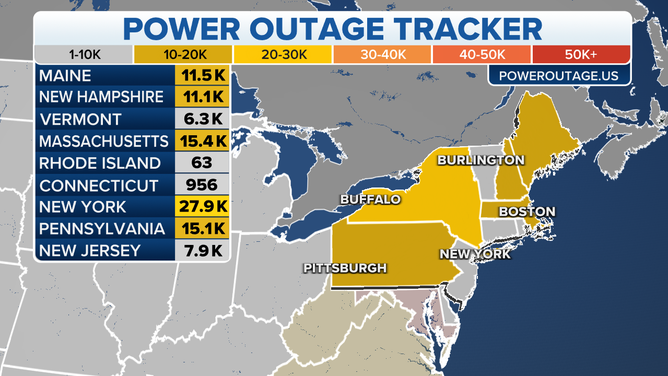 Trees crushed cars in Churchville, Maryland. The owner tweeted, "Definitely the worst storm I've ever gotten."
Trees in South Riding, Virginia narrowly missed homes.  Cars had to turn around in Bel Air, Maryland because downed power lines blocked streets. The National Weather Service clocked one wind gust at 61 mph at the Dulles International Airport near Washington. 

Listen to the penny-size hail pounding home in South Riding, Virginia. Rain fell so hard, that it was hard to see from the house to the road.
In Darnestown, Maryland flood water created ponds in front yards after just 10 minutes.
Disappointed Washington Nationals fans darted for their cars after officials postponed the baseball game until Wednesday.
Much calmer weather is expected for the region tomorrow.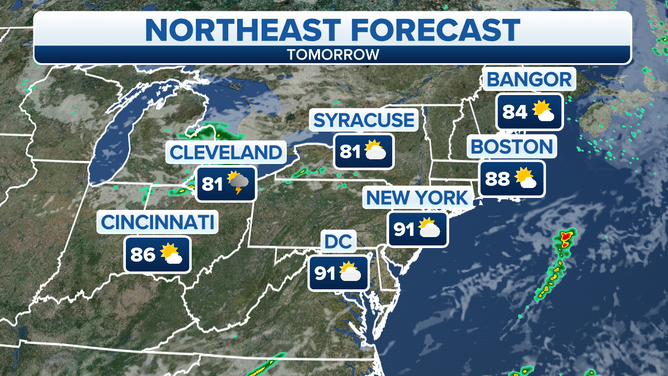 Be sure to download the FOX Weather app to track any storms in your area and receive potentially life-saving weather alerts issued by the National Weather Service. The free FOX Weather livestream is also available 24/7 on the website and app and on your favorite streaming platform. The FOX Weather Update podcast also provides weather information for the entire country.