At least 4 people have already died from heat this year and summer hasn't even started yet
Officials warn of the danger of heat, even when it is not extreme. So far, heat has killed 4 across the US
Extreme heat has been blamed for at least four deaths so far this year across the country, despite only being a week into meteorological summer.
DALLAS, HOUSTON TO SEE TRIPLE-DIGIT TEMPERATURES AS DANGEROUS HEAT CONTINUES TO EXPAND
Over 600 Americans die each year due to extreme heat, according to the CDC. One study found that over 700 people died each year between 2004 and 2018 from heat-related illness.
Mid-Atlantic warmth
The high temperature on June 1 was just 80 degrees, just above average in Baltimore County when heat was blamed for the death of the 65-year-old man. The Maryland Department of Health reported the first heat-related death of the year for the state. 
HOW TO TELL THE DIFFERENCE BETWEEN HEAT EXHAUSTION AND HEATSTROKE 
"As this tragedy shows, heat-related illness, including heat exhaustion and heat stroke, can result in serious ailments and even death," said Maryland's Deputy Secretary for Public Health Dr. Jinlene Chan in a statement. "During hot weather, Marylanders are urged to take precautions to avoid overheating and check on friends and neighbors that may be susceptible to heat-related illness, especially older adults and people with chronic disease." 
Illinois heat wave
In Chicago, three women died in an apartment building during a May heat wave. The seniors lived in a 55 and over apartment building. The owner had not yet turned on air conditioning for the year as of May 12.
HIGH TEMPERATURES CAN MEAN HEAT STRESS FOR THE ELDERLY 
"We started getting complaints Thursday and we started talking to management about air conditioning in the units. They did not turn the air conditioning on, they were waiting," posted Alderman Maria Hadden on Facebook. "And this afternoon residents called, there have been three confirmed people who have passed away." 
The three were found on May 14th. Firefighters conducted wellness checks on the remainder of the residents and vented the building. The medical examiner hasn't released an official cause of death yet.
Chicago's temperatures in May are usually 69 degrees for a high and 49 degrees for a low. During the heat wave, highs hovered around 90 though.
Chicago:
May 12: high 91, low 74
May 13: high 89, low 68
May 14: high 86, low 67
Desert Southwest swelters
The Yuma Sector of Customs and Border Patrol held a press conference and search and rescue demonstration Monday to warn about the dangers of heat.
Search and rescue agents, trained tracking K-9s and FOX Reporter Adam Klepp ran a half-mile across the desert in the midday sun to locate an agent pretending to be distressed.
A de facto thermometer showed 110 degrees as the group passed in layers of tactical gear. There was no hiding from the heat, especially in the Sonoran Desert, which provides little shade.
"We've placed 124 signs in the desert from Yuma to Wellton with coordinates and instructions to call 9-1-1," Chief Patrol Agent Chris Clem told the media.
As temperatures rise, so have the number of rescue calls. CPB reported that they are almost daily.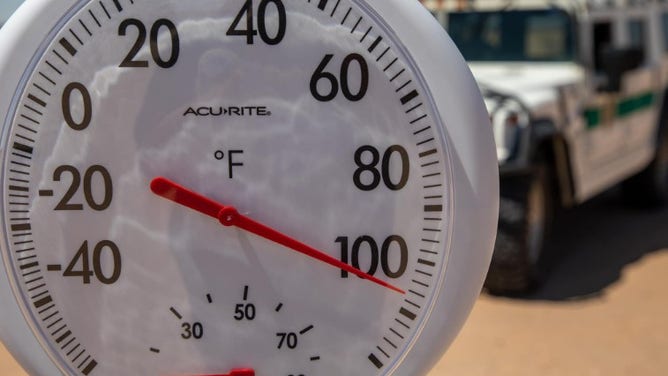 "… If you cross, you will fight dehydration, starvation and heat stroke," Clem pleaded with migrants considering crossing through the media at hand. "You put the lives of you and your family in incredible peril and endanger the heroes who are called to rescue you."
The Yuma Sector patrols 126 miles of border between Mexico, California and Arizona.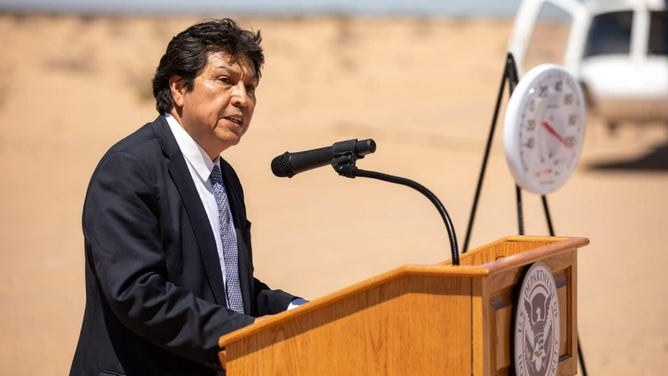 The NWS issued an Excessive Heat Warning from Thursday morning to Sunday evening. Parts of southwest Arizona and southeast California could experience highs between 105 and 118. 
Heat Alerts.
(FOX Weather)
---
Since October, search and rescue agents of the Yuma sector have rescued 208 migrants for a multitude of reasons.
Evaporating sweat cools the body
Our bodies normally cool themselves by sweating. The sweat evaporates and cools the skin.  A Georgia State professor wrote that the human body starts to sweat when our core hits 98.6 degrees Fahrenheit. The normal maximum perspiration rate is 1.5 liters per hour but healthy, acclimatized people can sweat up to 3.5 liters per hour, according to a medical textbook.
High humidity hampers the evaporation of perspiration, making it harder for a body to cool down. Kids under four, people over 65, the overweight and those who are ill and/or on some medications are also at greater risk of heat illness. Those factors can limit a body's ability to regulate its internal temperature. 
WHAT IS THE HEAT INDEX AND WHY IS IT IMPORTANT TO YOUR HEALTH?
Sweating can also lead to dehydration if liquids are not replenished.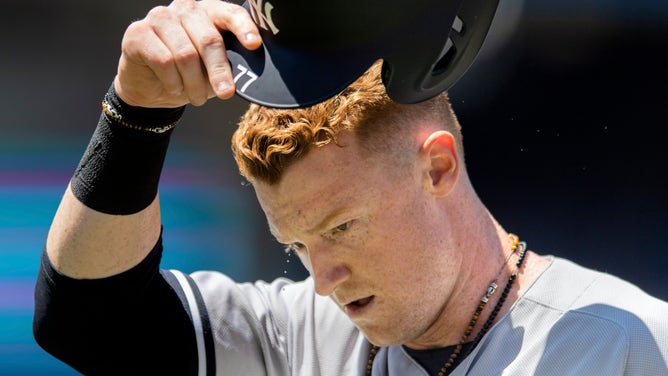 Very high body temperatures can damage the brain and other organs.
CLICK HERE TO GET THE FOX WEATHER UPDATE PODCAST
"Even small differences from seasonal average temperatures are associated with increased illness and death," stated the World Health Organization. 
The effects of heat stress are also cumulative. A study from the University of Ottawa explains that the "next-day effects" like fatigue and fluid-loss can make core temperatures rise faster making someone even more susceptible to heat illness. 
The FOX Weather app shows your actual outdoor temperature and the "feels-like" temperature. The feels-like temperature takes into account the humidity.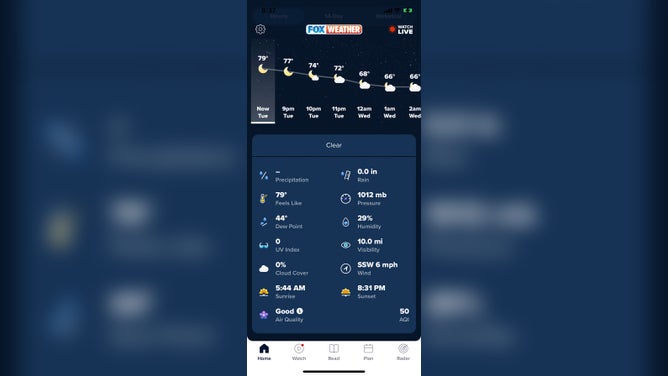 Stay ahead with the heat with the most up-to-date forecast for where you live from the app, FOXWeather.com or watch FOX Weather on TV.