Damage surveys underway after tornadoes sweep across Minnesota
Survey teams will determine the path, strength and speed of the tornadoes
A strong line of storms, including several possible tornadoes, caused substantial damage to communities Monday evening across Minnesota. Now, National Weather Service teams will use that devastation to determine if tornadoes caused it. 
A robust severe weather system began moving across the Northern Plains on Monday afternoon, with about 1 million people under the first Tornado Watch of the day for northwest Iowa, southwest Minnesota, northeast Nebraska and southeast South Dakota.
Hours into the severe weather event, forecasters with the Storm Prediction Center issued a "Particularly Dangerous Situation" Tornado Watch across Minnesota and eastern South Dakota at about 4 p.m. Central on Monday after a tornado was spotted on the ground south of Alexandria, Minnesota.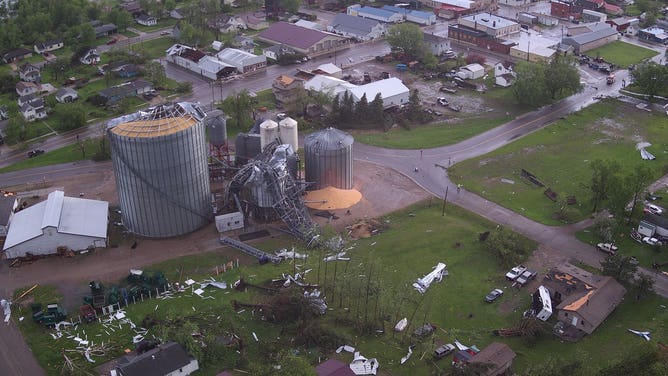 HOW TO WATCH FOX WEATHER ON TV
Widespread damage has been reported in the small town of Forada in Douglas County, about 2 hours northwest of the Twin Cities. The county emergency manager said about 100 farms and homes were mangled in the storm. With a population of about 175 people, that is a significant number for the community.
The NWS office in the Twin Cities said via Twitter sent a few survey teams out Tuesday to assess the damage. 
The morning after the storm, FOX 9 Minneapolis reporter Hannah Flood showed FOX Weather some of the damage in Forada. Flood said that the heavy metal roof of the Forada Fire and Rescue building was peeled back like a "can opener." Crews found damage consistent with an EF-2 tornado. 
TORNADOES TEAR SWATH OF DAMAGE ACROSS MINNESOTA ON MONDAY IN MIDWEST MELEE
"There was widespread tree damage throughout most of our area but obviously, when it comes to the tornadoes we are really looking at some of those structures just to see how strong those winds got," NWS Twin Cities meteorologist Tyler Hasenstein said. "A lot of the pictures and some of the drone footage has been remarkable."
WHAT IS A 'PARTICULARLY DANGEROUS SITUATION' TORNADO WATCH?
The SPC has received at least five reports of damage from potential tornadoes Monday in Rock, Pipestone, Swift, Pope and Douglas counties. Near Sioux Falls, South Dakota, large hail, wind gusts and wind damage were reported from Monday's severe weather event.

At least two storm chasers captured video showing a rain-wrapped tornado. Hasenstein said these can be dangerous for a number of reasons.
"They are harder to see, and oftentimes we rely on weather spotters and storm chasers for ground truth because in the position where these tornadoes where our radar beam is high above the ground, we're not really seeing at ground level so we're really relying on some of these ground truth reports to confirm the warnings that we're sending out," Hasenstein said. "In this case when they are rain-wrapped, it can be harder for these spotters to see these things and that can make it more dangerous, not only for them, but it can take a few more minutes for these (Tornado) Warnings to go out."
How surveys are conducted
Whenever a tornado is suspect, a survey team from the NWS will determine if that was indeed the cause of the damage.
HOW METEOROLOGISTS DETERMINE IF A TORNADO IS TO BLAME FOR STORM DAMAGE
According to the NWS, each survey team is equipped with a technology kit before they head to the site of the storm damage. The kit includes a GPS, a computer with damage survey software, an atlas, a digital camera, a compass and a notebook.
"Most commonly, a survey team will conduct a full ground survey to assess tornado damage, but occasionally, a team may also conduct an aerial survey if the spatial extent of the damage is large enough," the NWS office in Amarillo, Texas, wrote in a 2011 post about damage surveys.
If meteorologists believe a tornado caused the destruction, they will assign the twister a rating on the Enhanced Fujita Scale.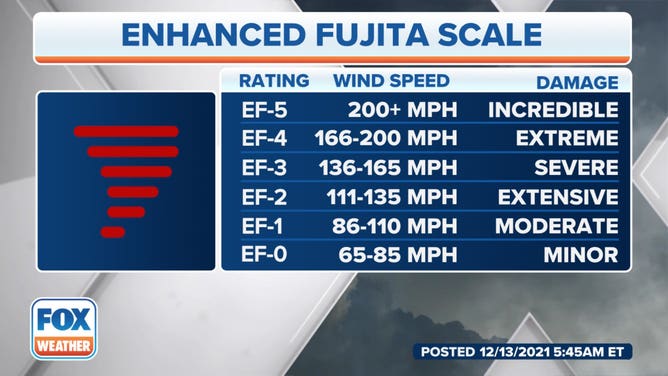 An EF-0 is the weakest with 65 to 85 mph winds, and violent tornadoes are rated EF-4 with wind speeds above 166 mph. The rarest and strongest tornadoes with winds above 200 mph fall into the EF-5 category. 
CLICK HERE TO GET THE FOX WEATHER UPDATE PODCAST
A damage survey team cannot designate the tornado for tornadoes believed to be stronger than an EF-3 rating until a national team reviews the damage photos.
Damage assessments can take multiple days to complete. The NWS Twin Cities office asked for patience Tuesday as their work is just beginning.