Tornadoes tear swath of damage across Minnesota on Monday in Midwest melee
At least five tornadoes have been reported in western Minnesota along with the nasty combination of heavy rain and hail
Powerful storms slammed the upper Midwest on Monday leaving a lot of damage in their path. 
At least five tornadoes have been reported in western Minnesota along with the nasty combination of heavy rain and hail. 
HOW TO WATCH FOX WEATHER ON TV
Cleanup begins in Forada
For the 175 residents of Forada, Minnesota, south of Alexandria in Douglas County, the aftermath can be described in one word: devastating. Now the people living there are starting to pick up the pieces.  
According to the National Weather Service office in the Twin Cities, the tornado was reported on the ground at 4:45 p.m. Central time. Damage impacted 75 structures in the community, and thousands are still without power Tuesday morning. Luckily, no one was killed, and no injuries have been reported.
Crews found damage consistent with an EF-2 tornado in the city. 
"The whole landscape has changed," Mayor David Reller told FOX 9 in Minneapolis-St. Paul. "There's going to be a lot of construction."
'LARGE AND EXTREMELY DANGEROUS TORNADO' TEARS THROUGH MINNESOTA LEAVING WIDESPREAD DAMAGE
Aerial video by Severe Studios revealed the extent of the damage left behind by the string of severe storms. One view showed a small SUV inside the remanent of a home with widespread debris surrounding the scene.
Sheriff: Power restoration in Eagle Bend could take days
In the city of Eagle Bend, located to the north of Forada, the Todd County Sheriff's Office asked that everyone avoid the town as cleanup efforts began, and emergency crews worked to clear buildings and assess the damage.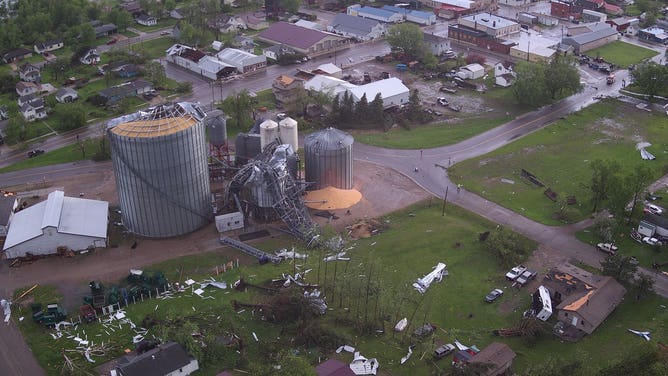 By Tuesday morning, the majority of roads were cleared in Eagle Bend. However, the sheriff's office said power could be out to the area for up to 48 hours. Residents were advised to check on their neighbors, especially the elderly, in the coming days.
Survey crews found that this EF-1 tornado had maximum winds of 95 mph.
Brief tornado in Pipestone caught on camera
The NWS said a storm chaser reported on social media with a video of a brief tornado in Pipestone, Minnesota.
Intense winds, rain lash Luverne
Intense winds and heavy rain lashed the town Luverne, Minnesota, amid severe weather warnings. The National Weather Service issued a Severe Thunderstorm Warning for the area on Monday, warning of 70-mph winds and possible hail. 
Bands of thunderstorms continued into Monday night. In total, there were nearly 200 severe weather reports in the upper Midwest. As this storm system continues to track across the nation, severe thunderstorms are expected again each day through Thursday.
The area for concern Tuesday spans a huge swath of the central U.S. from Texas to the Great Lakes.
CLICK HERE TO GET THE FOX WEATHER UPDATE PODCAST
People who live in these regions should stay updated on the latest weather forecast. Get the most up-to-date forecast for where you live from the FOX Weather app, FOXWeather.com or watch FOX Weather on TV.