Nor'easter impacts: Dangerous wind continues Wednesday
Boston to experience strongest winds into Wednesday morning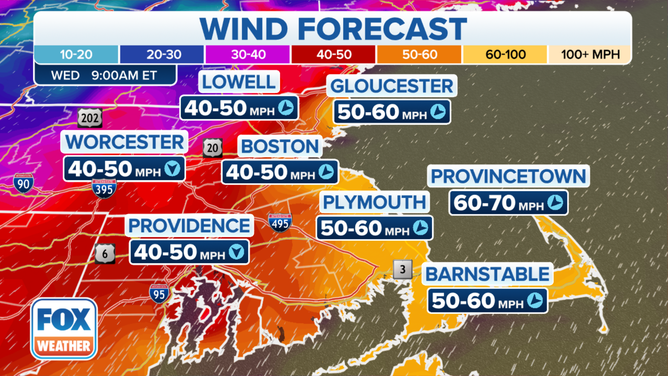 Strong wind continues Wednesday as the first nor'easter of the year moves into the Northeast.

New Jersey to New England saw wind gusts up to 70 mph Tuesday night, and the strong winds will continue Wednesday.
Tuesday night, Boston reported a 52 mph wind gust, and also in Massachusetts, Hull peaked at 77 mph.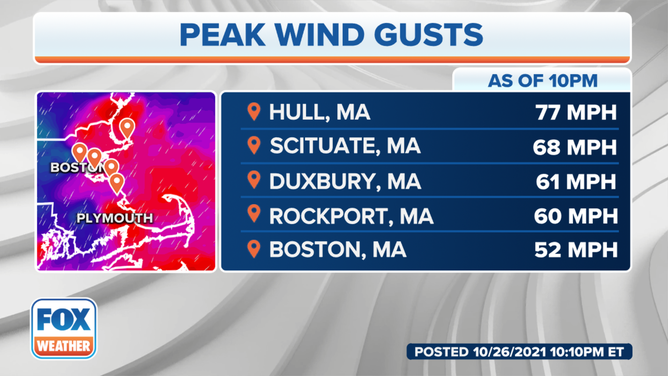 Wind gusts as high as 80 mph are possible from Long Island to eastern Massachusetts and coastal Maine. These winds will be capable of knocking down trees and power lines.
The National Weather Service issued wind advisories and high wind warnings from New Jersey to New England.
Heavy rain continues northward, but more than five inches of rain were recorded in parts of New York and New Jersey Tuesday evening.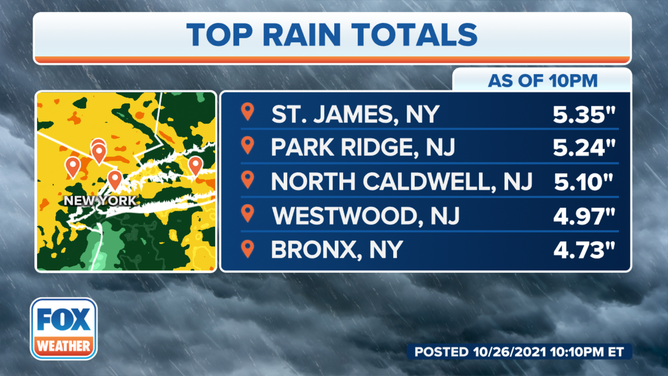 Emergency managers in Tompkins County, New York, reported home and road flooding, while crews in Sullivan County were busy with multiple water rescues. 
Power outages are the primary threat with the strong winds associated with nor'easters.
"Strong winds can also down trees, especially those that haven't lost their leaves yet. The wind slamming into the leaves make the trees more vulnerable to coming down," FOX Weather Meteorologist Mike Rawlins said. "Coastal flooding, beach erosion is a concern, too. Onshore winds can push water inland. Strong wave action from the winds can erode beaches."


Winds can also pull down home siding, fences, and roof shingles, creating dangerous flying debris.
Not all nor'easters create snow. This one will bring heavy rainfall, and the addition of high winds will create weather hazards for travelers. 
Travel will be difficult, especially for high-profile vehicles, such as tractor-trailers.